8 Netflix Movies to Watch During Hanukkah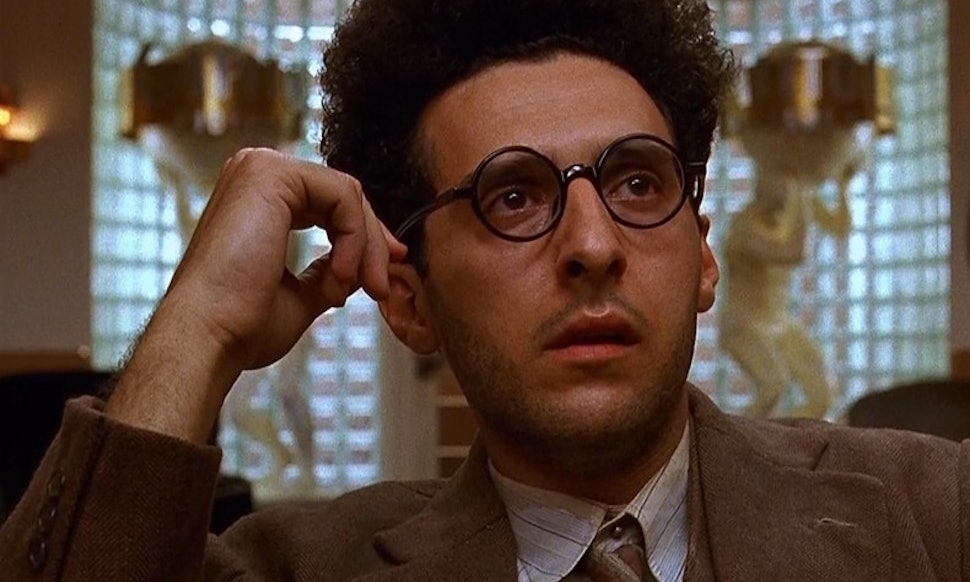 If you grew up Jewish, you're all too familiar with the incredible lack of Chanukah-themed movies (recipes, on the other hand, we've got covered). All we really had in the way of screen entertainment were An American Tail, the Rugrats specials, and the travesty that was Adam Sandler's Eight Crazy Nights. Meanwhile, a new spread of Christmas films would release every year — family-friendly fantasies about saving Santa Claus, chipper romantic comedies set beneath the mistletoe, and the occasional sect-funded allegory about how the world has lost touch with Jesus. There was room for all these and more, but rarely for an epic about the intrinsic excitement and adventure in a story about a fiscally sound source of fuel.
That said, you can find a good number of films celebrating Judaism, Jewish culture, or simply riding high on the nebbishy genius of Hollywood's favorite Members of the Tribe, if you're willing to put in the legwork... by which I mean browsing Netflix for a few minutes at a time. The site has its share of features that should imbue any Jewish viewer with a sense of pride in his or her Jewish blood, and any non-Jew with the sort of envy that we feel whenever we see all you guys decorating those glorious trees. I don't know what it is about those trees, but we hate that we can't have them.
Sprawling jealousies aside, Netflix makes for the perfect opportunity to merge an appreciation for Jewish culture with the love of fine cinema. In honor of the first night of Chanukah, peruse this list for eight holiday-themed movies to stream on Netflix... accompanied by a good nosh.
Image: 20th Century Fox
Night I: Watch 'Ida'
The 2014 movie (and shoe-in for the Best Foreign Film Academy Award) chronicles the story of an 18-year-old orphan, raised in a nunnery in post-World War II Poland, connecting for the first time with her Jewish roots. It's a solemn affair, but when have we ever been accused of being an optimistic people?
Image: Soloban
Night II: Watch 'The Producers'
A far merrier take on the years following WWII comes to life in the form of the hit musical Springtime for Hitler, which could only sprout from the mind of Mel Brooks. The 1968 comedy (not the dreadful cinematic remake of the fantastic stage adaptation) was Brooks' first movie, and the funniest of his films presently available on Netflix.
Image: Embassy Pictures/MGM
Night III: Watch 'Barton Fink'
While the Coen Brothers' "most Jewish movie" is easily A Serious Man, their much earlier feature Barton Fink probably earns the silver medal in that category. Although the film plays caustically with "Jews in showbiz" stereotypes (and tosses around a few strong epithets), we feel the affectionate touch of the brothers behind the movie throughout.
Image: 20th Century Fox
Night IV: Watch a Neal episode of 'Freaks and 'Geeks'
Freaks and Geeks is a treasure trove of amicable drama, comedy, and relatable stories for just about anyone who grew up, be it in the '80s or afterward, in the suburbs or elsewhere. The series helped to launch the careers of Jewish filmmakers like Paul Feig and Judd Apatow, as well as their likewise Hebraic stars Seth Rogen, James Franco, and Jason Segel. But the series' proudest Zionist is Samm Levine's Neal Schweiber, who references his heritage often and with great (usually humorous) elation.
Some of the best Neal episodes of Freaks and Geeks include "We've Got Spirit," "The Garage Door," and "Noshing and Moshing."
Image: NBC
Night V: Watch 'Annie Hall' (or 13 other Woody Allen movies)
As it stands, there are 15 Woody Allen movies available to stream on Netflix… and all but Scoop are worth watching. While each of the prolific director's works embraces the neurosis so often attributed to his heritage, Annie Hall is perhaps the most vocal about how a Jewish upbringing shaped Allen's on- and off-screen personas. (On top of that, it's his best movie altogether.)
Image: United Artists
Night VI: Watch 'Mary & Max'
The bleak animated tale (one dense with adult themes, so be wary about letting any young children watch) unites two unlikely pen pals: an ostracized, emotionally neglected preteen Australian girl and a middle-aged Jewish atheist living in New York City. Through their correspondence, Max's culture is illustrated in a plucky and interesting manner.
Image: Icon Entertainment International
Night VIII: Watch 'Is the Man Who Is Tall Happy?'
It's not about Judaism, but it is a conversation with one of the modern world's greatest thinkers, Noam Chomsky, who is indeed a Jewish man. The innovative film translates Chomsky's musings to the hand-drawn doodles of director Michel Gondry (the man who brought us Eternal Sunshine of the Spotless Mind and The Science of Sleep), enlivening over a rich discussion about philosophy and psychology.
Image: IFC Films
Night VII: Bite the Bullet and Watch 'Scrooged' or 'Muppet Christmas Carol'
Yes, Charles Dickens' novella A Christmas Carol is, quite obviously, about Christmas. And yes, Dickens himself allegedly wasn't the biggest fan of the Jewish folk. But 19th century anti-Semitism notwithstanding, the story of Ebenezer Scrooge is a downright enjoyable one no matter who you are.
Bill Murray and the Muppets revitalize the classic fable in their respective films from 1988 and 1992, both available on Netflix for some merry viewing.
Image: Buena Vista Pictures