You Have To See These Kat Von D Alchemist Swatches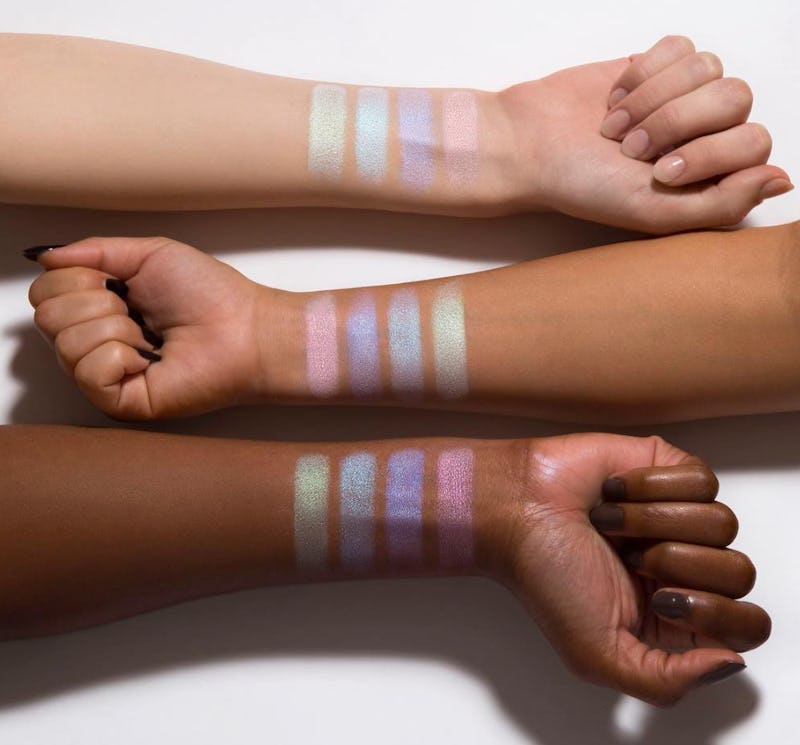 It's not just another palette. Not. Even. Close. The Kat Von D Alchemist Palette is a makeup magician. Like legit. The four pans of product, which were originally conceived as eyeshadows, are transformative and are meant to be used with other products, layered over top to change the look and feel, and to add an iridescent finish to lipstick, eyeshadow, blush, or bronzer. You can customize any product you use with this baby, so your makeup is as distinct as your DNA. It's super versatile. You can also use it on its own if you wish, because makeup is artistry and you can throw any and all rules out the window. Swatches of the Kat Von D Alchemist Palette, swiped against light, medium, and dark skintones, show just how gorgeous and shapeshifting these babies are.
The Alchemy Palette is a makeup magician. When you witness just how versatile each Alchemist shade looks on different skintones, you can only imagine what it can and will do when layered over a brown lippie or a black eyeshadow. Think of the subtle glow it can impart when used as a highlighter!
Kat Von D Alchemist Holographic Palette, $32, Sephora
You can buy any mass market product, apply it, swipe any of the Alchemist shades over top, and totally make it your own. KVD Alchemist is like a makeup customizer.
I think Kat Von D Beauty has a hit on its hands with this palette. It's so versatile when simply swiped against skin. They don't even look like the same shades, right? Imagine how they will look when swiped and layered over something else? OMG, the possibilities are endless. It's not just a gamechanger — it's a shade-changer, quite literally.
Kat Von D Alchemist Holographic Palette, $32, Sephora
The palette is $32 and the packaging is a beautiful, triangular shape. It will be available at the Sephora site on Dec. 24 and then in stores on Jan. 5. So you can play with it in person and see how it works. Kat Von D Beauty is known for matte, black, and goth inspo packaging, making this iridescent, ornate triangle a change of pace.
If you want to experiment with your makeup or add a unifying touch after doing your makeup, KVD's Alchemist can help you with those pursuits.
Images: Kat Von D Beauty/Instagram (2); Kat Von D/Instagram (1)