It's Time To Shop The Kylie Cosmetics Holiday Box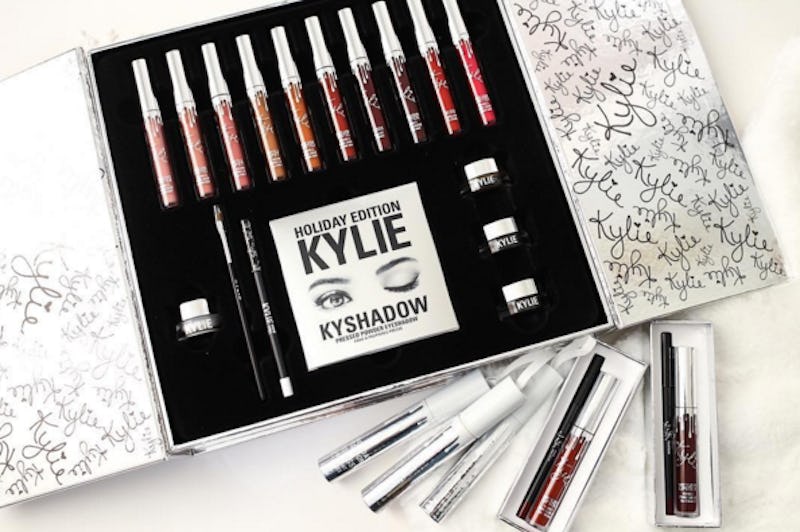 Kylie Jenner has turned her cosmetics brand into the one-stop-shop for all of your holiday shopping. With the new Holiday Edition Collection on top of the 12 Days of Christmas savings, there's no way you could turn down the opportunity to purchase from the brand. Find out how to shop the Kylie Cosmetics Holiday Box with free international shipping because this opportunity won't last forever.
The Holiday Box is not only beautifully packaged, it's also stocked full of Kylie Cosmetics goodies. It comes with eight matte lipsticks, two glosses, one Kyshadow palette, one Kyliner and three crème eyeshadows. So, you're going to feel as though you hit the makeup jackpot whenever this arrives at your door!
It retails for $290, but the good news is you won't have to pay for shipping if you shop on Dec. 7. Plus, it is available to ship internationally. You'll be able to spread some cheer all over the world now that this option has presented itself! The brand hasn't given an official end time for this promo, but it is Day Seven of Jenner's 12 Days of Christmas promotion, so take advantage of this offer while you can. Because by the time Dec. 8 rolls around, this free transportation likely won't be around any longer!
This is an incredible gift!
This box holds all of the seasonal makeup you could ever need.
There are so many amazing shades inside the festive silver wrapping.
I mean, is this all you want for Christmas or what?
It's no wonder people are freaking out about it online. Free international shipping is no joke!
The best part of all is this is only Day Seven. There are more surprises where this came from!
Holiday Box, $290, Kylie Cosmetics
Shop this box with free shipping while you still can. Because there's no way you'd want to miss out on all of the merriness this package has to offer.
Images: kyliecosmetics/Instagram (1); Courtesy Kylie Cosmetics (1)