How Long Can You Shop Kylie's Holiday Surprises?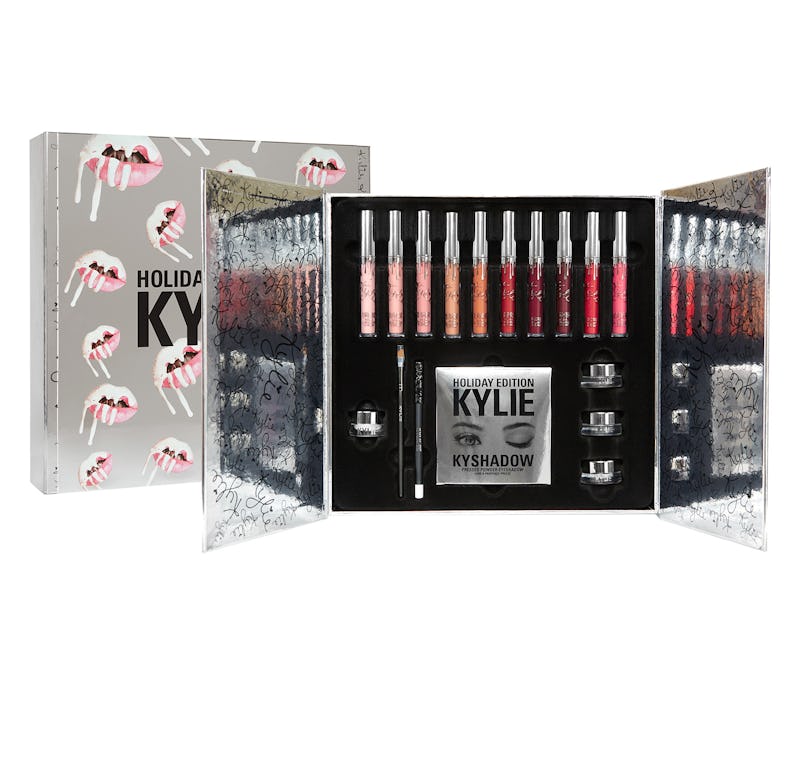 Kylie Jenner's swiftly-growing mini makeup empire has been celebrating their first holiday season with major aplomb. So, when does the Kylie Cosmetics 12 Days of Christmas end? The beauty event has been pretty darn incredible so far — each day has offered something amazing, be it an adorable pom-pom gift-with-purchase, cuter-than-cute gift bags, or an impressively all-inclusive giveaway (one that even includes retired limited edition shades!). How much longer will this glorious madness go on?
Well, as you might have guessed by the name of the event, it'll last exactly 12 days — though I wouldn't be at all surprised if Kylie has more surprises up her sleeve to coincide with the rest of the holiday season, maybe even up to New Year's Eve. Can't you just see her dropping an LE collection of Metal Mattes to countdown to midnight in?
At any rate, since the event started on Dec. 1 with the covetable Kylie Cosmetics Lipstick Vault, that means that the daily surprises will be ending on Dec. 12. It's good timing, because you're definitely going to want to put in any Kylie-related holiday orders in before then, if you want to get them in time for Christmas.
Nobody knows what the 12th day's special will be yet, but I think we can all count on Kylie to end things with a bang, especially if we use the amazing first five days as a template. Basically, bring on the Kylie Kases and limited edition Lip Kits, man!
What's been your favorite day so far? The "Like. Literally. Everything!" giveaway of today is pretty argue with, and those holiday pom-poms were especially irresistible as well.
We'll all have to continue watching Kylie's/Kylie Cosmetics' various social media channels with hawk-like precision so as not to miss a single trick during the remaining seven days in the Kylie Cosmetics 12 Days of Christmas event. Seriously, these giveaways and deals are not to be missed!
Image: kyliecosmetics/Instagram