Healthy Eggnog Recipes For The Holiday Season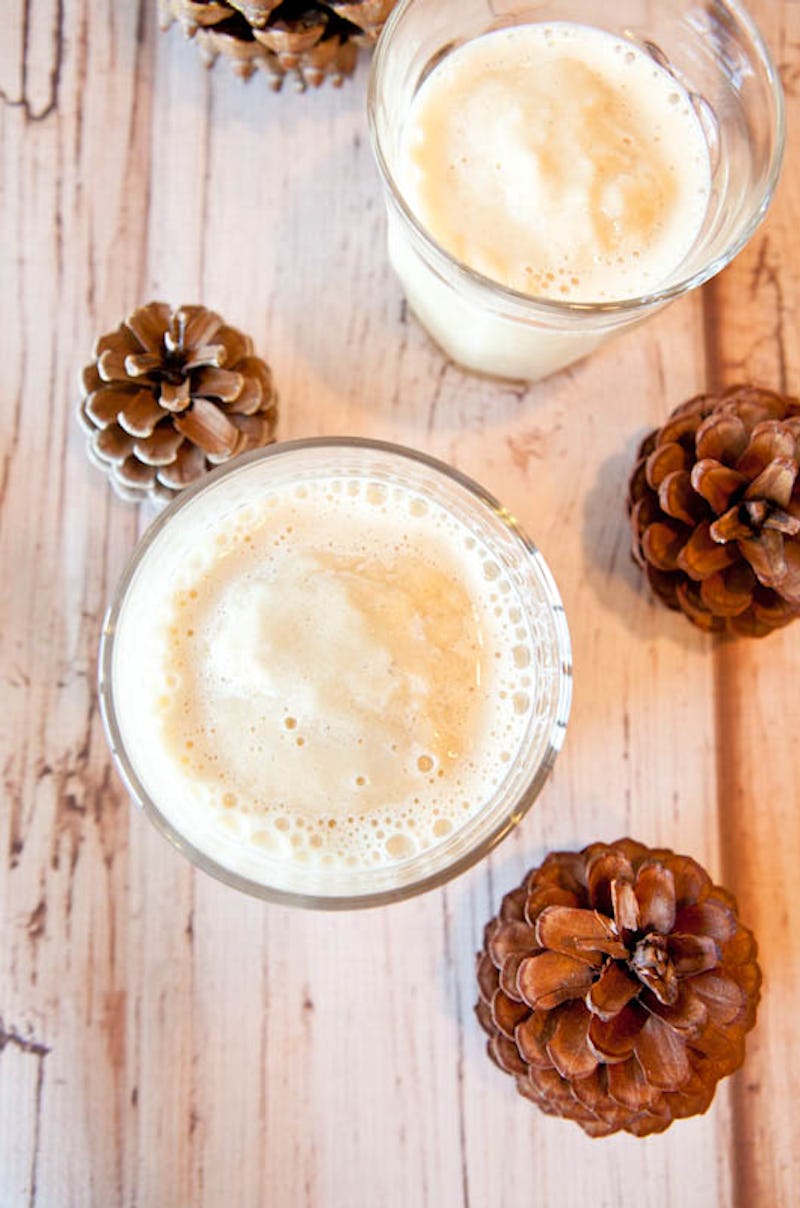 The holidays are definitely a time to indulge. Think about it: what better time to go ham on the sweets, forgo the top button of your pants, and swap out the milk in your cereal for eggnog (what? Did I say that?) can you think of than the holidays? (But seriously, about that eggnog cereal thing, have you tried it? It's delicious.) It's likely that last thing you want to be thinking about on the holidays is about what's in the treats you're eating, because it's a total buzzkill. That said, you might be searching for some balance to the indulging without giving up your favorite holiday treats all together. Luckily, there are options — versions of everything from healthy cookie recipes to healthy eggnog recipes are floating around all over the internet, and many of them are actually pretty each to throw together.
Of course, just because it's healthier doesn't mean it's any less delicious. Here, I've rounded up a few eggnog recipes that are healthier than your average store-bought eggnog, but sweet and creamy enough to taste the same. And, if they taste the same but it's better for your body, why not? Right? Everyone deserves some balance if they so desire it, and I'm certain these recipes are the key to achieving that during the forthcoming holiday dessert season.
Eggnog Chai Smoothie
This spin on the traditional eggnog is super festive and delicious when served both warm and cold. Check out the recipe on Averie Cooks.
Keto Eggnog Latte
This dairy-free eggnog drink is made with Keto that's super energizing, so it's a great morning drink that you can swap your coffee out for. Check out the recipe on Healthful Pursuit.
Dairy-Free Eggnog
If you're avoiding dairy or are lactose intolerant, this is the dreamiest replacement. It's still creamy, and it still tastes like the real thing. Check out the recipe on Healthful Pursuit.
Vegan Coffee Creamer
Try adding some vegan eggnog to your coffee for some holiday vibes, it's so much more exciting than regular cream substitutes. Check out the recipe on Healthful Pursuit.
Eggnog Smoothie
If you're a frozen fruit smoothie girl, you're definitely going to want to give that break over the holidays and try out this eggnog smoothie. It's more water-based than cream, and it's super filling. Check out the recipe on Healthful Pursuit.
Vegan Peppermint Eggnog
If you've never had peppermint mixed with your vegan eggnog, you're going to swoon so hard over this. It's dessert in a glass, but healthier. Check out the recipe on Oh She Glows.
Eggnog Milkshake
This milkshake uses low-fat milk and any vanilla ice cream of your choice, so you can fine tune it to work with your dietary preferences. Check out the recipe on Cookie & Kate.
Coconut Milk Eggnog
By swapping out milk with coconut milk, you add a whole new flavor dimension to this treat. It's delicious and it's dairy free. Check out the recipe on The Urban Poser.
Modified Classic Eggnog
This classic eggnog recipe from The Messy Baker is totally customizable for your own preferences. Play around with it, sub the milk out, or change the sugar levels until you find a version you're happy with.
Vegan Eggnog Quinoa
Yes, you read that right. With this recipe from Healthful Pursuit, you can have your healthy food and your eggnog to. Good luck trying to ever eat quinoa alone again.
Dairy-Free Eggnog For French Toast
Oh yeah, this recipe on The Healthy Foodie has everything covered. Swap out your milk and eggs for some eggnog and have the most amazing, dairy-free eggnog french toast breakfast.
Coconut Milk Eggnog French Toast
This recipe from What's Cooking Good Looking is so good you're going to want to indulge in it year around. And you totally can, because it's pretty healthy as far as eggnog treats go!
Images: Averie Cooks; Healthful Pursuit (5); Oh She Glows; Cookie & Kate; The Urban Poser, The Messy Baker; The Healthy Foodie; What's Cooking Good Looking