Here's How To Use All That Leftover Eggnog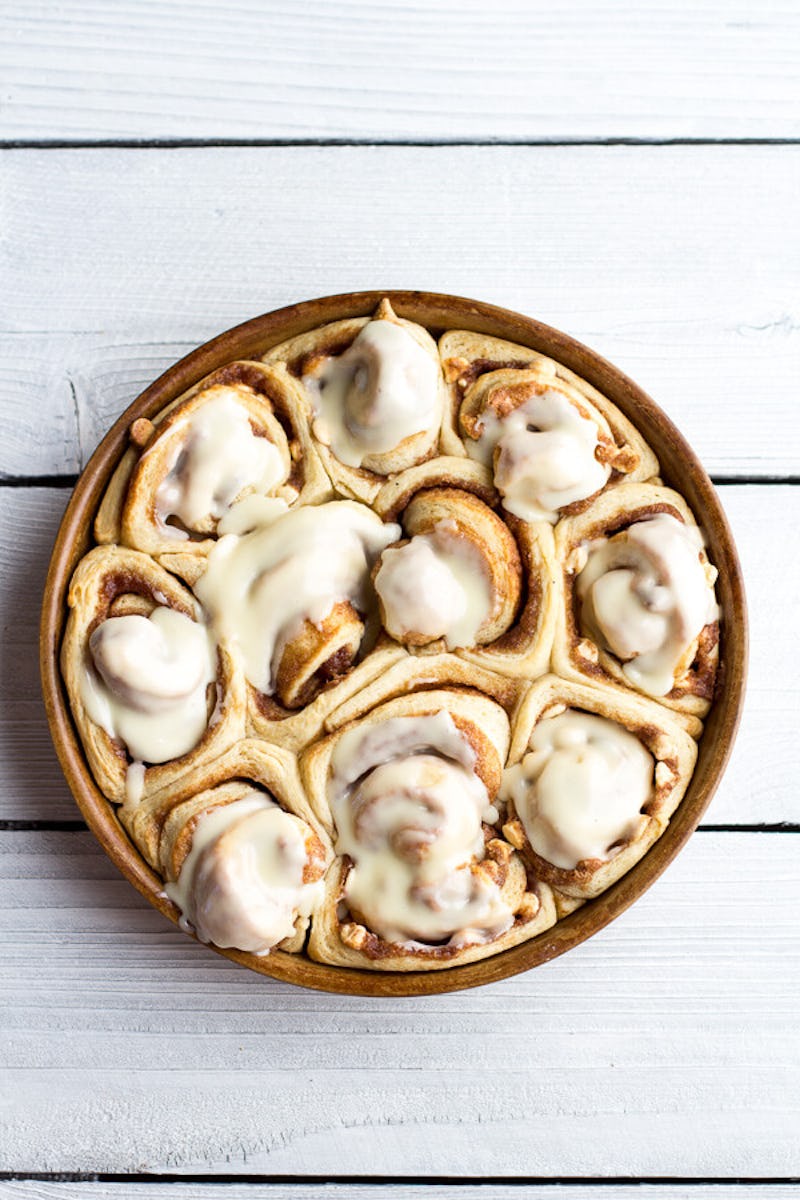 It's that time of year again where you're likely finding yourself with a full fridge of food and drinks after your holiday party and realizing you have no idea what to do with all your leftover eggnog. Although for some it is a beloved holiday drink filled with lots of tradition, for others it's simply just a carton of frothy eggs and milk. To top it all it off, eggnog actually doesn't have a long shelf life in the fridge — so you have to figure it out fast. It's so much pressure! But, before you say "screw it" and pour it down the drain, it's actually a wonderful ingredient for delectable holiday recipes.
I mean, think about it: It's the perfect dairy base for all baking and breakfast recipes imaginable! The top ingredients in eggnog include sugar, eggs, milk, and heavy cream — and if you love cooking, you know those ingredients are essential for delicious treats. Some of these eggnog-inclusive recipes include cinnamon rolls, cupcakes, French Toast, muffins, spiked marshmallows, rice pudding, even truffles. There are so many good ones, that you may consider even buying more eggnog so you have enough to make all of these. So put on that apron mom bought you when you moved out (yet never wore) and blast some of your favorite holiday tunes, because the party is only just getting started.
1. Eggnog Bundt Cake With Rum Icing
Brown Eyed Baker is killing me with that rum icing. I have a feeling that this cake will bear with some fresh berries real nicely. Or wine. Same thing, right?
2. Eggnog Cinnamon Rolls
Or you can wake up to these suckers by Half Baked Harvest. I don't know about you, but cinnamon rolls kind of make me feel a little weak in the knees.
3. Mini Eggnog Cheesecakes
I'm pretty sure I fall in love with any mini dessert, especially if it's cheesecake. This recipe by Baked By Rachel even shows you how to make a homemade graham cracker crust, and tells you to pair it with a cranberry puree.
4. Eggnog Cupcakes with Caramel Eggnog Buttercream
Even if you hate the taste of eggnog, I have a feeling that you'll find these eggnog cupcakes by Taste & Tell seriously killer.
5. Spiced Eggnog Muffins With Streusel Topping
These muffins by A Farmgirl's Dabbles are seriously sugar, spice, and everything nice.
6. Salted Caramel Eggnog Brownies
These homemade brownies by A Spicy Perspective actually have you making caramel fudge and eggnog fudge as toppings for the brownie.
7. Strawberry Eggnog Baked French Toast
If you haven't gotten on this French Toast bake trend yet, it's time to change that. This Baked French Toast by Damn Delicious, will have you wanting to make French Toast bakes every morning for the rest of your life.
8. Pumpkin Muffins With Eggnog Cream Cheese Swirl
Is it too late for pumpkin muffins? Not according to The Kitchn, who pairs it with an eggnog cream cheese swirl.
9. Naught Nice Hot Cocoa With Spiked Eggnog Marshmallows
OK, not only does this hot cocoa by Half Baked Harvest contain alcohol, but so do the marshmallows. Talk about a seriously cozy booze-filled night in.
10. Fudgy Eggnog Bars With Eggnog Glaze
Looking for something fudgy, but not particularly craving chocolate? These eggnog bars by Averie Cooks will curb the crave.
11. Eggnog Breakfast Crumble Crunch Cake
This crunchy, crumbly delight by How Sweet Eats is exactly what you need to wake up to tomorrow morning.
12. Baked Eggnog Custards
Having a small get together soon? Try making these individual custards by The Kitchn!
13. Eggnog Sugar Cookie Bars
Sometimes having sugar cookies just isn't enough, so why not put it in a bar form? Plus, Inside Bru Crew Life has you topping those bars with sprinkles. Who could ask for more?
14. Eggnog Fudge Recipe
If you're looking for a gift idea, wrap up this fudge by Brown Eyed Baker in plastic wrap with sparkly bows and hand them out to your squad.
15. Eggnog Rice Pudding
Thinking about making a batch of rice pudding this holiday? How about adding some eggnog to it with this recipe by Joy the Baker.
16. Eggnog Chocolate Chip Bread
Screw muffins, this bread by How Sweet Eats sounds way more festive!
17. Eggnog Sugar Cookies With Whipped Eggnog Frosting
Kill two birds with one stone with Mels Kitchen Cafe's recipe by putting eggnog in the sugar cookies as well as the frosting.
18. Eggnog Truffles
Another great treat by Taste & Tell that will be easy to make in large batches and hand out to friends!
19. Eggnog Carrot Cupcakes
OK, I'm seriously not a fan of carrot cupcakes, but this recipe by Your Cup of Cake may have me changing my mind...
20. Eggnog Baked Oatmeal with Caramelized Bananas and Vanilla Bean Brown Butter
Looking for something a bit different with your eggnog? This baked oatmeal by How Sweet Eats is a great breakfast alternative to your usual oatmeal or cereal mornings.
21. Eggnog Chocolate Marzipan Babka French Toast
Last, but obviously not the least, is this Eggnog Chocolate Marzipan French Toast by Half Baked Harvest. Seriously, who wouldn't look at that photo and not heart-eye emoji the crap out of it?
Images: Brown Eyed Baker, Half Baked Harvest, Baked By Rachel, Taste & Tell, A Farmgirl's Dabbles, A Spicy Perspective, Damn Delicious, The Kitchn, Half Baked Harvest, Averie Cooks, How Sweet Eats, The Kitchn, Inside Bru Crew Life, Brown Eyed Baker, Joy the Baker, How Sweet Eats, Mels Kitchen Cafe, Taste & Tell, Your Cup of Cake, How Sweet Eats,