All The Best Urban Decay Products On Sephora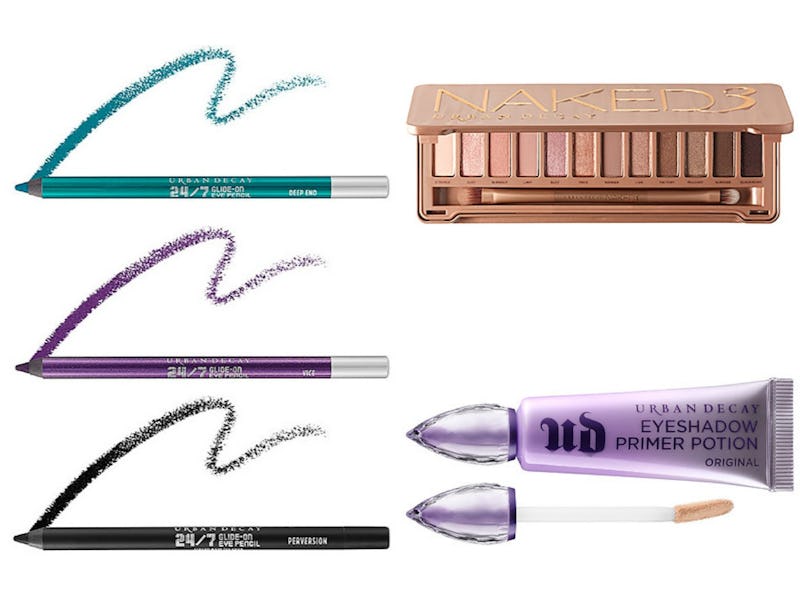 As someone who's obsessively looked at Sephora's site since the mid-'00s, I think it's safe to say I am a serious beauty lover. And on top of my never-ending collecting (a.k.a. hoarding) of makeup, hair care, and skin care products, I was also a makeup artist for several years in my early twenties, so I've tried countless brushes, shadows, and lip shades — and there are certain brands I always come back to. And Urban Decay's best Sephora products are definitely included in my list of absolute faves.
Like all beauty creators, there are some standout pieces of UD's offerings. From their famous (and widely imitated) Naked Palette, as well as all its gorgeous iterations, to their vibrant liners that add dimension and flair to any look, this edgy maker has got it all. And it takes pretty big risks, too. For example, in early 2016, the brand did away with its entire line of lipstick and debuted its massive Vice Lipstick collection featuring 100 colors.
On top of putting out some seriously incredible, highly-pigmented makeup, Urban Decay also has plenty of unsung heroes in the form of base and finishing products. Their eyeshadow primer is beloved by regular beauty lovers and famous makeup vloggers alike, while their setting sprays offers one of the easiest ways to seal your look without turning your skin chalky or dusty.
Now, if the thought of wandering around a Sephora aimlessly trying to find the best picks, don't worry — you can get all of these online! Ready to explore this famed brand's best products?
1. Famous Things First: The Naked Palette
Naked Palette, $54, Sephora
We can't talk about Urban Decay unless we talk about the iconic piece it's known best for: the Naked Palette. This collection of 12 neutral shades ranging from pale taupe to metallic black is renowned for its ability to create an array of looks, from subtle to smokey and beyond.
2. The Perfect Brush For Improving Your Eyeshadow Game
Eyeshadow Contour Brush, $22, Sephora
This simple eyeshadow brush allows you to add definition to your creases (perhaps with the aforementioned Naked Palette ) without tons of blending. And if you're eco-conscious, you'll be happy to hear that UD's brushes are cruelty-free and, in this case, the handle is made from recycled aluminum.
3. My Favorite Liquid Liner Of All Time
24/7 Waterproof Liquid Eyeliner, $19, Sephora
I can't get enough of this eyeliner, and when I can't find it in stores, I'll readily admit that I panic a little. It's waterproof and doesn't budge after a long day, and the applicator is a super thin brush that allows you to create just about any liner look, whether you're trying to do a simple cat eye or something far more daring.
4. This Setting Spray That Staves Off Shine All Day Long
Urban Decay De-Slick Makeup Setting Spray, $31, Sephora
If you've got an oilier complexion but don't like the chalky look of finishing powder (particularly when it's combined with accumulated greasiness throughout the day), spritz this oil-control setting spray in a "T" shape across your face. It seals your makeup look and helps keep oil at bay all day long.
5. This Glorious Eye Primer That Stop Shadows From Creasing
Eyeshadow Primer Potion, $20, Sephora
The original formula of Urban Decay's famous eyeshadow primer is still a bestseller for one simple reason: it works. Simply apply it to your lids prior to using eyeshadow or liner, allowing the eye makeup to grip to your skin rather than sliding, smudging, or creasing throughout the day. Tip: I like to use a little bit of it along my bottom lash line — I've found that it's helped to prevent raccoon eyes from my mascara.
6. A Super Silky Liner That Comes In Just About Every Color
Urban Decay 24/7 Glide-On Eye Pencil, $20, Sephora
Whether you're looking for bright turquoise, hot pink, opaque white, or classic jet black, this liner's range has got you covered. The highly-pigmented pencil and smooth formula ensure your chosen color goes on creamy, then stays in place all day.
7. A Bright, Pigmented Palette For Daring Rainbow Makeup Lovers
Electric Pressed Palette Pigment Palette, $24 (originally $49), Sephora
Obsessed with bright, vibrant shades? This 10-shade palette is basically the opposite of the neutral Naked Palette, featuring hot pink, bold cobalt, lime green, orangey red, and other super pigmented hues.
8. An Eyeliner Specifically Made For Your Waterline
24/7 Waterline Eye Pencil, $20, Sephora
If you absolutely love the look of a darkened waterline (the inner rim right above your bottom lashes), try UD's waterproof liner that's specifically made for this purpose. Not only does it come in traditional black, you can also snag it in gray, brown, navy, and nude, the latter of which actually makes eyes look bigger.
9. This Mascara Primer Makes Your Lashes That Much Thicker
Subversion Lash Primer, $20, Sephora
If you've never used a lash primer, you're missing out. This secret weapon conditions lashes and coats them prior to mascara application, allowing them to look even more thick, long, and lush.
10. A Diffuser Brush That Makes Your Highlighter Look Incredible
Diffusing Highlighter Brush, $32, Sephora
Simply blending highlighter with your fingers can result in an uneven, smudgy look — not a smooth, even light reflection the way that highlighter looks best. Get perfectly blended highlighter to make your cheekbones stand out, give you a more defined brow bone, and add an overall glow to your skin.
11. An Oil-Free Foundation That Leaves Skin Naturally Flawless
Naked Skin Weightless Ultra Definition Liquid Makeup, $40, Sephora
If you've been searching for the perfect base makeup, this oil-free, lightweight foundation is a great option. In 24 shades with several different undertones, it's comes in a wider range than most picks on the market. It's also got a natural matte finish to make skin look shine-free yet still luminous.
12. A Beautiful New Naked Palette For Rose Gold Lovers
Naked3 Palette, $54, Sephora
If you're one of those people who's totally obsessed with rose gold, you're in luck: Urban Decay's third iteration of the Naked Palette is full of shimmery pinks, metallic browns, and matte mauves.
13. Pick One (Or Five!) Of Their 100 Lipsticks
Vice Lipstick, $17, Sephora
After retiring all their existing lipsticks, Urban Decay debuted a massive collection of 100 hues that let you create just about any lip look you can imagine. There are the standard true blue reds and matte nude colors, as well as plenty of adventurous shades like glittery emerald green, matte black, and fuchsia.
14. A Smooth Lip Liner That Doesn't Budge
24/7 Glide-On Lip Pencil, $20, Sephora
Of all the lip liners I've tried, this is one of my absolute favorites. (My go-to color: Naked, a perfect balance between nude and pink.) Plus, it comes in unconventional colors like bright white, bright purple, and matte black.
15. This Setting Spray That Truly Makes Your Look Last
Urban Decay All Nighter Long-Lasting Makeup Setting Spray, $31, Sephora
If you want your look to stay on from morning to evening without smudging or smearing, spritz this setting spray on your face before you head out. This is my go-to product for making sure my makeup doesn't get all over the place without using translucent powder, especially in the winter when powder makes my skin look even drier.
16. A Mini Naked Palette With All The Essential Shades
Naked Basics Palette, $29, Sephora
Whether you're low on purse space, trying to stay on budget, or simply like to pare down to the basics, this simple six-shade palette offers the Naked palette's best hues in matte finishes.
17. A Buildable Concealer For Complete Coverage When You Need It
Urban Decay Naked Skin Weightless Complete Coverage Concealer, $28, Sephora
With 11 shades, a demi-matte finish, a soft sponge tip applicator, and a lightweight texture, Urban Decay's creamy concealer has everything you need to even out darkness under your eyes and little blemishes.
Bustle may receive a portion of sales from products purchased from this article, which was created independently from Bustle's editorial and sales departments.
Images: Urban Decay (3), Sephora (14)