29 Vegan Christmas Cookies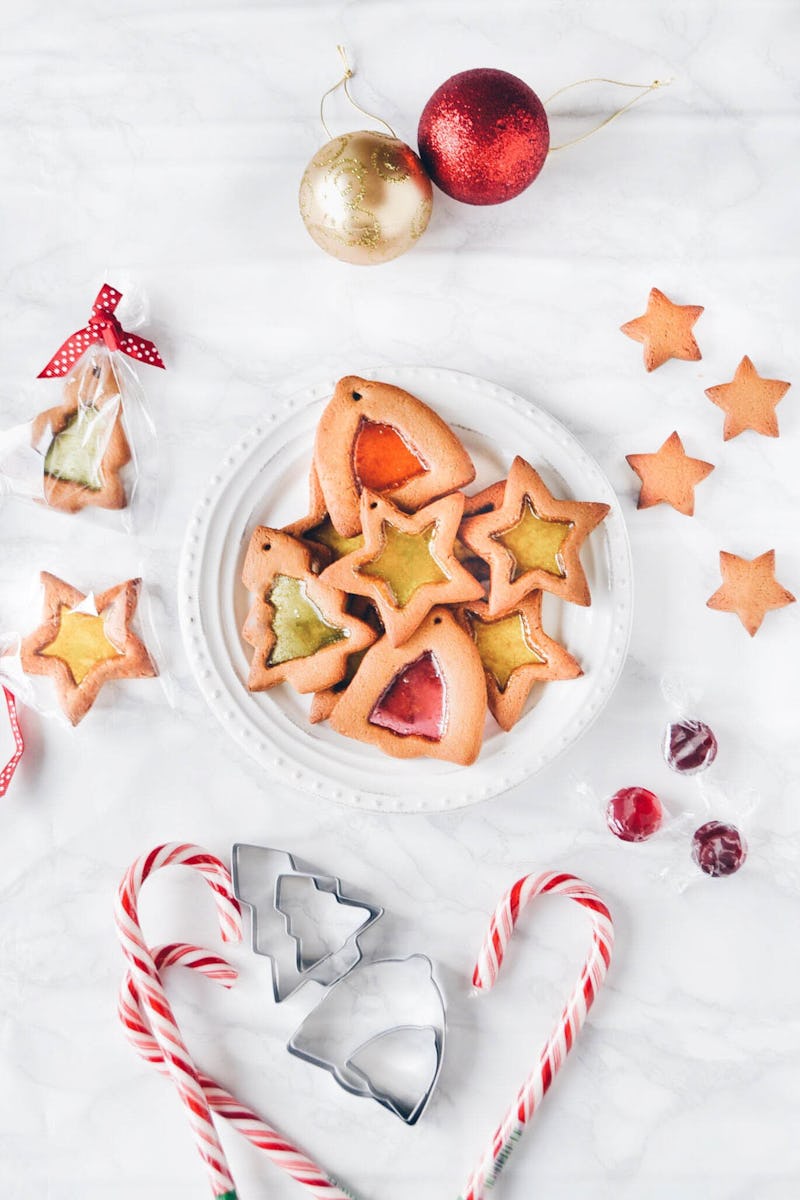 I've said it before and I'll say it again: just because I'm Jewish, doesn't mean I can't appreciate a good Christmas cookie. I've been to plenty of holiday parties in my day, and I always appreciate Christmas' dedication to the cookie art form. As a vegan, though, I'm bummed when I can't taste any of the cookies on the spread. If you've found yourself in the same position — or have a vegan in your family who you don't want to exclude — then you're going to want to check out these vegan Christmas cookie recipes for 2016.
I've already rounded up some picks for the best easy vegan holiday cookies, but this list here focuses specifically only on the most Christmas-y of holiday cookies, some of which are less-than-simple to bake. Whether you'd like your cookies to be a nod to the classic Linzer or Danish Christmas cookie, or it's all about the tree-shapes and icing, there's a vegan Christmas cookie for you on this list.
Happy baking, and might I suggest leaving some of these vegan Christmas cookies for Santa? With all that time he spends hanging out with Reindeers, I'm guessing he respects animals.
Gingerbread Advent Cookies
If you want to start your Christmas baking early, this Wallflower Kitchen recipe has the cute idea to make Advent gingerbread cookies as you count down the days.
Linzer Cookies With Nutella
Classic Nutella isn't vegan — and if you'd like to right that wrong, these Linzer cookies by Heart Of A Baker should be your first line of attack.
Spelt Cinnamon Snowflake Cookies
Absolutely beautiful, these spelt snowflake cookies by Wallflower Kitchen are more doable than they look —granted you have the right cookie-cutter.
Chocolate Peppermint Crinkle Cookies
Nothing says Christmas like chocolate and peppermint, and these crinkle cookies by My Darling Vegan look downright professional.
Funfetti Sugar Cookies
Simply sub rainbow sprinkles for red and green ones — and bam — this Heart Of A Baker recipe is a solid and simple Christmas cookie.
Snowy Oatmeal Crispies
How lovely are these? These delicate oatmeal crispies by The Pretty Bee look whimsical AF.
Gluten-Free Sugar Cookies
If you're more of a holiday cookie classicist, this recipe from Minimalist Baker will please the gluten-free and the vegans in your group, and is relatively easy to make.
Eggnog Cheesecake Thumbprints
Thumbprints are big around Christmas, but this My Darling Vegan recipe really brings the holiday spirit by incorporating eggnog.
Gluten-Free Gingerbread Men
You need gingerbread men/women/gendernoncomforming people to make any holiday cookie roundup complete. This Minimalist Baker recipe is simple and gluten-free, ensuring most everyone will be able to eat them.
Chocolate-Dipped Rosemary Shortbread Cookies
This beautiful recipe by My Darling Vegan is more doable than it looks with the right cookie cutter, and the result is so beautiful you will definitely impress the whole family.
Danish Butter Cookies
The classic Danish butter cookies in a tin aren't vegan — so this recipe by Wallflower Kitchen teaches you how to make your own.
Hazelnut Sandies
These little snowballs by My Darling Vegan are on the simpler side to make — and look like Christmastime in chewable form.
Cherry Almond Thumbprints
Another thumbprint cookie classic, these cookies by Vegan Richa use cherry to give you that classic red Christmas color.
Chocolate Chip Oatmeal Cookies With Fresh Cranberries
If you're looking for a simpler cookie to make, The Pretty Bee's chocolate chip cookies are uniquely seasonal and tasty in that they use fresh cranberries. If you can make your own green vegan chocolate chips, extra power to you.
1-Bowl Vegan Sugar Cookies
The simplest vegan sugar cookie recipe on the internet, these one-bowl vegan cookies by Minimalist Baker are tasty and easy. Think of them as blank canvases for icing.
Nutcracker Cookies
While they might not be the prettiest looking of the bunch, these nutty Oh She Glows cookies are easy to make and shape, and come complete with the perfect holiday name.
Red Velvet Crinkle Cookies
Another beautiful crinkle cookie by My Darling Vegan, these cookies also use vegan white chocolate chips — something I didn't even know existed!
Gluten-Free 1-Bowl Fluffy Cookies
These Minimalist Baker lookers remind me of those delicious supermarket icing cookies that taste half-baked. They look absolutely beautiful and chewy, but are deceptively simple to make, in just one bowl. Kids will love them.
Cranberry Orange Pistachio Cookies
I love pistachios in everything, but these cookies by Wallflower Kitchen are definitely extra-Christmas-y for incorporating cranberries and orange.
Gingerbread Stained Glass Cookies
How beautiful are these? For the more ambitious bakers, these cookies by Wallflower Kitchen are showstoppers for sure.
Chewy Molasses Spelt Cookies With Candied Ginger
Molasses cookies are so delicious on their own — but add some candied ginger and you've really got a holiday cookie winner on your hands. This Oh She Glows recipe packs mad holiday punch.
Lemon Currant Butter Cookies
I love lemon desserts, and these currant lemon butter cookies by The Pretty Bee look mighty festive and fancy all tied up in a bow.
Classic Shortbread Cookies
If you're more of a classic shortbread cookie person, these cookies by Wallflower Kitchen are a vegan take on the Christmas staple.
Almond Florentines
These delicate beauties by Vegan Richa are a classic Christmas cookie favorite for a reason, and go great with vegan nog.
Gingerbread Biscotti With Cranberries
Perfect for dipping in your vegan eggnog, this Vegan Richa biscotti earns double Christmas points with gingerbread and cranberries.
Chocolate Chip Cookie Dough Balls
Another great thing about being vegan is that you can eat raw cookie dough without worrying about it so much! These Oh She Glows chocolate-dipped cookie dough balls look delicious and, as you can see above, can easily be decorated in Christmas colors.
Gluten-Free Chocolate Sugar Cookies
If you're always partial to chocolate, these holiday cookies by The Pretty Bee make sure some gets into your classic Christmas sugar cookie.
Eggnog Snickerdoodle Cookies
A Christmas take on the snickerdoodle, these cookies by The Misfit Baker pack an extra holiday punch with eggnog flavor.
Spelt Gingerbread Cookies
This gingerbread recipe by Making Thyme For Health is made with easier-to-digest spelt flour. Be warned, though: they are a healthier recipe calling for no refined sugar, so you will also be eating these for breakfast.
Images: The Misfit Baker; The Pretty Bee; Oh She Glows; Vegan Richa; Wallflower Kitchen; Minimalist Baker; Heart Of A Baker; My Darling Vegan