19 Easy Vegan Holiday Cookies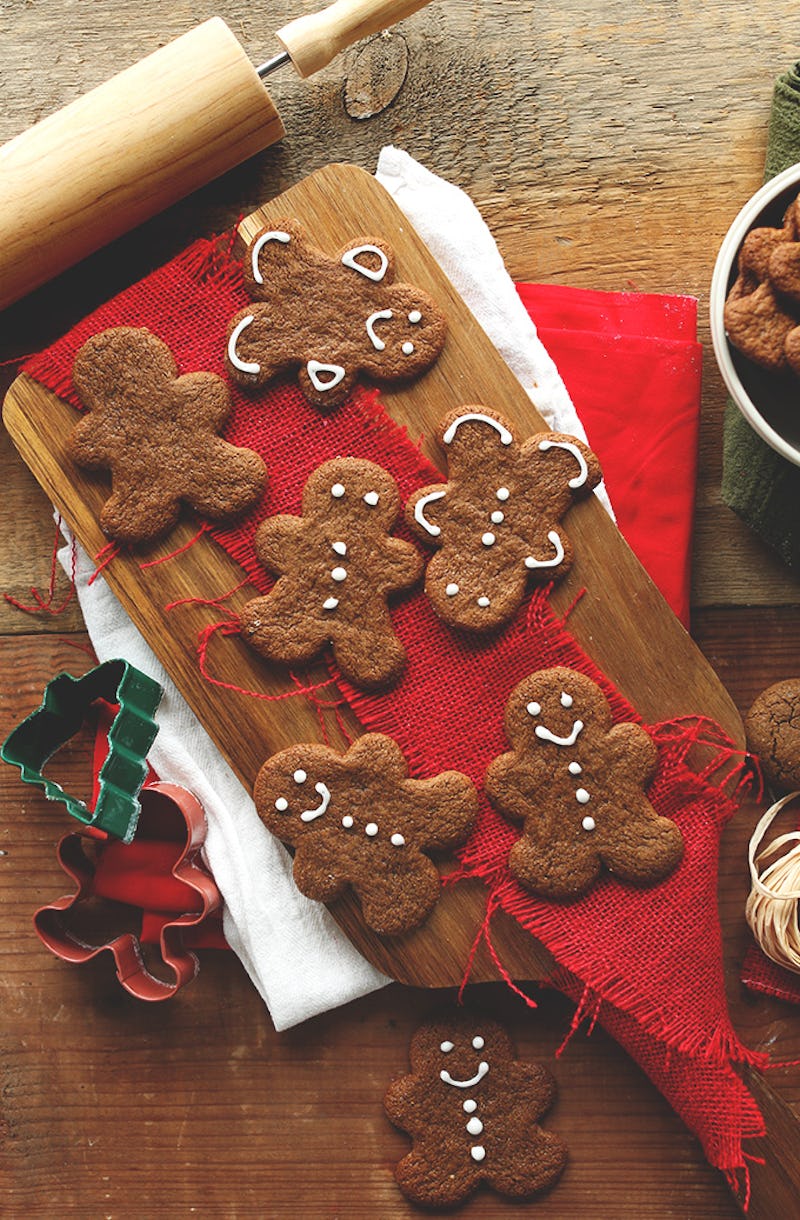 Look, I'm Jewish, but that doesn't mean I can't enjoy a good Christmas cookie. Any tradition that involves dessert is a good one, as far as I'm concerned — provided that dessert is vegan, that is. Whether you're also vegan, are going to a holiday party where you know there might be vegans, or simply want to be able to eat more cookies this holiday season without feeling as sick, then you're going to want some delicious and easy vegan holiday cookie recipes to try this 2016.
One of the great karmic justices of the vegan universe has to be the fact that vegan desserts taste just as good — and often leave you feeling less bloated after you eat them. Subbing coconut oil or vegan butter for dairy butter, and ingredients like flax or aquafaba for eggs, you can make your cookies just as crispy, crunchy, or chewy as you please.
While I love baking, I'm also no pro — which is why I love me an easy vegan cookie recipe. Below, here are my picks for this 2016 holiday dessert season.
Gluten-Free Banana Pecan Shortbread
Holiday cookies are all about the shortbread. I like this recipe from Minimalist Baker for using bananas to help naturally sweeten the deal. Pecans make them extra-seasonal, and like most of Minimalist Baker's recipes, it's simple.
Gluten-Free Almond Lace Cookies
Almond lace cookies just look so pretty — and somehow complicated. Luckily, these Oh She Glows beauties are actually pretty simple to make. They just look fancy and delicate.
Pumpkin Spice Cookies
When it comes to eating pumpkin desserts past Thanksgiving, I'm kind of like Ryan Gosling in The Notebook — it still isn't over! Who says pumpkin is just a fall holiday dessert? These Making Thyme For Health cookies are especially festive-looking with their icing drizzle.
Chewy Molasses Spelt Cookies With Candied Ginger
Molasses cookies are so delicious on their own — but add some candied ginger and you've really got a holiday cookie winner on your hands. This Oh She Glows recipe makes the cut for also being simple to make.
Gluten-Free Sugar Cookies
If you're more of a holiday cookie classicist, this recipe from Minimalist Baker will please the gluten-free and the vegans in your group, and is relatively easy to make.
Gluten-Free Snickerdoodles
Snickerdoodles are like sugar cookies' more interesting cousins. This recipe by Oh She Glows looks lovely and easy.
Thin Oat Crisps
Personally, I find oatmeal cookies to be some of the most satisfying options for dessert around. These thin cookies by Green Kitchen Stories are a perfect option to leave for Santa (and eat in the morning).
Chocolate Chip Cookie Dough Balls
Another great thing about being vegan is that you can eat raw cookie dough without worrying about it so much! These Oh She Glows chocolate-dipped cookie dough balls look delicious and, as you can see above, can easily be decorated in Christmas colors.
One-Bowl Vegan Sugar Cookies
The simplest vegan sugar cookie recipe on the internet, these one-bowl vegan cookies by Minimalist Baker are tasty and easy. Think of them as blank canvases for icing.
Gluten-Free Gingerbread Men
You need gingerbread men/women/gendernoncomforming people to make any holiday cookie roundup complete. This Minimalist Baker recipe is simple and gluten-free, ensuring most everyone will be able to eat them.
Spelt Gingerbread Cookies
If gluten-free gingerbread cookies sound too risky, you might want to try this recipe by Making Thyme For Health, made with easier-to-digest spelt flour. Be warned, though: they are a healthier recipe, so you will be eating these for breakfast.
One-Bowl Double Chocolate Chunk Cookies
For the true chocolate lovers, these Oh She Glows cookies double up on chocolate, look great, and are super simple to make.
PB & J Graham Cracker Thumbprints
These thumbprint cookies have Christmas written all over them. Simple and tasty, these Minimalist Baker gems combine all that is holy: graham crackers, peanut butter, and jam.
Nutcracker Cookies
While they might not be the prettiest looking of the bunch, these nutty Oh She Glows cookies are easy to make and shape, and come complete with the perfect holiday name.
Gluten-Free Crispy Peanut Butter Chocolate Chip Cookies
Another great cookie to leave for Santa, these Oh She Glows cookies are easy, tasty, and even pack some protein.
One-Bowl Jumbo Chocolate Chip Cookies
Any cookie recipie roundup needs some classic chocolate chip cookies. This Oh She Glows recipe looks extra-festive because it comes with extra chocolate.
Healthy Gluten-Free Fig Newtons
Look, I love fig newtons. Christmas is all about those figs, so why not make these homemade newtons by Minimalist Baker for your great aunt who swears that all desserts are garbage for you?
Turtle Oatmeal Cookies With Pecans And Medjool Dates
It's the pecans and dates that make these Oh She Glows cookies extra-festive — and you won't have to stress about perfect presentation, since all the chunks make the shape of these cookies extra-forgiving.
Gluten-Free One-Bowl Fluffy Cookies
These Minimalist Baker lookers remind me of those delicious supermarket icing cookies that taste half-baked. They look absolutely beautiful and chewy, but are deceptively simple to make, in just one bowl. Brb, I have to go make these now.
Images: Minimalist Baker; Oh She Glows; Making Thyme For Health; Green Kitchen Stories