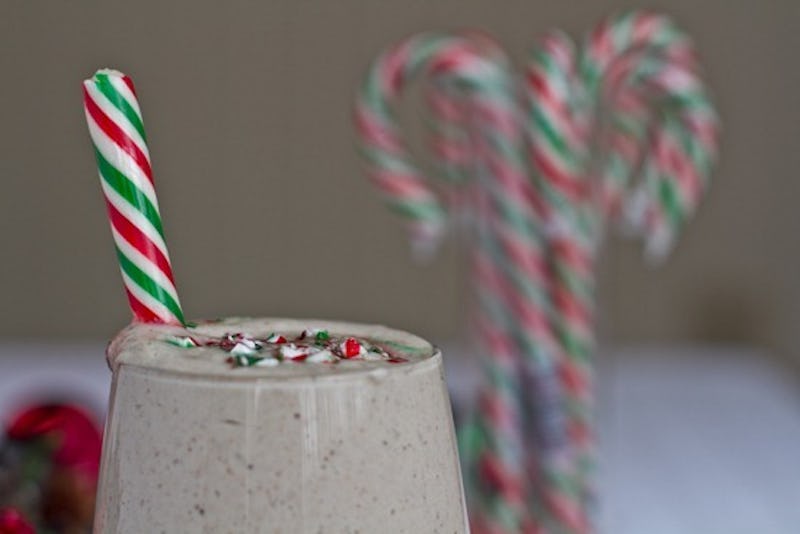 Despite its decidedly un-vegan namesake, eggnog can be made vegan. In fact, whether you make it with coconut milk, almond milk, soy milk, or even one of the pre-made alternative milk seasonal eggnog mixes that come out every year in supermarkets, a vegan or lactose-intolerant person searching for a delicious vegan eggnog doesn't have to look very hard to find options. That said, if you really want to go DIY this year, you're going to want to follow a recipe to make your own homemade vegan eggnog.
Whether you're looking for a classic eggnog to spike with booze, a healthy eggnog milkshake, a chocolate peppermint twist on the beverage, or simply love eggnog so much that you'd like your cookies, cakes, and fudge to pay homage to the eggnog flavor, I've got a vegan eggnog recipe on this list for you.
Even better, while eggnog has the reputation for being the ultimate holiday indulgence, vegan eggnog, like most vegan food, tends to be a bit on the lighter side and easier to digest, since most of us are much more lactose intolerant than we realize. If you'd like to be able to up the amount of nog you can drink without wanting to die the next day, a vegan eggnog recipe (potentially going a little easier on the sweetener and alchohol) is definitely the way to go.
Happy holidays — and happy vegan eggnog boozing.
Peppermint Eggnog
A simple twist on the classic, this Oh She Glows peppermint eggnog uses avocado, banana, and coconut milk to achieve peak creaminess — without the bellyache. It's practically a smoothie!
Healthy Eggnog Protein Shake
If you want to go even healthier and have your eggnog for breakfast, this eggnog protein shake by Chocolate Covered Katie uses soft tofu mixed with milk (it's actually really good, promise!) for added protein and creaminess.
Mini Eggnog Spice Cake With Creamy Dream Frosting
I love Chocolate Covered Katie for always having plenty of small-batch cake options for one. This mini eggnog spice cake is a great recipe for when you just need a slice of cake to eat alone, stat.
Vegan Eggnog With Whiskey
This recipe from Veggie Primer uses cashews, coconut milk, and dates for peak creaminess — and suggests you add Fireball whisky. Yum.
Eggnog Cheesecake Thumbprints
This thumbprint cookies by My Darling Vegan make a perfect Christmas cookie. Because sometimes you just need your nog in bite-sized form.
Eggnog French Toast & Cranberry Maple Syrup
For your Christmas morning breakfast, this vegan eggnog french toast by Veganosity with cranberry maple syrup really brings the holiday spirit/sugar rush.
Eggnog Muffins
So they look like cupcakes, but these eggnog treats by The Misfit Baker are called muffins ... so you should probably also have them for breakfast.
Gingerbread Bundt Cake With Spiced Eggnog Glaze
This beautiful gingerbread bundt cake with eggnog glaze by My Darling Vegan looks like just the dessert to impress your vegan-skeptical family.
Classic Eggnog
Similar to her peppermint nog, only minus the peppermint, this Oh She Glows recipe uses avocado, banana, and coconut milk in what has to be one creamy and healthy-ish eggnog.
Eggnog Ice Cream
If you're anything like me, it's never too cold outside for ice cream. This eggnog n'ice cream by The Misfit Baker uses coconut milk and pre-made So Delicious nog, which you can find in stores. Oh, and it even calls for rum.
Eggnog Crunch Biscotti
This beautiful biscotti by Oh She Glows will be perfect for dipping in your vegan nog for some nog-on-nog action.
Eggnog Snickerdoodle Cookies
A take on the classic snickerdoodle, these cookies by The Misfit Baker pack an extra holiday punch.
Gingerbread & Eggnog Bars
This isn't even an artsy picture and I'm drooling. This Earth Balance recipe is the perfect way to have a small piece of cake with your nog.
Creamy Nog Smoothie
Another way to have egg nog for breakfast, this Oh She Glows recipe uses pre-made nog, a frozen banana, and just a few spices.
Cinnamon Eggnog Rolls
These eggnog cinnamon rolls by The Misfit Baker will definitely make you the hero of Christmas morning. Make your house smell like those cinnamon bun stands at the mall!
Eggnog Cookies
Another eggnog Christmas cookie, this Earth Balance recipe looks beautiful, but is actually pretty simple.
Spiced Cinnamon Almond Milk Nog
If you want a slightly lighter nog, this Pure Ella recipe uses almond milk and arrowroot starch to thicken — leaving more room for booze.
Eggnog Cupcakes
These eggnog cupcakes by The Misfit Baker look delicious and very festive. More power to you if you know how to make icing look that professional.
Chocolate Eggnog Fudge
Fudge is delicious. Eggnog is delicious. This recipe by The Misfit Baker simply combines the two flavors into one awesome dessert.
Virgin Chocolate Eggnog Martini
This recipe by Veganosity says it's virgin, but I also see no reason why it has to be. Super easy, she just suggests using Silk's seasonal eggnog, and adding chocolate and peppermint extract. Looks fancy, but it takes hardly any effort. Just my kind of recipe.
Images: The Misfit Baker; Pure Ella; Earth Balance; Oh She Glows; My Darling Vegan; Veganosity; Veggie Primer; Chocolate Covered Katie