Where To Buy K-Beauty Goods For Only A Few Bucks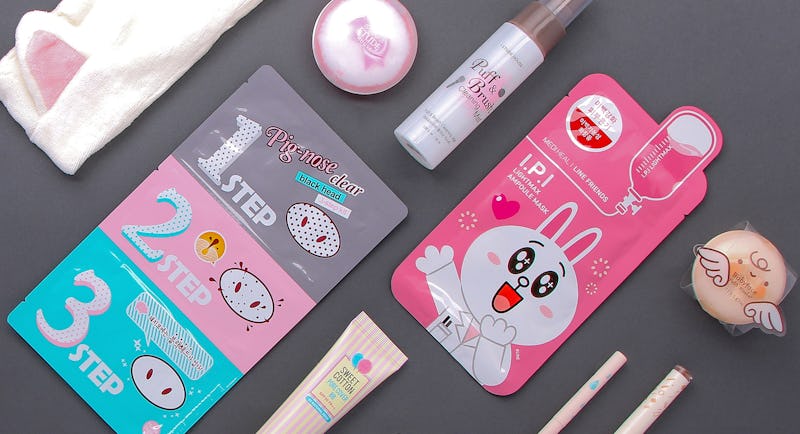 While I'm sure there are those who love to splurge on the regular, you'd probably be hard pressed to find someone who doesn't love scoring a sweet beauty deal online — especially when it's a hot beauty trend. Hollar, the first online dollar store, is now offering Korean beauty products for deeply discounted prices. It's going to be hard to resist treating yourself when you should probably be purchasing gifts for loved ones — though you can probably do that, too, thanks to Hollar.
Recently, the online store launched their beauty section, and probably the most impressive part of the launch was the sheer volume of Korean beauty products found in the collection. If you're a beauty or skincare junkie, you probably already know that K-beauty is having a serious moment and has been for a while. In fact, you may already be using K-beauty inspired products and not even realizing it. From sheet masks to cushion compacts, Korean beauty has had a huge impact on the beauty world.
If you've ever wanted to expand from a cursory glance into Korean beauty and skincare but were concerned about prices, you can official try tons of amazing products thanks to Hollar. Instead of spending your hard earned money on full-priced items, you can snatch up some of the biggest names in K-Beauty like Etude House and Berrisome at hugely discounted prices.
What should you try first? Here are my 15 picks.
1. TONYMOLY Handcream & Lip Balm Bundle
$17, Hollar
Always stay moisturized.
2. Berrisome Brightening Animal Sheet Mask — Sheep
$4, Hollar
You can never have too many sheet masks.
3. Etude House Kissful Lip Care Lip Concealer
$5, Hollar
Want to seamlessly rock a Kylie lip kit? Here's how.
4. TONYMOLY Magic Food Banana Bundle
$20, Hollar
Two products for a killer price? Yes, please.
5. It's SKIN Babyface Petit Mascara
$4, Hollar
It's not all skincare with K-beauty.
6. Mediheal Impact Essential Mask
$1, Hollar
A mask for only a dollar? How could you not try it?
7. Etude House Mineral Bottle Facial Mist — Deep Moisture
$8, Hollar
Say yes to toner.
8. Etude House Kissable Lip Care Scrub
$5, Hollar
With matte lips all the rage, a scrub is necessary.
9. Etude House Puff & Brush Cleaning Mist
$5, Hollar
Want to try a new brush cleaner? This may be your best bet.
10. Berrisome Anti-Aging Animal Sheet Mask — Raccoon
$4, Hollar
Want to try an anti-aging sheet mask? This one is only $4.
11. Etude House Collagen Eye Patch
$1, Hollar
Never underestimate hydrating your under eye.
12. Etude House My Beauty Tool Kitty Head Band
$8, Hollar
Is this not the cutest thing you've ever seen?
13. Etude House Bebe Foot Mask
$8, Hollar
Your feet will definitely need these after walking in those winter boots.
14. It's SKIN Pore Mask
$3, Hollar
Enlarged pores? No problem.
15. Etude House Drawing Eyebrow
$3, Hollar
Everyone wants on fleek brows.
What are you waiting for? It's the perfect time to shop, and with the prices on Korean beauty at Hollar, there's no reason not to do so.
Images: Hollar