Kristin Chenoweth Dominated 'Hairspray Live!'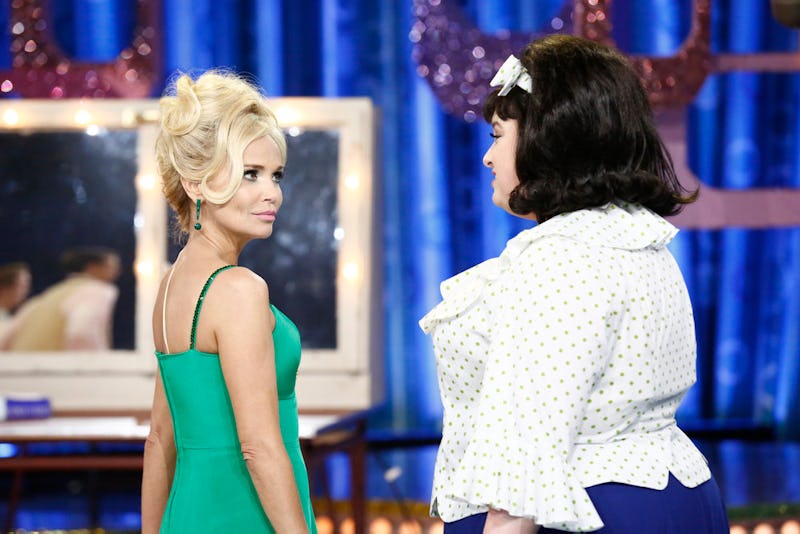 In case you've missed out thus far on Wednesday night's Hairspray Live!, you're missing out on Kristin Chenoweth absolutely killing it. Seriously, what could be better than watching the magic of Hairspray unfold live? As Velma Von Tussle, Chenoweth is fantastic. She was infusing her Broadway chops into the role of the thorny stage mother and stage manager of The Corny Collins Show who has some serious issues with integration. In the world of Hairspray, Velma's a somewhat thankless role; in the hands of Chenoweth, there was nothing but pure sass and drama in every one of her lines. In fact, I think her performance was so good she was risking outshining the rest of the cast. Can you blame her?
Chenoweth absolutely killed it during her solo number, "Miss Baltimore Crabs." She primped, she preened, she relived her glory days as a teen beauty queen right before our very eyes. It became clear from the get-go that Chenoweth was going to be a scene stealer and no, it wasn't because she was employing her trademark sweetness. Rather, there was definitely something a bit more spiky about Chenoweth as she slunk around the stage in Velma Von Tussle's shoes and honestly, it was pure Broadway-inspired perfection.
I don't know about you, but watching Chenoweth deliver on every line of her solo number along with her signature scowl made for some pretty fun Hairspray Live! viewing. Is there anything she can't do? It's certainly a big win for the cast of Hairspray Live! to be able to work alongside Chenoweth, a Broadway vet who knows how to make that stage her own. Here's to hoping that she gets back onscreen ASAP because I don't know if I could go another minute without her.
Image: Justin Lubin/NBC