"Welcome To the 60s" Was A 'Hairspray' Reunion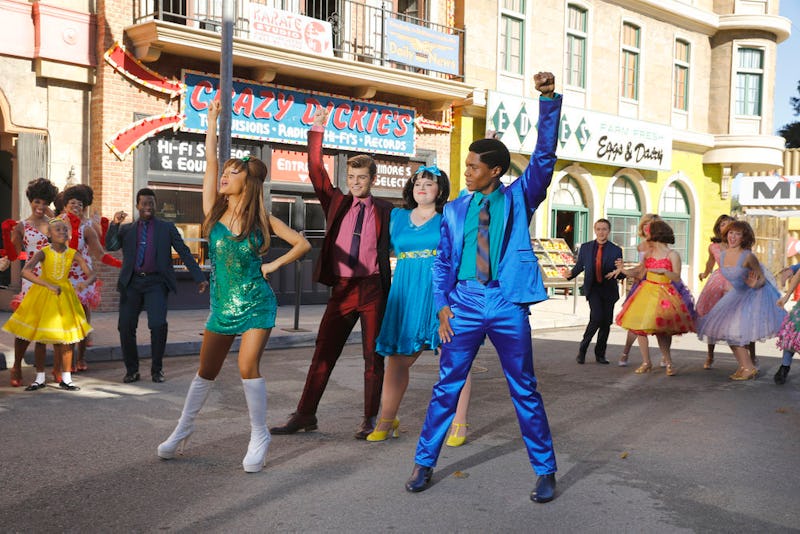 One of the first turning points in Hairspray is "Welcome to the '60s" — Tracy is trying to get Edna, her mother, out of the house so they can celebrate her newfound status as Corny Collins' dancer, and she's imploring Edna to see that she's in a new world. It's the 1960s! Everything is modern! It doesn't matter if you're different or not! I'm an idealist at heart, so I'm really into the optimistic message of the "Welcome to the '60s" song.
Luckily, Hairspray Live! had just the people who knew what to do with such a big song — Maddie Baillio, who is playing Tracy, and Harvey Fierstein, who is and ever shall be the OG Edna. Baillio is a relative unknown — she was cast through a casting call by NBC — but she definitely holds her own against the legendary Fierstein. The rest of the song was like a big reunion, with the original Dynamites (the girl band) from the Broadway play accompanying Tracy and Edna and Ricki Lake and Marissa Jaret Winokur (who played Tracy in the original movie and the 2007 remake, respectively) showed up, too. I love a good reunion, don't you? I also love Harvey Fierstein riding on a hot dog, and we got that, too.
So far, Hairspray Live! has kept very close to its musical and movie roots, and I think that's super important. So many of the people who are watching at home are fans of the original musical or movie and the remake, and you're sure to alienate a lot of viewers if you at least don't add some callbacks and easter eggs for them to find and enjoy. There's plenty of modernity, too, but Hairspray Live! and "Welcome To The '60s" are paying plenty of homage to the show's humble cult beginnings.
Images: Trae Patton/NBC; Giphy