Zoey Proves Herself As An Intern On 'black-ish'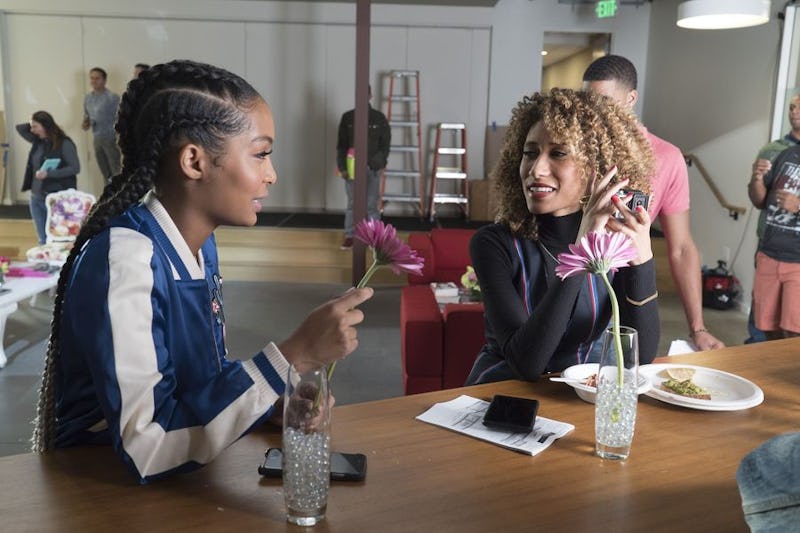 Against Dre's wishes to make sure his kids are hardworking, the eldest Johnson daughter gets a favor from both of her parents in order to get an internship she didn't deserve. And with Zoey's internship at Teen Vogue on black-ish , the episode tries to make a point about how black people don't often get the chance to benefit from nepotism. It's true, Zoey's character has vacillated between being secretly smart and practical and shallow and unmotivated to do just about anything. She's just as spoiled as the rest of the kids, but this week, Zoey proves that while she may be more concerned with taking selfies than sending punctual emails, she's also a great and skillful fashion intern.
The new editor-in-chief of Teen Vogue , Elaine Welteroth, a black woman who also made her way to that position by having incredible talent and working incredibly hard, makes a guest appearance in order to explain that Dre might have been able to give his daughter a jump on the application process, but she had to succeed or fail on her own. Bow, meanwhile, who's been clawing her way up at the hospital as well, is faced with a supervisor who doesn't even remember what her name is. And, of course, poor Charlie can't even finish paying off his TV from layaway.
Of course, compared to families who have to worry about more serious issues, fretting about whether or not your wealthy kid gets a stellar internship in their first semester of college is kind of a champagne problem, but I do think that it's admirable that Dre is learning that you don't have to struggle out of poverty or against insurmountable circumstances in order to make the best and most of your natural talents. Zoey didn't need to take out lots of expensive loans or send thousands of applications for her intern gig, but it's still up to her to make the most of the experience — and both the hard work she's struggling to learn from her parents and her abilities with fashion make her a great intern.
Image: Eric McCandless/ABC