'TVD' Is Coming Back For The Last Time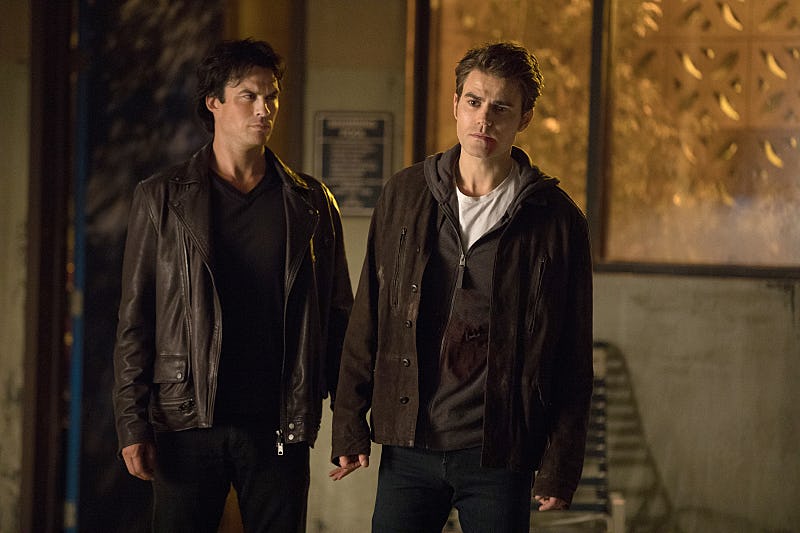 It's really hard to believe that this is the last time fans will be wondering when The Vampire Diaries comes back from hiatus. According to a press release sent out by The CW, Vampire Diaries will be making it's grand mid-season return on Feb. 10. I know, it seems so long to wait for new episodes, but secretly, I want to savor the last moments we have with Damon and Stefan Salvatore. Earlier this year, it was announced that Season 8 of The Vampire Diaries is the final one. It seems like they have so much more to wrap up before the series ends though, right?
We're in the height of the siren drama and things only seem to be getting worse for our favorite vampires. Damon and Stefan have taken the deal with Cade to trade places with the sirens and spend eternity killing people. They literally made a deal with the devil. Meanwhile, no matter what's going on in the world, Caroline and Alaric's kids are always in danger and Elena is still laying in a box somewhere. Not to mention, that for Elena to wake up Bonnie has to die. Bonnie and Enzo are the only thing I want to last on the show and we know that it can't.
Like I said, there's a lot to wrap up before the series finale airs on March 10.
Elena Needs To Wake Up
If this show ends without Elena Gilbert waking up, I am going to throw a table like Teresa Giudice in RHONJ. There's no way they could end this show without wrapping up that storyline. It's the main plot over the entire eight seasons even after Nina Dobrev left she show. What would be interesting though, is if the show ended in the future and Elena wakes up to find both Damon and Stefan dead, but Caroline by her side.
The Deal With Cade Needs To End
You can't end everything and still have Damon and Stefan attached to this ridiculous deal they made.
The Sirens Need To Die
I'm really over Sybil. I wouldn't mind so much if Seline just faded out and lived her life, but Sybil has got to go. The sweet justice I need is Damon to be the one that kills her in cold blood. That would be the cherry on the cake.
Jeremy Gilbert's Final Good-Bye
Bring back Steven McQueen! He can take a day off from putting out fires on Chicago Fire to come back to Mystic Falls. I just want to know he's okay "vamp hunting."
Matt Needs To Move Far Away
I mean, when every single person you love has died and you've died multiple times, I think it's about time to move to a desert island and live out your days.
A Klaroline Moment
Yes, I know Stefan and Caroline are adorable, but you know who was even more adorable? Caroline and Klaus. I personally need one more moment with the two of them. They were the most 'shippable couple on the entire series.
The June Wedding
We need Stefan and Caroline's June wedding though. It needs to happen and I'm guessing fans won't forgive Julie Plec if it doesn't.
Alaric's Love Story
Don't we all just want Alaric to fall in love with the perfect woman and live happily ever after? I hope he finds that before the series ends.
A Sense Of Finality
I really don't want to see a cliffhanger that leaves open the possibility of a reboot and then have to wait 15 years because someone is holding out and doesn't want to do it. I want everything to wrap up completely. The only exception to this is if some of them head to The Originals.
Images: Bob Mahoney/The CW (4); Giphy (6)