13 Holiday Cards For Book-Lovers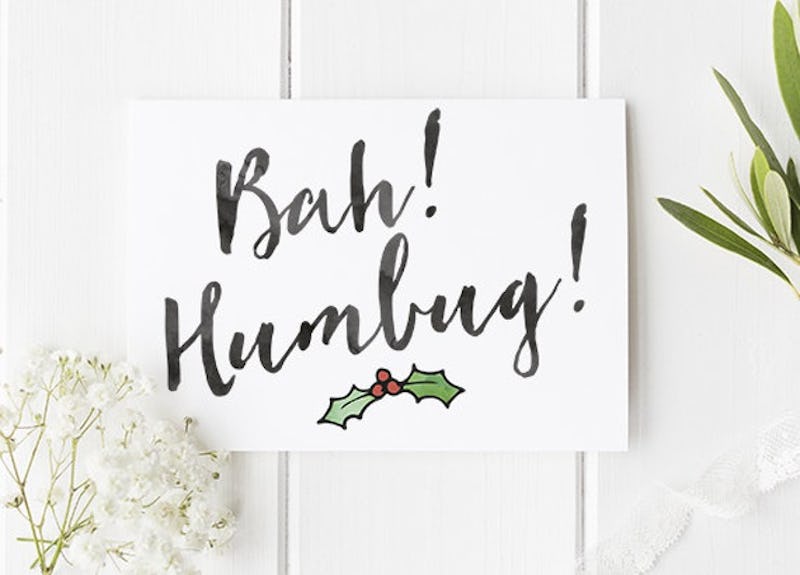 From making shopping lists, buying gifts, and wrapping presents to choosing the Christmas tree, hanging the lights, and decorating the house, there are a million things to do around this time of year, including sending out annual notes of love and cheer. If you still haven't crossed that last one off your to-do list, then consider trying one of these wonderful holiday cards for book-lovers this year. They're a beautiful and bookish way to wish your loved ones a happy holiday.
Holiday greeting cards are a sweet, thoughtful way of sending good tidings and cheer to friends and family each December, and the best part is, there's no wrong way to do it. Some people choose to mail out professional family photos with messages of love from the whole gang, while others prefer beautiful holiday prints or inspirational seasonal quotes meant for decoration and display. Every year, I look forward to displaying my collection of holiday cards in the form of awkward family pictures, romantic couple's shots, photos of pets, holiday prints, winter scenes, and silly seasonal greetings. It just doesn't feel like the holidays until I've hung my first one on the wall, in all it's cheer and glory. And while I appreciate every note that isn't a bill that arrives in my mailbox this time of year, my favorite greeting cards are the book-themed ones.
If you're stilling choosing the perfect piece of holiday cheer this year, here are 13 greeting cards for book-lovers all the readers on your mailing list will love.
Is there any better way to spend the chilly holiday than with a good book and a warm cocoa? Yeah, this card doesn't think so either.
Boxed Season's Readings Holiday Cards, $24, Etsy
Spread smiles this holiday with a punny, library-themed Christmas card that doubles as a gift card holder. For serious book-lovers, its the perfect vessel for that bookstore gift certificate.
Library Christmas Gift Card Holder, $5, Etsy
There are two officially acceptable ways to spell Hanukkah, but there are a million other ways that people try. Celebrate the holiday and the word itself with this clever, typewritten edited greeting card the perfectionist in your life will get a kick out of.
Letterpress Happy Hanukkah Greeting Cards Pack, $15, Etsy
Because you can never have too much joy or too many puns during the holidays, this Edgar Allan Poe-inspired greeting card makes the perfect seasonal mailer for everyone on your list.
Let it Poe Set of 5, $12, Etsy
Inspired by the poet's beautiful poetry, this Emily Dickinson-themed holiday card is as beautiful as the writer's own work. Featuring an image of her actual homestead in Amherst, MA, a gorgeous full moon, and an illustration of Emily herself, this is a breathtaking card fans and non-fans will proudly display on their mantle.
Emily Dickinson Traditional Snow Scene, $3.71, Etsy
There are a lot of memorable Tyrion Lannister quotes, but none are as appropriate at the holidays as this one. Funny and bookish, fans of the show and book series alike will get a cheerful chuckle out of this seasonal greeting.
"I am the gift" Printable, $2.50, Etsy
Featuring a sweet illustration from The 12 Joys of Christmas, this seasonal greeting card celebrates what the holidays should be all about: time with family, cute dogs, and reading.
The 12 Joys of Christmas, $3.50, Etsy
Jane Austen knows a thing or two about the holidays, as do her heroines, especially the famed party-thrower, Emma. A sweet and sentimental message, this book quote is the perfect seasonal greeting for family and friends.
Emma Christmas Card, $1.98, Etsy
Forget Happy Christmas, it's all about having a Harry Christmas. Send this Potter-themed card to all the die-hard fans in you life — along with your Weasley-inspired sweatshirts, of course.
Harry Christmas! Card, $3.25, Etsy
Ready for 2017 to get here already? So is Alice and her bottle of prosecco on this cute and clever literary-inspired holiday greeting card, great for New Year tidings.
Merry Prosecco, $3.84, Etsy
Featuring one of the most famous literary holiday quotes of all time, this A Christmas Carol-inspired card is a simple yet fun way of spreading cheer. Blank inside so you can fill out personalized messages for everyone, it's the perfect card for everyone on your mailing list.
Bah! Humbug! Literary Card, $3.58, Etsy
For the classic book lovers in your life, this The Labyrinth-inspired holiday greeting card is the perfect decoration for the a library mantle place.
The Labyrinth Red Book, $3.71, Etsy
If only every Christmas tree had stacks and stacks of books underneath it, then everyone's holiday could be filled with joy and cheer. In the meantime, this reading-inspired holiday card will do.
Book Lovers Holiday Card, $4.50, Etsy
Images: Etsy