23 Last-Minute Secret Santa Gifts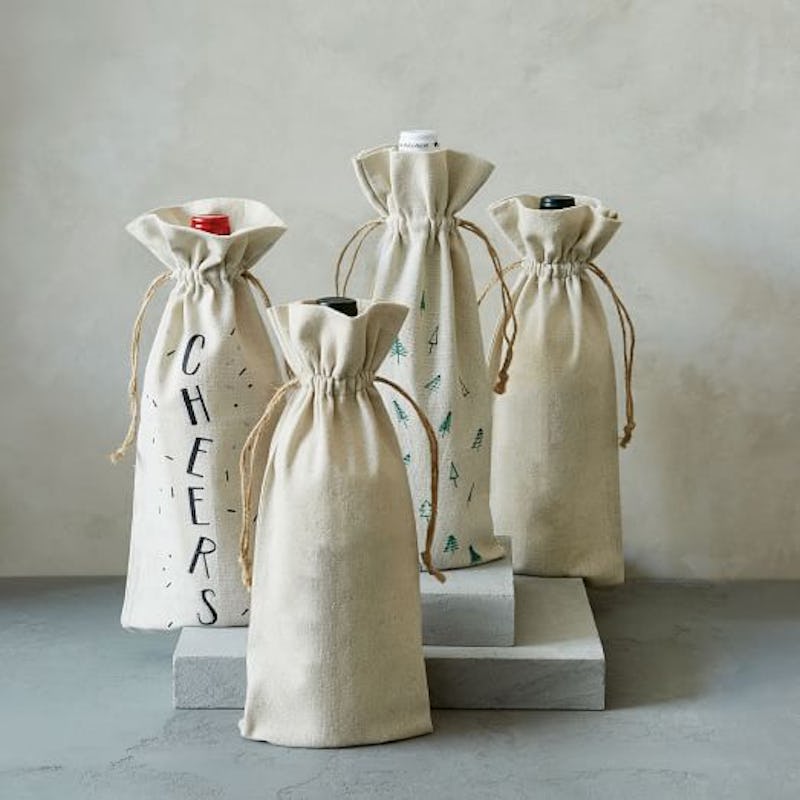 Let me guess…the clock is ticking and you still have absolutely no idea what to get that person whose Secret Santa you've been named. At this point, the party is rapidly approaching, and you now have to find a last-minute Secret Santa gift that will somehow make it appear as if you put at least some time and effort into your purchase.
Although the prospect of Secret Santa is sweet — especially if you've been assigned to your crush — it also means adding a lot of pressure and anxiety to your shopping list. It means having to actually find something thoughtful for that person, even if you don't know a whole lot about them.
So, basically, I'm about to save your butt. The list below is for every person you could imaginably think of that exists in your life. Gifts perfect for the sophisticated, the workout buddy, the meal-planning guru, the stylish, the wine and tea snobs, the cat lady, the organized, the disorganized, the football fanatic, the coffee fanatic, and even the everything bagel fanatic. To top it all off, some gifts are even listed for those whom you barely know anything about. So stop sweating, and get to work. Time is still ticking.
Old And Hot Card, $6, Read Between The Lines
For someone who is always about the gag gifts and funny cards when birthdays roll around.
2. Fly Away Tamer Headband II
Fly Away Tamer Headband II, $12, Lululemon
Have to find a gift for the athleisure obsessed girl, but know deep down you can never really afford anything that she loves? This headband won't break the bank, and comes in numerous stylish patterns.
3. Everything Bagel Making Kit
Everything Bagel Making Kit, $25, Paper Source
Have that friend or co-worker that is obsessed with getting a bagel in the mornings? Save them the trouble of going out before work with this bagel creating kit! It could be fun to even pair with a bag of coffee beans.
People Will Stare Wall Jewelry Holder, $17, TJ Maxx
If you're in charge of the jewelry-lover's gift but super intimidated to get them any kind of bling, this is the probably the next best thing.
Mer-Sea & Co. Foaming Bath Salts, $28, Anthropologie
For that busy friend or co-worker who is in need of a spa day but seems to never have time to treat themselves, give them the ultimate at-home treat.
Getting Pizza Exercise Mat , $32, Dormify
For the workout buddy who feels no shame eating a whole large pizza with you after every yoga session.
Fairisle Snowflake Throw, $30, TJ Maxx
Because who in their right mind wouldn't want a festive holiday blanket to snuggle under?
Artist Atelier Eau De Parfum, $16, Anthropologie
These perfumes actually have watercolor and acrylic designs from a Brooklyn-based artist. So, basically, that indie art-loving friend of yours will find this completely retro.
9. Coffee Spirit Animal Mug
Coffee Spirit Animal Mug, $13, Paper Source
Paired up with the Lorelai Gilmore of the office? This is probably the absolute perfect gift for them. Copper boom.
The Meow the Merrier Car Sticker Set , $7, Amazon
In case you have been paired with the beloved cat lover!
11. Bird Beak Scissors
Bird Beak Scissors, $22, Perch
If you're assigned to the more sophisticated type, these scissors can look more like art when perched on a desk.
12. Hand Painted Metallic Tote
Hand Painted Metallic Tote, $25, Paper Source
Are you in charge of giving a gift to the girl with a green thumb? This stylish tote is the perfect gift for farmers market trips — and will fold up and pack nicely!
13. Office Photo Display
Prop the Question Photo Display, $25, Modcloth
Assigned to someone in the office that you never met before with absolutely no idea what to get? This office photo display/cup holder is a pretty safe purchase.
Personal Library Kit, $16, Knock Knock Stuff
This is for the biggest book nerd out there – the one who loves to share their love of books with others by giving out their own books…but then never getting them back. Plus, what book lover would not like to have their very own library of books?
Football Playbook Glasses – Set of 4, $42, Uncommon Goods
These glasses are perfect for any football loving person who gets nerdy about every single play from any given game.
Holly Drive Darling Compact , $30, Amazon
Perfect for lipstick lovers who want to make sure lipstick is not on their teeth because lipstick somehow always gets on teeth.
Elwood the Rainbow Unicorn Mug, $38, Uncommon Goods
Paired with the Luna Lovegood of your friend group? This rainbow unicorn mug looked like it pranced in from it's very own fantasy land.
Holiday Wine Bags, $6-8, West Elm
You know the wine lover just wants a bottle of wine to enjoy, so why not style it up with one of these festive bags.
Soup and Sandwich Ceramic Tray Duo, $30, Uncommon Goods
This is for that person in the office who is always begging someone to go to Panera Bread with them to snag the soup and sandwich deal on the daily.
Out to Lunch Tote , $30, Amazon
If you've been paired with that nutrition nerd who loves to meal plan and bring her lunches to work, set her daily routine up in style with this freaking adorable lunch tote.
St. Jude Leather Zipper Case, $24, West Elm
OK, so not only is this perfect for that friend whose purse is the equivalent of mass chaos, but this little organizing pouch actually will donate 50 percent of the proceeds to St. Jude Children's Research Hospital. Such a cute and caring gift!
22. 12 Blend Tea Set
Our Holiday Stars, $32, David's Tea
This is basically every tea snobs dream: 12 different blends of tea to try for the holiday season.
23. Christmas Lights Coffee Traveler
Christmas Lights Coffee Traveler, $20, Starbucks
This is for that person at work obsessed with the red cups at Starbucks this year. Give them what they want, but all year round.
Images: Courtsey of the Brands