The One 'Game Of Thrones' Season 6 Scene You Need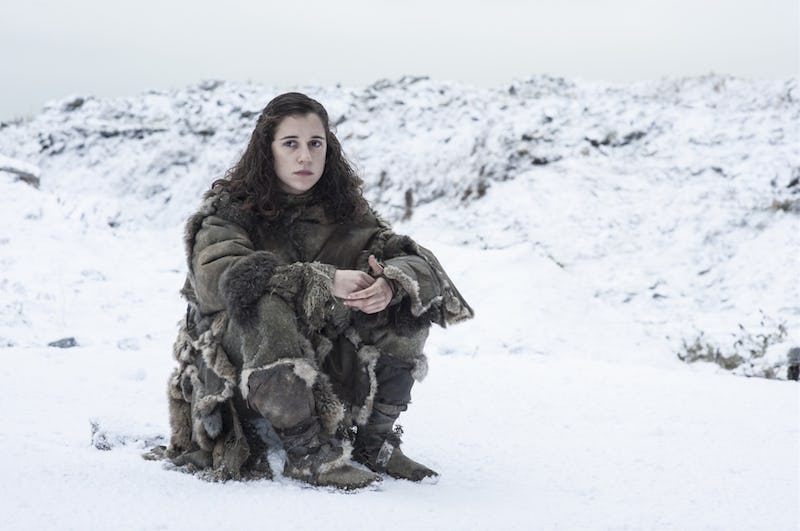 Now that winter is here, literally and metaphorically on Game of Thrones, it might be a good time for a re-watch. While new shows are on hiatus, a cozy way to spend the break might be to go back over prior seasons of your favorite shows and start looking for clues. Game of Thrones Season 6 was recently released on DVD, and is always available to stream on HBO, and this past season has many iconic moments that deserve a second look. In an interview with Bustle, Ellie Kendrick suggested re-watching Hodor's death in Game of Thrones Season 6. Kendrick plays Meera Reed, whose role not only got a whole lot more important in that final episode, but who had a major role in one of Season 6's most heartbreaking moments.
"I mean," Kendrick says, "I think you know it's going to be the 'Hold The Door' scene. For me, that was such a brilliant scene to be part of. It was one of the first times where as an actor, you watch it back and you kind of forget that you're even in it. You're just enjoying it, because it's so good." The scene, at the end of Season 6, Episode 5, took the show to a new level when Bran warg-ed into Hodor in the past and started manipulating Hodor in the present. "It still boggles my mind," Kendrick says, "because there are so many different layers that are going on with the time travel, backwards and forwards. So I think that scene could do with a few watches and there's so many different theories about what is going on there." Maybe Hodor wasn't the only thing Bran affected in the past. Maybe he can do it again.
She describes the creation of that iconic scene as like stitching together a collage, because even before the special effects are added in, everything is shot in minuscule increments and often out of order. "It's different," Kendrick says, "in that you don't get the continuity of a normal scene where there's dialogue and I say this to you and you say this back. You have to kind of have the shape ahead [of the final product] almost hovering over as you're making it."
Kendrick's favorite Season 6 scenes to watch as a fan are those involving Arya and the Waif. For the entire series, Meera hasn't interacted with that many characters, and particularly that many female characters. Just Leaf, and Osha before that. Hopefully in Season 7, she will get to share scenes with Sansa Stark, possibly Arya Stark, and maybe even Lyanna Mormont.
In Season 6, Meera was feeling something that not a lot of Game of Thrones characters get to feel — boredom. You'd probably be bored in a cave where your only companions are Hodor, elves with a grudge, and two people who only communicate with each other in flashbacks. Now that she and Bran are on the run again, and protecting extraordinarily precious information about Jon Snow and his mother, her role might begin to change.
"She's always been kind of Bran's protector," says Kendrick, "and now she's in a stage where we see them leaving that cave that she hates so much and going out in the wilderness. So whatever happens, a huge challenge awaits them. They don't even have Benjen anymore. So we'll just have to see — the challenge for Meera is how is she gonna get this kid to safety? And so seeing that journey we'll be exciting. We'll have to wait and see!" Any guilt she might have over Hodor's death and her potential yet accidental role in it might factor in as well.
Where would she like Meera to go on this journey? Like her character, a change in scenery would be welcome. "It would be really nice to film somewhere sunny," says Kendrick. "If she took a trip [to Croatia, where King's Landing is filmed] I wouldn't be sad. I'd get to top off my sun tan."
Images: Helen Sloan/HBO (3)