The 'Spider-Man: Homecoming' Trailer Is Here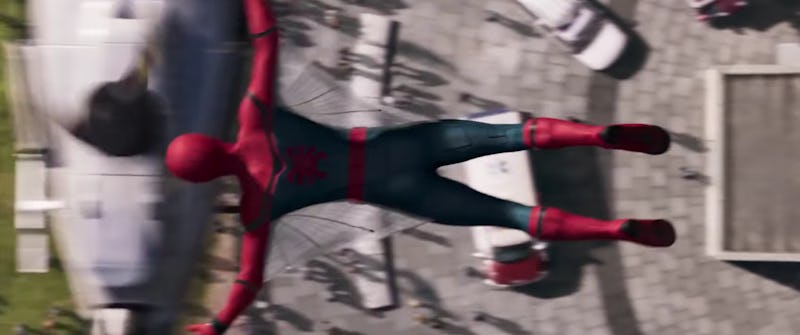 Someone notify The Daily Bugle, because the number one web-slinging superhero is back and ready for action. On Thursday night's episode of Jimmy Kimmel Live!, the first Spider-Man: Homecoming trailer debuted. Not unlike that teaser trailer that threw on a pair of Tony Stark-approved wings and soared onto our small screens just this Wednesday, the full preview is an exciting snippet of what audiences can look forward to when the superhero flick hits theaters in 2017. If you thought that awesome flying squirrel-spider scene was overwhelmingly cool, get ready to be even more overwhelmed by the latest clip: The new preview teased a bunch of other incredible things that will happen in this forthcoming movie, including Spiderman facing a menacing new villain Robert Downey Jr.'s character refers to as the "flying monster guy." Go ahead and grab your cutlery, Marvel fans, because this action-packed trailer is a feast for the eyes.
The Jon Watts-helmed Spider-Man: Homecoming is the second reboot of the Spider-Man feature film franchise, and reportedly the first of a new trilogy. Actor Tom Holland , who appeared as Spider-Man/Peter Parker in 2016's Captain America: Civil War, will once again play the friendly neighborhood human with spider-like superpowers. The ridiculously star-studded will also include Michael Keaton, Zendaya, Marisa Tomei, Bokeem Woodbine, Downey Jr., Donald Glover, and Jon Favreau.
You can check out the first full preview right here:
Are you digging all of the Spidey mayhem in this clip? And are you beyond ready to see the entire flick? In a mere seven months, you can do just that. Spider-Man: Homecoming will swing into movie theaters (by web, of course) on July 7, 2017.
Image: Sony Pictures