18 Hilarious Meta Jokes In 'Fuller House' Season 2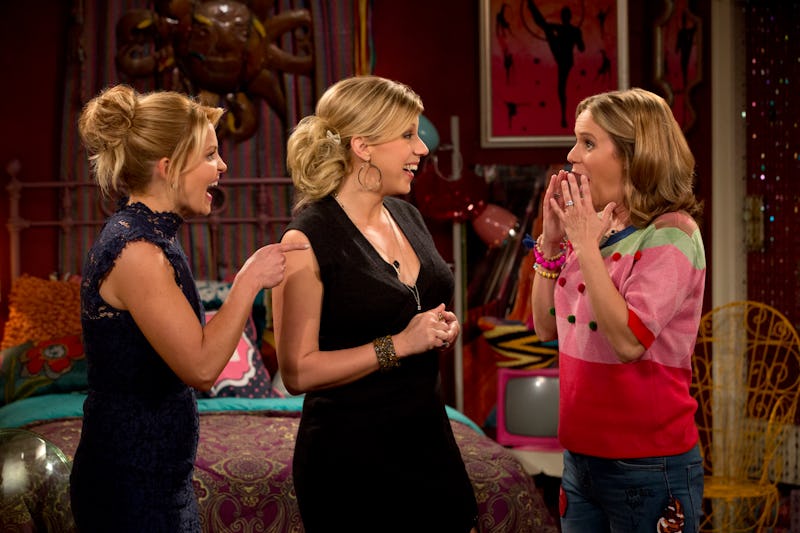 The Tanners, Gibblers, and Fullers are back for more fun on Netflix. With the release of Fuller House Season 2 came so many meta jokes that poked fun at the cast of the show, and the show itself. Season 1 was also chock-full of meta tidbits, from references to other shows the cast was on to the way Michelle's absence was explained. So, I'm glad to know that the new season is no different in its many references to the real world outside the show. And, yes, there was another obvious plea for Ashley and Mary-Kate Olsen to join the show. Will they do it in Season 3? Probably not. But, I'm sure fans can count on even more jokes about it if the show gets renewed for more episodes. SPOILERS AHEAD.
For now, let's just revel in the hilarity of these Season 2 fourth-wall breaking jokes. Everyone got in the fun from Uncle Jesse to D.J. to Stephanie and even the youngest members of the cast when it came to gently mocking the real-life careers and experiences of the show's stars. Did you catch all of these references? If not, that's OK, because I've rounded up every meta joke from all 13 episodes for you. Have mercy!
1. "We're Back!"
Kimmy may have been announcing her return from an outing when she walked into the Tanner-turned-Fuller house, but it was also a nod at the fact that the show and the cast are indeed back for another season (and sooner than anyone could have imagined).
2. Recaps
In case viewers forgot what happened in Fuller House Season 1, or even in the original series, the cast had helpful conversations in the first episode (and throughout the series) that reminded viewers what they may have missed.
3. The World Is Falling Apart
That's 2016 for you.
4. The Chicken Names
In Episode 5, Max gets four chickens for his sustainable garden and names them Danny, Joey, Jesse, and Becky. Later the chickens are shooed out of the living room by Stephanie who tells them, "Get out; this is our house now." Though the original cast does appear in a few episodes, the show is very much D.J., Stephanie, and Kimmy's now — this was a funny nod to the changing of the guard.
5. The Dancing With The Stars References
Both Candace Cameron Bure (D.J.) and Jodie Sweetin (Stephanie) have appeared on DWTS, so it made sense that the reality show's judge Bruno Tonioli poppoed by to guest star in Episode 5. He played Ramona's dance coach, and he has several very meta lines about a certain type of reality show. "Ramona, I find it very demeaning to rate dancers with a score but people seem to like it," he says at one point before pulling out a DWTS-style paddle with a score of 10. Later he remarks that "there's always one judge who is impossible to please." He also later dances with Stephanie and D.J. as a nod to both of their times on one of "those wildly popular competition dance shows." I see what you did there, Tonioli.
6. The Ariana Grande Obsession
The singer gets several shoutouts in the show, but her biggest comes in Episode 5 after Stephanie reads her book and remarks, "You know, it is so nice to see things turn out well for one of those child sitcom stars." It's kind of an awkward line given Sweetin's own post-child star past. But, fortunately it seems like she now has a sense of humor about what she's overcome.
7. Michelle's Absence
The Olsen twins have now declined to appear on two seasons of the show, but that didn't stop Michelle's fictional family from missing her. D.J.'s Thanksgiving toast notes that she hopes her little sister shows up next year (aka next season) and Uncle Jesse stared directly at the camera saying, "Come, it'll be fun!" Never has a less-subtle message been delivered.
8. The Netflix Shoutout
In Episode 8, Jimmy remarks, "Man, it would be nice if there was somewhere we could watch entertainment where there were no commercials. I'd pay a monthly fee for that!" Gee, I wonder if he's talking about a certain streaming service...
9. The Audience
In Episode 9, any time Matt and D.J. do something romantic, they hear "oohs" in their head. That's a nod to the audience participation, of course.
10. The View
When Kimmy co-hosts Danny's show in Episode 9, she says, "Take a little time to enjoy the view." Danny replies, "For the last time — wrong show." And, yes, Danny's not a host on The View, but, in real life, Candace Cameron Bure has been.
11. Blue Bloods
New Kids on the Block stop by in Episode 10, but Donnie isn't there. Don't worry, though, the rest of the band make sure to note that Donnie was simply busy starring in Blue Bloods on CBS, which airs on Fridays. True friends plug each other's projects.
12. Song Lyrics
Members of the NKOTB band also use their lyrics in regular conversation saying things like, "Oh! Step by step," when climbing stairs, and, "We'll be loving you forever," when saying goodbye to the Tanner clan.
13. Lori Loughlin Shoutout
In Episode 10, Max and Ramona talk about how much they love a Hallmark movie that stars "Dean Cain and the delightful Lori Loughlin," aka Aunt Becky.
14. Throwback Style
In Episode 11, when D.J. looks at a picture of herself and Steve back in high school, she remarks that "we had such big dreams... and big hair." The Netflix series is very aware of the outdated styles of the original series; it was lightly mocked in Season 1 as well.
15. Nelson
Jason Marsden chose not to reprise his role as Nelson, so, in Episode 11, a different actor plays him. D.J. pokes fun at the recasting saying, "Oh, Nelson. You look almost the same." Good one.
16. Duane
Not many people may remember Kimmy's Season 8 boyfriend Duane by name (I do), but almost everyone knows him by his catchphrase. So, it makes sense that Kimmy calls him "The Whatever Guy" in Episode 11 to make sure the audience knows exactly who he is.
17. Titanic
When pretending to be in the Titanic movie, Max's girlfriend, Rose, wonders aloud what moviegoers have been since the film came out in 1997. "I could scoot over so you can climb on, but for some reason I don't," she says, referencing the infamous door scene in the film. For the record, the Mythbusters tested it, and the board would have sank if both had been on. So I forgive you, Rose.
18. The Hugging And Talking
When Uncle Jesse and Danny get into an argument, Jesse wisely notes that after years of "nonstop hugging and those sappy love talks," it was about time they get real. Everyone has a breaking point eventually, right?
The Fuller House writers really took advantage of the new 13 episodes to sneak as many winks to the audience in as they could. And, as a fan, I couldn't be happier with how these jokes turned out.
Images: Michael Yarish/Netflix; Giphy (5); Netflix (12); CBS