Nelson Will Look Different On 'Fuller House'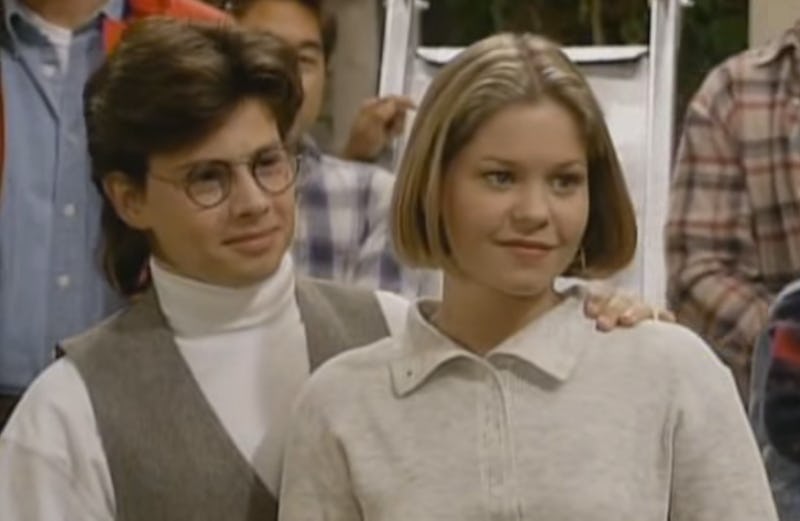 Sometimes casting is shrouded in Hollywood mystery, but such was not the case when it came to why Nelson was recast for Fuller House. If you need a refresher, Jason Marsden of '90s TV show fame, portrayed the wealthy suitor of D.J. Tanner in Season 8 of the original Full House. The character is being brought back for Season 2 of Netflix's Fuller House , but unlike good old Steve, he won't be portrayed by the original actor. So what gives? Well, Marsden took to Twitter back in August to explain everything and Full House fans should be eternally grateful to him for being upfront about why he won't be returning as Nelson.
Marsden was a staple of the '90s sitcom scene with roles in Boy Meets World, Step by Step, and Full House as one of D.J.'s boyfriends. However, for Fuller House Season 2, Nelson will be portrayed by actor and comedian Hal Sparks, who is best known for his work on Queer as Folk and giving commentary on nostalgia shows like I Love the '80s. While I'm sure Sparks will do a fine job as Nelson, it will be an adjustment since even though Nelson was only in four episodes of the final season of Full House back in 1994 and 1995, I remember Marsden's performance — and those glasses and stellar fashion sense — so vividly.
Well, before Sparks was cast as Nelson, Marsden explained why he wouldn't be returning through a series of three Twitter video messages. And Full House purists, take comfort in knowing that Netflix had reportedly reached out to Marsden and asked him to reprise his role. Actually, according to Marsden, the producers, casting directors, and writers of Fuller House "all tried their darndest" to get him to come back as Nelson as he explained in the first video.
Her confirms it was his choice not to return to the series in the second video and he blames it on the fact that he was scheduled to appear at Dragon Con when Fuller House needed him to be filming. While it's no San Diego Comic-Con, Dragon Con's website says, "We are the largest multi-media, popular culture convention focusing on science fiction and fantasy, gaming, comics, literature, art, music, and film in the universe!" Although it might not be a big deal for Full House fans, it was for Marsden. And since he lives in Tennessee and Dragon Con takes place in Atlanta, Georgia, (while Fuller House films in Los Angeles), he chose Dragon Con over Fuller House as a "matter of convenience."
In his final video, Marsden reiterated that Fuller House had reached out to him multiple times and to have no ill will toward the series. He even had a good sense of humor about his recasting, saying that he hopes the series will cast someone short like him, using the hashtag #KeepNelsonShort. (In a 2015 interview, Marsden said he was 5'1". Sparks, on the other hand, has stated that his height is 5'8".)
Like with these videos announcing why he wouldn't be returning, Marsden also had fun on Twitter when Sparks was announced as his replacement and showed he supported the casting.
There you have it — the reason Nelson was recast right from the mouth of the original Nelson himself. Even if you don't agree with his choice to pick Dragon Con over Fuller House, it was completely Marsden's decision not to reprise his role as the only character who had the privilege of dating both D.J. and Kimmy. He approves of Sparks stepping into the role and so should you. Now it's time to put your efforts toward a not lost cause — hoping that the original Viper comes back for Fuller House Season 2.
Images: ABC (2)