This Is The Easiest Way To Get A Gel Mani At Home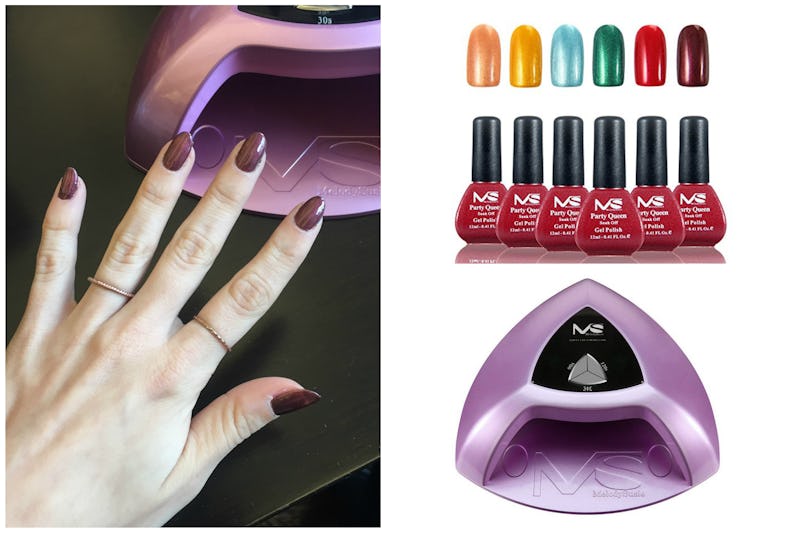 I really (and I mean really) love the look of a polished nail. I lust after that lacquer so much, that I really can't remember the last time my nails showed their bare, pale pink faces more than 45 minutes in the light of day. So while applying a fresh coat of polish at home sounds like a regular Tuesday night to me, knowing how to get at-home gel manicures was a different matter entirely.
As anyone who's into nails will tell you, a gel manicure is different from paint because it won't chip the next day, and those things can dry under a nail lamp in like 30 seconds. (If you're a habitual polish smearer like me, you'll know how valuable that particular trait is.) Though many a logical case has been made for the bare nail, from style preferences to health concerns, I still wanted the power of an at-home gel manicure kit in my very own hands.
When a team member of MelodySusie (the salon company with everything from gel polishes and dryers to beauty tools and more) asked me to test their new dryer and gel polish line, I was all-too-excited to set up shop. Here's how to get your own gel manicure from the luxury of your couch:
Here's What You Need:
The No-Fuss Nail Lamp & Polish Set
MelodySusie Pro 24W Nail Lamp Smart Gel Dryer , $40, Amazon; MelodySusie Durable Gel Nail Polish (Party Queen Set), $24, Amazon
When I pulled this shiny pink lamp out of its packaging, I was dubious. Only three buttons? It seemed too good to be true. I figured blasting my gel polish into a lustrous finish using this gadget at home would require (at least) a low-level proficiency in mechanical engineering. But the genius of this drying lamp rests in its speediness and simplicity.
After applying my first coat of "Wine Purple," I placed my hand in the dryer and clicked the '30 second' timer and repeated for my second coat. (MeolodySusie also sells protective fingerless gloves for wearing in the lamp, though I skipped that part, as my nails become accident magnets the second they're coated with paint. Pulling gloves off just seemed like inviting smears into my life on purpose.)
So, I followed up with '120 seconds,' just to play it safe, and pulled out my hand to reveal the below results:
The gel drying lamp definitely made giving myself an at-home manicure incredibly easy, though my finished results were a little bumpy, thanks to my lack of polish application technique. Still, if you're hoping to hit 'fast forward' on your nail polish sessions, this tool and its polish sets make the process incredibly easy.
MelodySusie (Party Queen Set), $24, Amazon; MelodySusie (Sweet Reverie Set), $24, Amazon; MelodySusie (Lux Classics Set), $24, Amazon
Psst: You can also put an end to your current polish organization technique (overflowing shoebox, anyone?) too, with the polish and cosmetics organizer that won't break the bank.
MelodySusieNail Polish And Cosmetic Organizer, $10, Amazon
Images: Amazon (6); Elly Ayres/Bustle (3)
Bustle may receive a portion of sales from products purchased from this article, which was created independently from Bustle's editorial and sales departments.