Here's When To Shop MAC x Mariah Carey In Stores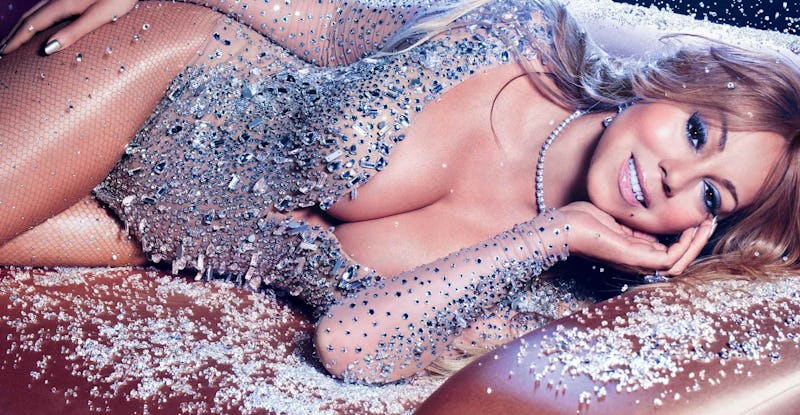 Odds are that you've probably heard about the MAC x Mariah Carey Collection. It's filled with tons of different makeup items that are all absolutely gorgeous and named after the star and some of her most iconic music. Unfortunately, they were so good that they sold out pretty fast on the MAC website. Don't let that get your shopping mood down though, because there are plenty of other places to shop.
As soon as the MAC x Mariah Carey Holiday Collection was announced, fans were excited about it. With everything from lashes to body glitter, it no surprise that it was a hit. Now that the full line is officially here, it's clear to see that it's living up to the hype. Twelve of the 23 items are currently sold out on the MAC site, but that's no reason to lose hope.
According to MAC Cosmetics's Instagram post, the Mariah Carey Collection will be available in MAC stores, counters and participating retailers on Dec. 15. That includes places like Macy's, Dillards, and Nordstrom.
The line is also launching at other online retailers as well. The post states that you can shop the collection on Macys.com, Nordstrom.com, Bloomingdales.com, Dillards.com, and TheBay.com on Dec. 12. It will also be on Belk.com on Dec. 13. Bottom line: you have a whole lot of shopping options, so don't let the MAC website sellout get you down.
Like I said before, this line pretty much has it all. There are five lipstick shades, five glosses, two lipliners, a liquid liner, two lash options, powder brush, two blushes, loose powder, an eye brush, two eye palettes, and bronzer. In my opinion, you can't go wrong with any of these items.
I'm willing to bet that the line will sell out just as fast in stores as it will online. That means you should probably mark your calendars and get those wallets ready! This is a limited-edition line as well, so there's no telling if it will be restocked or not.
Santa, if you're reading this, you better stock up fast!
Images: Courtesy MAC Cosmetics (3)