How To Get The Starbucks 'Pokemon GO' Frap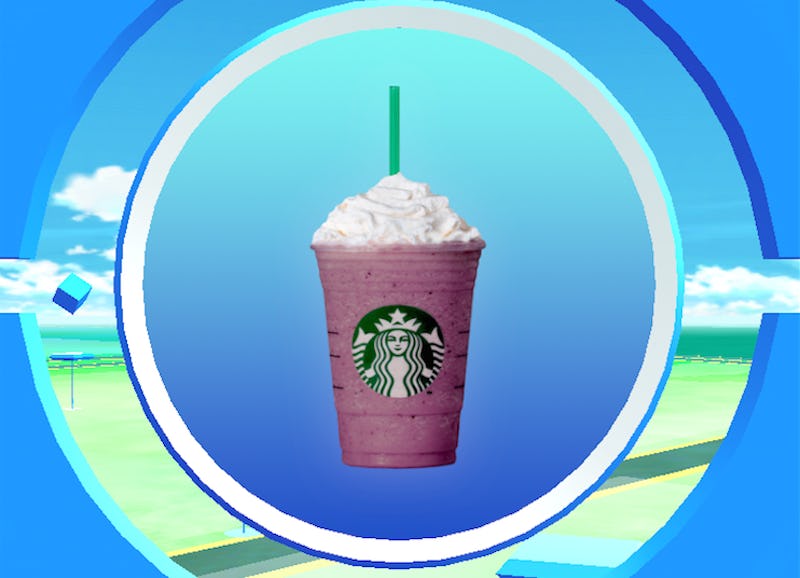 Great news, Pokemon trainers in need of sustenance! You can now combine your love of the popular AR game with your favorite blended beverage: Starbucks has just announced the launch of a 'Pokemon GO' Frappuccino. If you're wondering how to get the "Pokemon GO" Frappuccino, look no further. I've got all the deets for you right here.
Starting today, about 7,800 Starbucks stores around the United States will transform into PokeStops and gyms. PokeStops are sites where you can pick up Pokeballs, eggs, and other rewards, while gyms are stadiums where you can practice battling with people on your team or battle rivals for control. Obviously, you've got to keep your strength up during this mad battling, so it's handy that these sites just happen to also be coffee shops. Of course, you can order whatever you'd like at these "Poke-bucks" (a word I just invented, you're welcome), but you'll have the option of ordering a special Frapp created just for players like you.
The "Pokemon GO" Frappuccino has a Vanilla Bean Frappuccino as a base, blended with raspberry syrup and freeze-dried blackberries, with whipped cream on top. It's caffeine-free, and Starbucks rep tells Bustle that a Tall (12 oz.) will cost between $4.80 and $4.95, depending on the market where you live. (Bustle's own Lily Feinn did some investigating and found that, at her Starbucks location in New York City, a tall "Pokemon GO" Frapp cost $4.84, a Grande was $5.72, and a Venti cost $6.15. But again, those prices will vary according to location.)
Although it's probably safe to assume that most of the people ordering "Pokemon GO" Frappuccinos will probably be fans of the game, a Starbucks rep assures Bustle that customers do not need to be "Pokemon GO" players or present their "Pokemon GO" screens to baristas in order to get a "Pokemon GO" Frapp. So if you're not into gaming, but you ARE into raspberry Frappuccinos, you can still get your hands on the new drink — just order one at the counter.
The "Pokemon GO" Frappuccino is available at participating Starbucks locations now and will be available while supplies last. Good luck catching 'em all! (All the Frappuccinos, that is.)
Images: Lily Feinn; Giphy