PSA: There's An Official "Pokemon Go" Frappuccino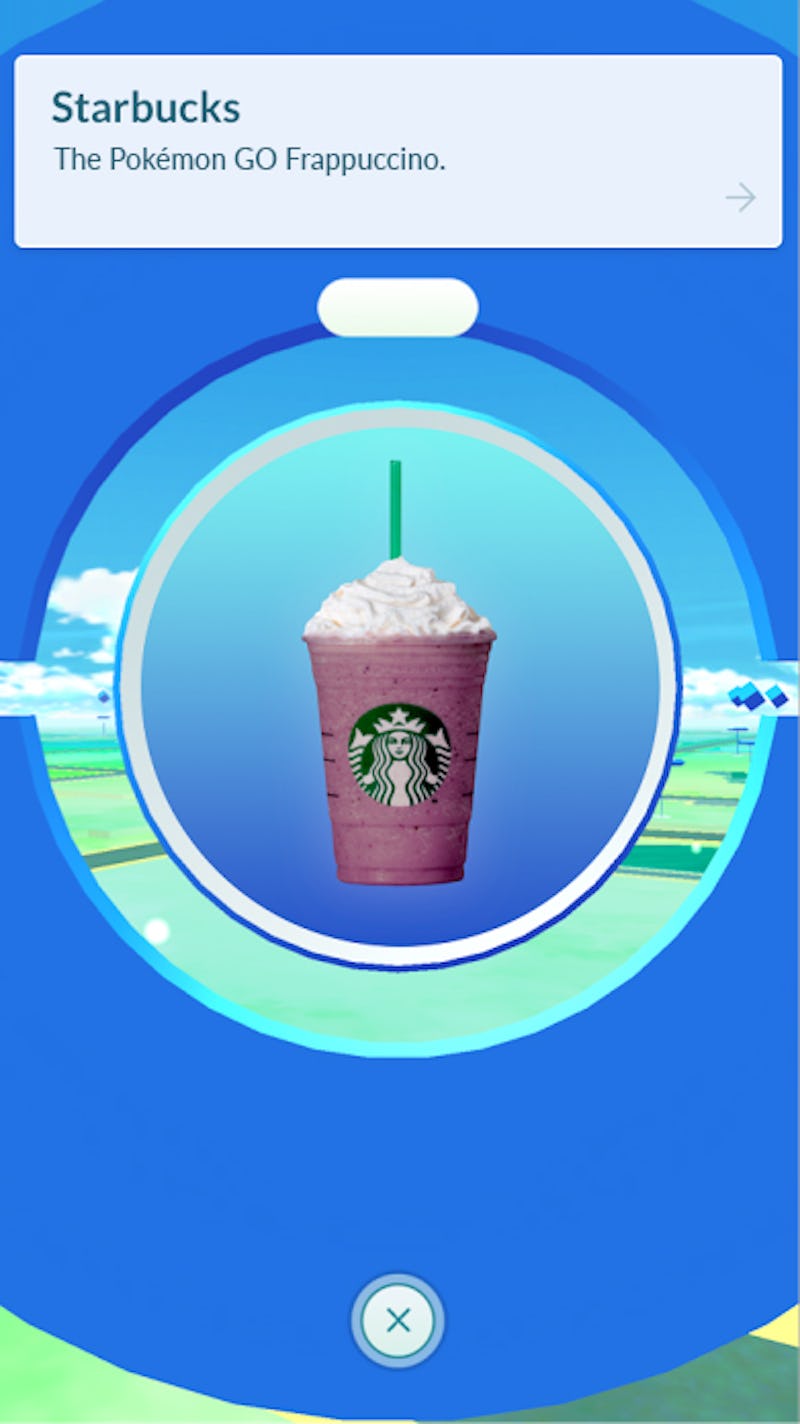 Pokemon trainers, this is not a drill: You can now officially order a "Pokemon Go" Frappuccino at Starbucks. This is not a secret menu item or a customer dream; it's literally on the menu. So yes, we have officially reached the height of Poke-mania. You might be curious: What, exactly, is in a "Pokemon Go" Frappuccino? Can I buy one today? Also, is this part of Starbucks' permanent rotation? Bustle has reached out to Starbucks for more information, but here's what we know so far.
According to a press release, the "Pokemon Go" Frappuccino became available on Dec. 8, beginning at 11 a.m. PST — so no matter where you are in the country right now, the Pokemon GO Frappuccino should be available at participating Starbucks locations. Notably, about 7,800 Starbucks locations are participating in this offer, and it's for a pretty neat reason.
If you're familiar with "Pokemon Go," you know about "Pokemon Go" gyms and PokeStops. Well, in a cool partnership move between the creators of "Pokemon Go" and Starbucks, if you locate a Starbucks within "Pokemon Go," you can safely assume the drink will be available there. Not only will this drink be available for you to purchase, but these Starbucks locations will act as either Pokemon gyms or PokeStops. Neat, right? If you tap on a gym or a PokeStop where the Frappuccino is available, you'll see either the screen up top, or the one displayed below:
So what's exactly in this sweet Poke-treat? The "Pokemon Go" Frappuccino is a vanilla bean blended beverage with raspberry syrup which baristas then blend with freeze-dried whole blackberries. Lastly, of course, the drink is topped with whipped cream. It does not appear that this drink is caffeinated, but the sweetness should give you a nice boost of energy anyway.
According to the press release, the "Pokemon Go" Frappuccino is available for a limited time while supplies last. We don't know when it'll leave stores officially, so if you're hoping to try out this sweet treat, it's always better to give it a shot sooner, rather than later. In terms of price, we do have some first-hand information: Bustle's Lily Feinn visited her local Starbucks in New York on Friday and found the prices to be as follows, including tax: A Tall Starbucks "Pokemon Go" Frapp rang in at $4.84, a Grande at $5.72, and a Venti at $6.15. However, the prices of Starbucks drinks tend to vary by market, so yours might cost something different depending on where you live. (Bustle has reached out to Starbucks for pricing information and will update if/when we hear back.)
Update: Although the cost varies by market, a Tall 12-ounce "Pokemon Go" Frappuccino ranges in price from $4.80 to $4.95.
Earlier: Of course, if your local Starbucks isn't participating in this fun drink special, there are lots of ways to make "Pokemon Go" inspired treats at home. Seriously: There are cute and delicious "Pokemon Go" inspired macaroon recipes floating around out there, and tthere a ton of fun "Pokemon Go" snacks you can make that are perfect for a party or hang-out session. And of course, in addition to Starbucks, plenty of restaurants and bars are still offering "Pokemon Go" themed deals and specials. Because every Pokemon trainer has to fuel up, right?
So go forth, young Pokemon master, and slurp up the "Pokemon Go" Frappuccino designed specifically with you in mind.
Images: Starbucks (3)