Recipes To Use Up All Those Candy Canes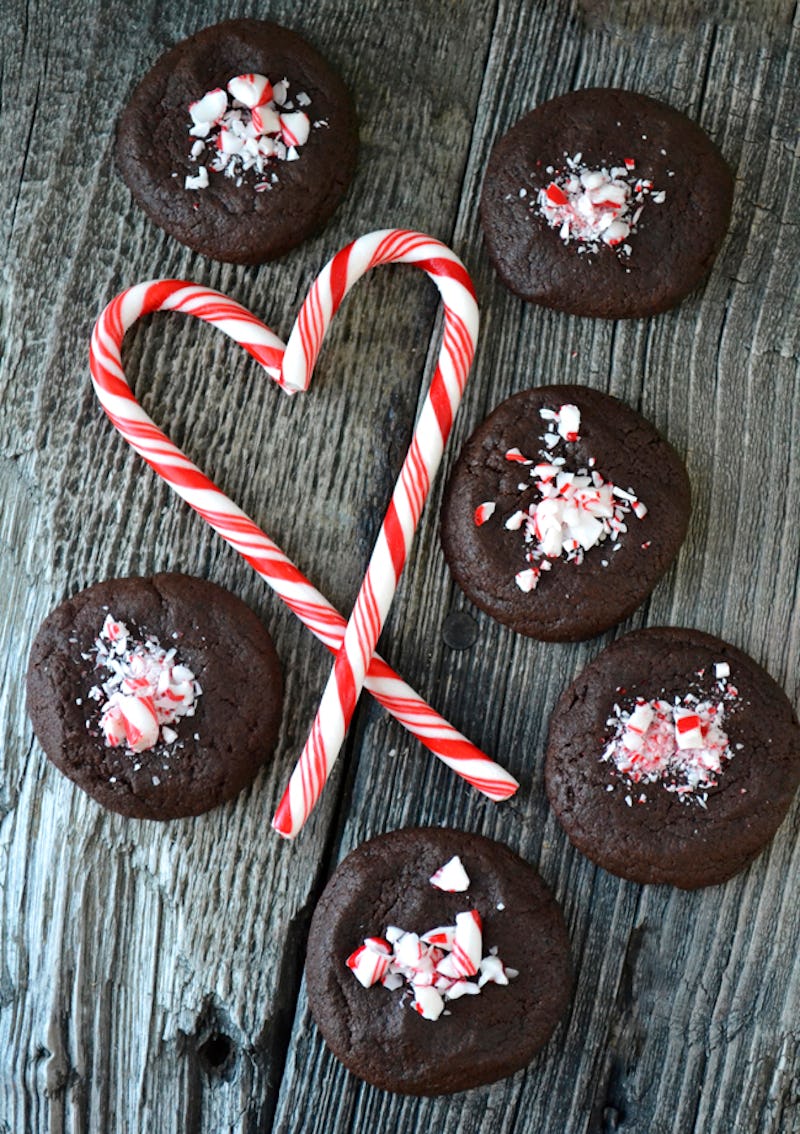 Forget fruitcake or Christmas cookies. Candy canes are basically as festive as food can get — at least, judging from the mountains of them you can probablu find piled in random corners of your house by the end of the holidays. Even if you like candy canes (and who doesn't like a multicolored stick of pure sugar?), there's just no way to eat them all on your own, but that's where these recipes for candy cane lovers come in.
Thanks to the power of the internet, especially the corner dominated by Pinterest, it's never been easier to find creative uses for candy canes. You don't even have to eat them if you don't feel like it; there are all kinds of crafts that use candy canes out there. But if you're more of a traditionalist, you may want to stick to their original purpose: giving you a delicious sugar high during office parties and keeping kids quiet during religious services. (No, really. There's evidence that candy canes were given out by a choirmaster in the 17th century to keep children occupied during Christmas Eve Mass. The more you know, right?)
But enough talk. Here are 19 recipes to use up this season's influx of candy canes.
1. Candy Cane Snowball Cookies
Dusted with crushed candy canes, these cookies from My Baking Addiction are a perfect holiday gift.
2. Candy Cane Cookie Dough Truffles
If you're feeling lazy, try these no-bake candy cane cookie dough truffles from Inside BruCrew Life.
3. Peppermint Candy Cane Popcorn
This recipe from Closet Cooking for peppermint candy cane popcorn is super easy and delicious.
4. Candy Cane Crumble Nutella Cookies
Allow me to repeat that for you: Candy cane. Nutella. Cookies. This recipe from A Pretty Life in the Suburbs is a Christmas miracle.
5. Dark Chocolate Candy Cane Brownies
It's virtually impossible to mess up brownies, but just in case, you can even use a boxed mix in this recipe from My Baking Addiction.
6. Candy Cane Cloud Dessert
A Pretty Life in the Suburbs' candy cane cloud dessert is delicious on its own or as a topping. It's also so pretty I almost don't want to devour it. Almost.
7. Chocolate Candy Cane Truffles
Created by Your Cup of Cake, you'll probably want to make an extra batch of these chocolate candy cane truffles for yourself.
8. Candy Cane Blossom Sugar Cookies
Technically, these candy cane blossom sugar cookies from Averie Cooks don't use actual candy canes. Instead, they use candy cane-flavored Hershey's Kisses in the middle, but they're so easy and delicious-looking I had to include them. (Besides, you can always top them with crushed candy canes.)
9. Peppermint Candy Cane Brownies
Did you think we were done with the brownie recipes? Think again, because this recipe for peppermint candy cane brownies, created by The Comfort of Cooking, is too amazing to leave off.
10. Candy Cane Pretzel Bark
Anyone who likes some savory with their sweets should try the candy cane pretzel bark from Inside BruCrew Life.
11. Candy Cane Brownie Pie
Candy cane brownie pie from Something Swanky is perfect for a big holiday dinner.
12. Candy Cane Christmas Tree Cupcakes
Bakerella's recipe for candy cane Christmas tree cupcakes might prove challenging for beginner bakers, but the result is adorable.
13. Peppermint Candy Cane Marshmallows
Ever wondered how to make your own marshmallows from scratch? This recipe for peppermint candy cane marshmallows from The Comfort of Cooking is a great place to start.
14. Candy Cane Chocolate Cheesecake Cake
Is it a cheesecake? Is it a cake? This recipe from Inside BruCrew Life is both, and you need it in your life immediately.
15. White Chocolate Candy Cane Truffles
Dark chocolate truffles already made the list, but if you prefer things a little sweeter, try these white chocolate candy cane truffles from Your Cup of Cake.
16. Peppermint Candy Ice Cream
Sure, you could go out and buy ice cream, but where's the fun in that? Get together a few people and try this recipe for candy cane ice cream from Lick My Spoon.
17. Candy Cane Fudge
Food Fanatic's candy cane fudge makes a perfect holiday present.
18. Candy Cane Puppy Chow
With the addition of some candy canes, puppy chow turns into a festive treat that's still easy to make. Get the recipe from Your Cup of Cake here.
19. Spiked White Hot Chocolate
Top this spiked white hot chocolate from Brown Eyed Baker with candy canes, and you've got a sweet treat to keep you warm this holiday season.
Images: A Pretty Life In The Suburbs; Courtesy Of Blogs (19)