7 Incredible Gold Beauty Products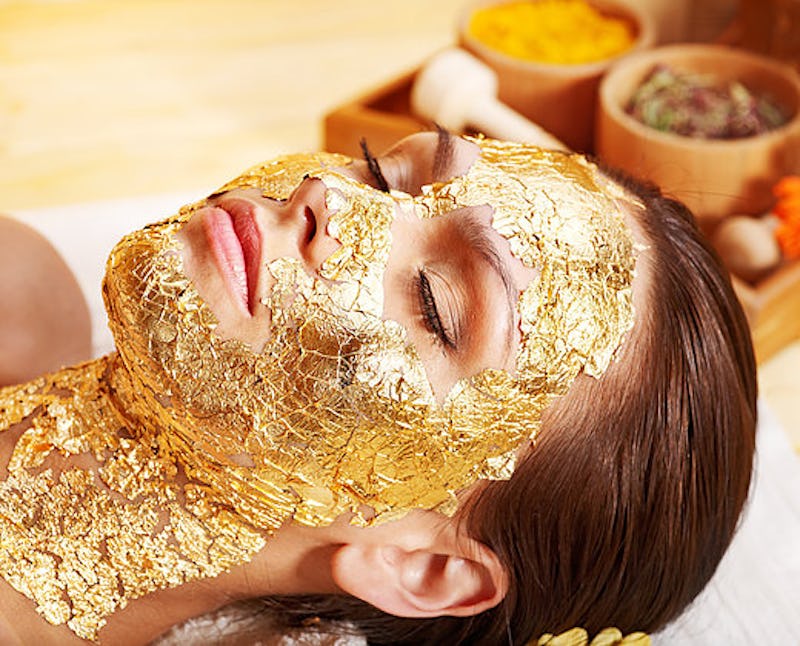 Ah, the power of gold. Wars have been fought over it, relationships have blossomed because of it. For thousands of years, gold has been a symbol of status and beauty — and luckily, 2016 provides gold beauty products for you to indulge in so you can feel just as fancy as Cleopatra.
In recent years, gold has been impacting the beauty community in a big way. Gold is claimed to have anti-inflammatory properties, which means a visible reduction in acne and hyper-pigmentation. Science aside, gold can give an instantaneous boost to the skins luminosity.
Now most of these claims haven't been scientifically proven...yet. But one thing's for sure: gold is glamorous. There's nothing that screams decadence quite like sporting actual 24K gold leaf as a quick-fix facial. At the very least, it puts those animal sheet masks to shame. And, regardless of the discrepancy in long-term benefits, the immediate appearance of an angelic golden glow is impossible to deny.
This list reps the gold standard: Actual visible and tangible results that make these metal-infused products worth melting for. Here are the top seven golden products, at varying price points, to help transform your skincare routine from rags to riches.
Farsali Rose Gold Elixir, $35, Farsali
The Farsali Rose Gold Oil contains rosehip oil, which is intended to reduce the appearance of fine lines, hyperpigmentation, and stretch marks while leaving your skin properly hydrated. The 24K gold flakes instantaneously give the skin a natural radiance.
Think of Farsali as the sisterhood of the traveling oil — it somehow works with everything. You can massage it right onto your skin as a moisturizer, dab a thin layer onto lips for hydration before applying a liquid lipstick, mix a couple drops into your foundation to take it from full coverage to medium coverage or from matte to dewy, and you can drop it straight onto your Beauty Blender or brush to help blend out heavy creams more easily. This super popular oil clearly gained its fame for a reason. Word to the wise: make sure you let the oil sink in and do it's job before applying any cosmetics immediately on top. You certainly don't want to emulsify your matte lipstick.
Tatcha Camellia Beauty Oil, $95, Sephora
Tatcha has a whole line of gold-infused and inspired products, like their 23-Karat Gold Illuminated Lipstick, Camellia Nourishing Lip Balm, and their Pore Perfecting Water Gel Moisturizer just to name a few. The Licorice Root Extract calms and soothes the skin while the gold provides a shine-free radiance. Because the oil is extremely lightweight, it even works well to tame frizz without weighing down the hair.
Peter Thomas Roth 24K Gold Pure Luxury Lift & Firm Hydra-Gel Eye Patches, $75, Sephora
Peter Thomas Roth really has the Midas touch when it comes to 24K gold products. The brand's Golden Cleansing Butter, Prism Cream, Sheet Mask, and Lift & Firm Mask are just some of the stars in their line. But in this skincare galaxy, the 24K Gold Pure Luxury Lift & Firm Hydra-Gel Eye Patches is the sun. Along with gold, these patches are infused with caffeine, collagen, and humectants that help to minimize puffiness and smooth out fine lines instantaneously and over time. You can make them work double time by using them as shadow shields while applying a smokey eye, or flip them over and place the unused side on top of smile lines as well.
Kaprielle 24K Gold Mask, $95, Kaprielle
Maybe you've seen these insanely bizarre and amazing masks making their rounds on the internet already. Their mask kit comes with a 5 ml bottle of their Roses & Gold serum and 35 pure 24K gold sheets. After patting in a couple drops of the serum, you're meant to pat on the gold leaf until your entire face is glistening and gilded. The mask boasts of a dozen benefits, including a reduction in fine lines, wrinkles, acne while promoting hydration and circulation. Never before has a mask been so indulgent. Even if the results aren't absolutely life-changing, at least you can get a really good, really expensive selfie!
Guerlain L'Or Pure Radiance Face Primer, $74, Sephora
The key to beautiful makeup is beautiful skin. And what better way to start the day than with Guerlain's L'Or Pure Radiance Face Primer. This thin gel-based primer has a cooling sensation when applied to the skin and helps to tighten the facial contours for a more-even makeup application. Guerlain is always on top when it comes to absolute pampering in beauty, but this primer really takes the cake. The smooth, thin-yet-moisturizing formula makes it perfect for the oiliest of faces. Even YouTube sensation Grav3yardgirl swears by it.
Effiny 24K Gold Skin Care, $6, Amazon
Though these previously-mentioned products are certainly worth their weight in gold, sometimes we don't want to break the bank to feel beautiful. If this is the case, then look no further than this gold-infused essence. It contains real 24K gold, along with ginseng extract, jojoba oil, and collagen. The reviews are rave, especially considering this product works similiarly to more popular products at a fraction of the price. Effiny will give you that fancy feeling on a budget.
You never have to break the bank to let yourself feel luxuorious. But if you do decide to splurge on the Kaprielle or the Tatcha, just remember to #treatyourself. You deserve to feel as golden and glittery on the outside as you are on the inside.
Images: Courtesy Brands