How To Prepare To Run For Office In 2017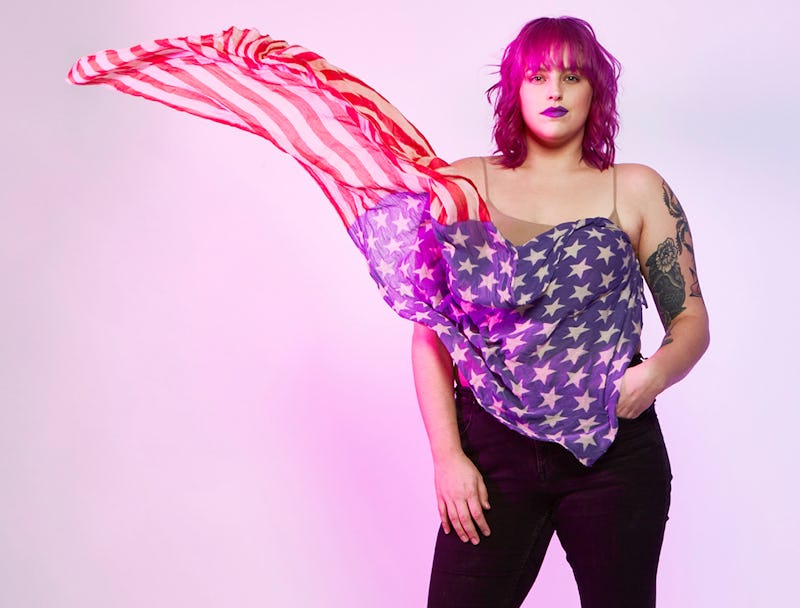 Many Americans were disappointed in the results of the 2016 election, and in the weeks since the polls closed, the importance of getting out there and doing things to cause real change has been stressed time and time again. This is with good reason — it's important to be the change you want to see. One major way to influence politics, of course, is to run for political office so you have a direct hand in shaping policy. Unfortunately, that's easier said than done — especially if you don't have any prior experience in politics.
However, it's important women do all they can to get involved in government. Research has shown that women are underrepresented in politics, particularly in the United States, despite the fact that it's nearly impossible to overstate the importance of having women in political office: Female politicians are more likely to prioritize issues that deal directly with women, and I'm not the first to find it ridiculous that so many men make huge legislative decisions about issues that primarily affect women, such as reproductive rights.
The good news is that women are better represented in political office today than they were several decades ago. If you have the inclination to join them, here are 17 ways to prepare this year to run for office.
Psst! Check out the "You IRL" stream in the Bustle App for daily tips on how to have an empowering 2017 starting Jan. 1. Right now, tweet @bustle about how you plan to make 2017 the best year yet. Use the hashtag #2017IRL, and your tweet could be featured on our app.
If you're planning on running for office, you can't treat it like a dream. Getting elected is hard work, so you have to decide to run, something that most women are discouraged from doing.
Politicians, especially women, are under enormous pressure to be perfect. Google yourself so that you're aware of what's out there about you.
Even if your online image is squeaky clean, the American Majority New Leaders Project recommends search engine optimization (SEO) to make sure the best results appear first in search.
Running for office requires a huge time commitment, and it's important to consider that before you start seriously campaigning. Start figuring out what activities you can scale back this year to accommodate a campaign.
Look up the specific qualifications for the position you want to hold. Many states have residency or age requirements; in Georgia, for instance, you have to be at least 30 years old to become governor.
Political campaigns can cost quite a bit of money, and unless you're a billionaire, you're not likely to be able to fund it all yourself. Figure out how much you can afford to spend on campaigning, and start fundraising for the rest. Local businesses are always a good place to start looking for funding.
States have different laws regarding how to report finances. Look into your local laws.
As the person running for office, you're going to be heavily scrutinized — but your family is also likely to wind up in the spotlight. Make sure they know what's ahead.
You're probably going to be asked about a variety of political issues. You might not find all of them interesting, but they mean something to someone out there. Make sure you have an understanding of what's important to voters in your area.
Once you're informed, decide where you stand on the issues.
Volunteering is fun and a great way to give back to the community, but that's not its only benefit. As Regina Monge, a woman who ran for political office in college, told Bustle earlier this year, volunteering can provide invaluable networking opportunities for people looking to get into politics.
You want voters to recognize your name on election day. Candidate College, a web series about running for office, suggests making business cards and handing them out in your district. Not only will people start to learn your name, but they're also likely to hand you a card in return.
Candidate College also points out that by learning your district's voting history, you can figure out where to direct your campaigning efforts.
Unless you run unopposed, you're in a political race against someone. Research your opposition so you know what you're up against.
According to informational website Local Victory, going to local meetings is a great way to meet people, especially community leaders. Start attending meetings for town council, your political party, the school board, and so on.
Everyone hates public speaking, but if you're going to run for office, you have to be good at speeches. If you don't know where to start, check out this Lifehacker article for tips. You'll also want to become familiar with debating.
Running for office is a huge commitment, and it can be overwhelming. Consider signing up for organizations like She Should Run, which trains women for public leadership. Good luck!
Check out the "You IRL" stream in the Bustle App starting on January 1 for daily tips on how to have an empowering 2017.
Images: Hannah Burton/Bustle (3); Bustle (17)