Subway Maps Defined By Instagram Hashtags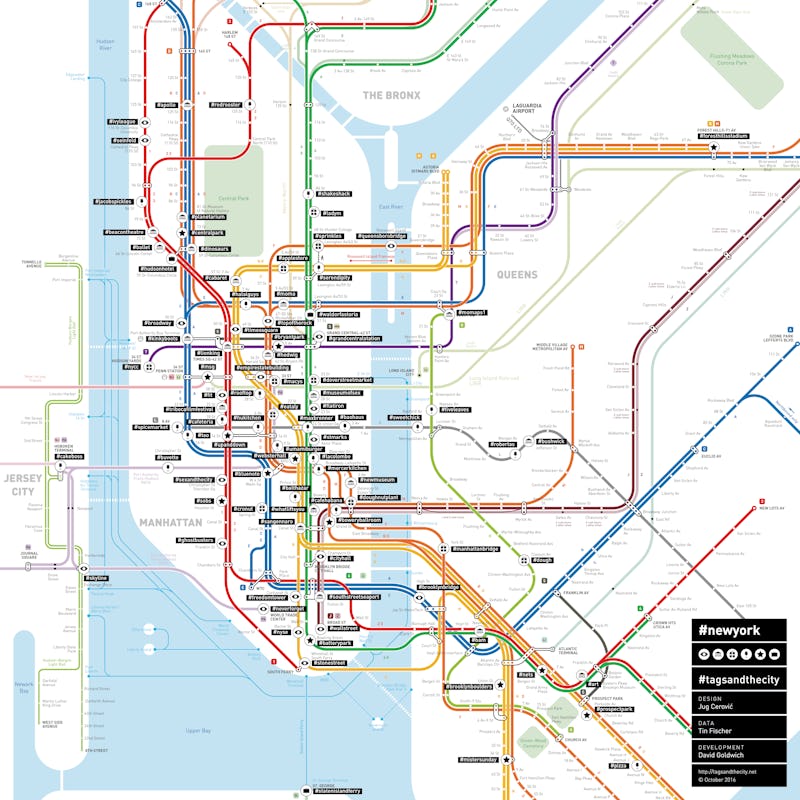 Ever wonder what's trending in your city from a tourist's point of view? A new project entitled "Tags and the City" (stylized) "#tagsandthecity" is using social media data to transform maps of public transportation into sweeping surveys of Instagram hotspots. The maps rename subway stations after nearby Instagram hashtags, giving viewers a fresh perspective on their city's most sought out locales. In the New York version, instead of taking the C train downtown to Spring Street, the station is renamed #cronut, for the flaky Dominique Ansel delicacy nearby. In London, Paddington Station is now #paddingtonbear for the oh so adorable life-size bronze statute that delights tourists waiting for the tube. Sounds like a pretty great way to travel to me!
The project began two years ago when Berlin-based journalist and co-creator Tin Fischer and programmer David Goldwich started to analyze Instagram data. Fischer was curious as to which season had the most rainbows, and used the hashtag #rainbow to track their occurrence. However, he soon realized that Instagram's data was representative of far more than just rainbows. "Instagram gives us a really good picture of how people live, eat, celebrate or travel these days," Fisher tells Bustle in an email. "We wanted to apply this information to a geographical grid that everybody has in his or her mind when moving through a city. This is, of course, the subway map." So Fischer, working with Berlin-based programmer Andrea Rohner, and Parisian architect and map designer, Jug Cerović, pooled their talents to create #tagsandthecity.
So far, the team has tackled subway maps of Berlin, New York, London, Paris, and the San Fransisco Bay Area. Each of the city's subway maps show the 100 most popular stations as well as their corresponding Instagram tags. When asked what city is next on the list, Tin responds, "Maybe Barcelona? It has an interesting mix of historical buildings, very different restaurants, beautiful views, mass tourism, but also subculture — and cities by the sea always have especially beautiful maps."
Fischer believes this new mix of cartography and social data make handy guides both for first-time visitors trying to orient themselves in a new place and for long-time residents. "Viewers can on the one hand find places they did not know before, even in their own cities. (I have lived in Berlin for more than 10 years and thought I knew the city, and realized I did not.) Then it's also very fascinating and entertaining to explore these maps."
Since Instagram has restricted access to its current data, the maps source their hashtags from what was trending in 2014. However, the dated data remains fairly consistent with what we might find today, as many of the hashtags refer to restaurants, landmarks, shops, and, yes, a fair amount of "tourist traps." Even Fischer's local subway stop in Berlin is named after a famous food. "When I tell people that I live near Bellevue the answer is often something like: 'Oh, where the café with these famous Baumkuchen cakes is?' It's what people associate most with my station, and now indeed it is called #baumkuchen."
The maps are available for purchase in poster form from the #tagsandthecity website, and you can sign up for their newsletter here to find out if hashtag maps are coming to a city near you.
Images: Courtesy of #tagsandthecity