The Best Secret Santa Gifts For Guys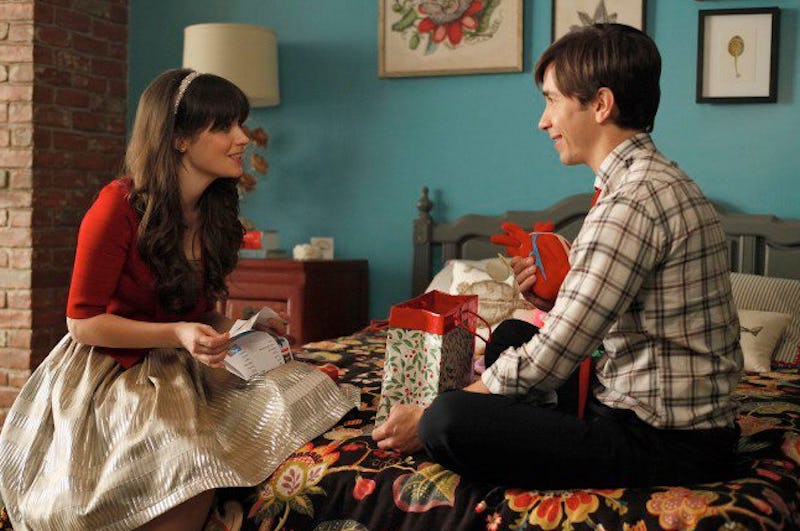 I know it may not seem like it, but Secret Santa — as stressful as it can seem — totally saves everyone each holiday season. It takes away all of the pressure of finding time to shop for all of your friends and gives you the luxury and peace of mind to only worry about one gift. One gift that you can give all of your attention to. One gift that you can do right. One gift that your efforts can be measured by. One awesome gift is so much better than a dozen half-assed ones!
Seriously, Secret Santa makes it a lot easier to be joyful about shopping when you don't have the burden of a massive shopping list on your shoulders. It makes holiday shopping feel light and festive and stress-free. But shopping for your girlfriends is quite different that shopping for guys.
For your girlfriends, you're basically looking for something that you would love for yourself. You have a sort of women's intuition about the whole thing. But for guys, it can be much harder. You have to find something that doesn't feel like you're generalizing what men want, like a tie or a sports jersey — a) all genders can desire those gifts, and b) not all men want those gifts — but you also have to get them something of a quality that's hard to measure when it's not a product or brand that you're familiar with. Here I've rounded up a few Secret Santa gift ideas for the guys in your life so you can stress even less:
Cocktail Ice Cube Kit
This ice cube mold makes square and round ice cubes, perfect for the fancy cocktail artist or cold drink fan alike.
Jumbo Ice Mold Set, $13, Target
Portable Table Tennis
This is so portable, you could like play it on a plane or in a car or ... a small closet? If you wanted to. I don't know your life. It's the perfect gift for someone who lives in a small apartment.
Buxton Portable Tale Tennis, $25, Target
German Beer Mug
Das (a) boot! This might look like a novelty item but it's actually a totally useful beer guzzling vessel for your favorite German beer fan.
Wemco Das Boot, $20, Target
Men's PJ Set
Everyone loves a festive pajama set. This warm and wintery set is the perfect gift for someone you don't know very well, but want to give a thoughtful gift to.
Teal & Black Check Pajama Set, $45, Topman
Wool Cap
Guys love caps, but this one is extra special because it's made out of wool. So, this winter, he can stay stylish and warm.
Light Gray Wool Blend Cap, $30, Topman
CK Beanie
We all love our Calvins and you can never have enough beanies. This wool-blend knit beanie is super warm, and its branding is super nostalgic.
Calvin Klein Jeans Beanie, $29, Urban Outfitters
Patagonia Shirt
The perfect trusted undershirt for winter activities or lounging actives alike. Plus, it's made of organic cotton.
Patagonia Sticker Shirt, $46, Urban Outfitters
Men's Candle
Not than men can't enjoy the same candles that women do, but if you're looking for a gift for someone who is outdoorsy, they're going to love this wood-scented candle. It will make any room smell like a pine cabin.
Men's Care Wood Candle, $18, Urban Outfitters
Unofficial Pokemon Tracker Guide
Yes, that's right, it's a whole book dedicated to helping you find the Pokémon you're looking for and the Pokémon you didn't even know you needed.
The Unofficial PokemonGo Tracker Guide, $14, Urban Outfitters
Travel Shave Kit
Every hairy man needs a chic travel shave kit. This craftsman kit is tiny and has everyone one would need to get a clean shave.
Proraso Travel Shave Kit, $15, Urban Outfitters
Men's Grooming Kit
It's the whole sha-bang in a tiny cute leather pouch. This will keep his nails and brows on-point all season long and on the go.
Gentleman's Hardware Manicure Set, $26, Urban Outfitters
Beard Treatment
With love, for the man with a lot of hair on his face. This package has both an oil and a cleanser so he can keep that face fuzz clean and smelling good.
Beard Buddy Duo Kit, $38, Urban Outfitters
Dopp Kit
Everyone loves the rustic authentic vibes of Pendleton, and no guy can have enough dopp kits. This is the perfect gift for someone who travels.
Pendleton Dopp Kit, $50, Urban Outfitters
Pizza Grilling Set
Man Crates is a company that makes thematic packages and sends them to guys in a wooden box that they have to ply open. No, that's not a joke, and people love it. If you know Ron Swanson, get him this.
Pizza Grilling Crate, $99, Man Crates
Hot Sauce Kit
Perfect for the foodie who likes it spicy, get them a hot sauce kit! It will keep them busy and help them punch-up their home cooked meals.
Hot Sauce Making Kit, $70, Man Crates
Bloody Mary Kit
Perfect for the at-home brunch master. Help him elevate his Sunday hosting skills with this crate.
Bloody Mary Crate, $75, Man Crates
Omaha Steaks
This package includes one package every three months, for a whole year. Give this to your favorite meat eater, it's the gift that keeps on giving.
4 Gourmet Omaha Steaks, $69, Omaha Steaks
Images: Fox, Target (3), Topman (2), Urban Outfitters (8), Man Crates (3), Omaha Steaks (1)