Two 'Heathers' Stars Are Headed To The 2017 Globes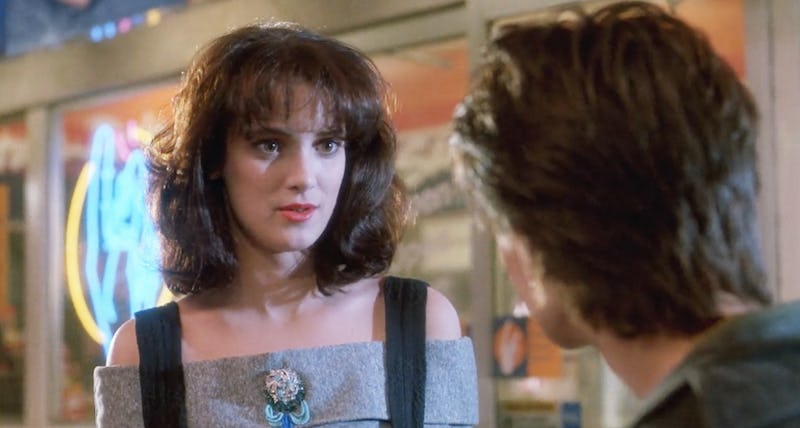 It was the dream of any Wino Forever chick when Winona Ryder brought '80s weirdness back in Stranger Things, and now it looks like the show is bringing back more nostalgic feels. In the wake of Golden Globes nominations, Stranger Things got a nod for Best Drama Series, and Ryder herself wrangled a Best Performance for an Actress in a Drama Series nod as well. And not only is this a huge win for the revived-'80s, it'll throwback us her first romp in the decade: Ryder and Heathers' co-star Christian Slater will reunite at the awards ceremony next year.
Yes, the black comedy power couple that is Veronica Sawyer and Jason "J.D." Dean will be brought together for a more happy occasion than killing off the popular kids. Slater himself is grabbing a Best Supporting Actor nomination for his work on Mr. Robot, an award he triumphantly grabbed last year, and, this time around, he's stoked to see Ryder at the ceremony. "I am so over the moon for her. I really am so thrilled and couldn't be any more excited," Slater said in an Entertainment Weekly interview. "I haven't seen her in so long and to see her in this capacity at this event, it'll make for a nice photo."
I couldn't agree more.
And in spite of their last altercation (lest we forget, Heathers closes with J.D. and Veronica in a bloody brawl), it sounds like Slater's been watching Ryder's role with loving eyes. "Her performance is stunning," Slater said. "I mean, the kids, the homage to the '80s and all of those aspects, I was incredibly charmed by it and I'm excited that show has garnered the attention it has as well. It's very, very exciting."
What's exceptionally exciting is that this reunion will definitely mark how far the two have come since they joined forces. Along with Lydia Deetz's Beetlejuice, Ryder's turn in Heathers was arguably her breakthrough role. And, though she went from '90s darling to sort-of comeback queen, Stranger Things has put her squarely back on the Hollywood map. Likewise, Slater had some dark brushes with the law over the course over the course of his career, most ending around the early 2000s, and his career is evidently making a comeback despite them.
Above all else, I think every Heathers fan can say that it'll be awesome for Veronica and J.D. to say greetings and salutations once more.
Images: New World Pictures; Giphy (2)