ColourPop's Tie Dye Shadows Are Back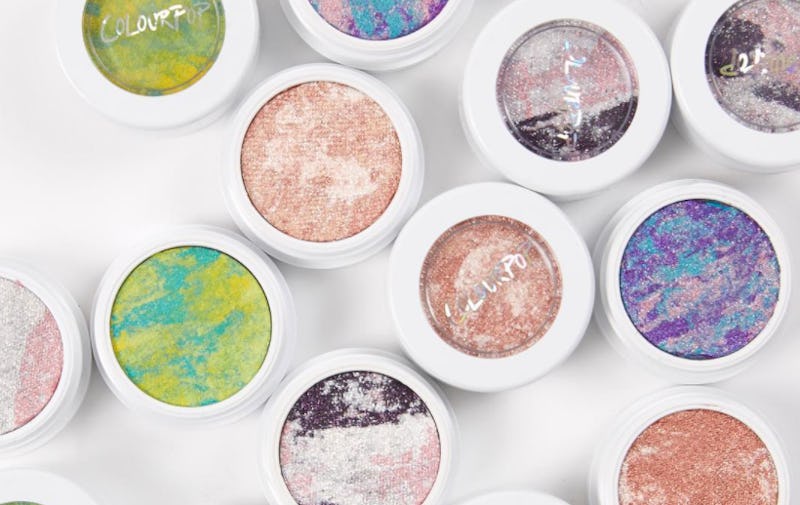 Remember a world before ColourPop's lip products? Me neither, but it happened — when they were first on the scene, ColourPop's defining product was their cushy, gel-feeling powder shadows. The world is a better place for their matte liquid lipsticks and lippie stix, but there's little not to love about a callback. For example, to one of their greatest hits: ColourPop's Tie Dye Shadows are back in stock, for a limited time only.
That's right: The brand went retro with their latest LE's, re-releasing the OG Tie Dye Shadows in Meow, Pop Rocks, and Summer Lovin while supplies last. Although, "retro" is a constantly updating term, given that ColourPop also brought their tie dye shadows back this past summer. So maybe you're nostalgic for those summer days, or you were a first responder when they were truly new. Timeline regardless, the fanbase is there for the limited edition goods — ColourPop brought back the first Tie Dye revival due to popular demand, and this drop has sparked a crazy level of excitement on Instagram.
Tie dye products — also known as marbled — have been having a consistent moment, with ColourPop's Churro highlighter selling out this summer in less than a minute. Veined with up to three shimmering hues, the Tie Dye Shadows are just as gorgeous.
Summer Lovin is a pale white and rose quartz combo, while Meow is a frosty white, dark eggplant, and cool pink. Pop Rocks is the most vibrant shout-out to your summer camp tie-dye tee, so get ready to ride the nostalgia with a turquoise, vivid purple, and slightly greyish pink (true to life).
Each costs $5 and is available now, to get a feel for the tie dye life before moving onto bigger and more expensive contenders, like the similarly marbled Hourglass Ambient powders.
Or if you're feeling the mish-mash eyeshadow mix, check out Vincent Longo's Pearl X Eyeshadow, which has a similarly multicolored combo.
As ever, ColourPop is the first line to try — but if the Tie Dye re-release sells out for good, you've got options in the meantime.
Images: Colourpopcosmetics/Instagram; Hourglasscosmetics/Instagram; Vincentlongocosmetics/Instagram