See Swatches Of ColourPop's Tie-Dye Shadows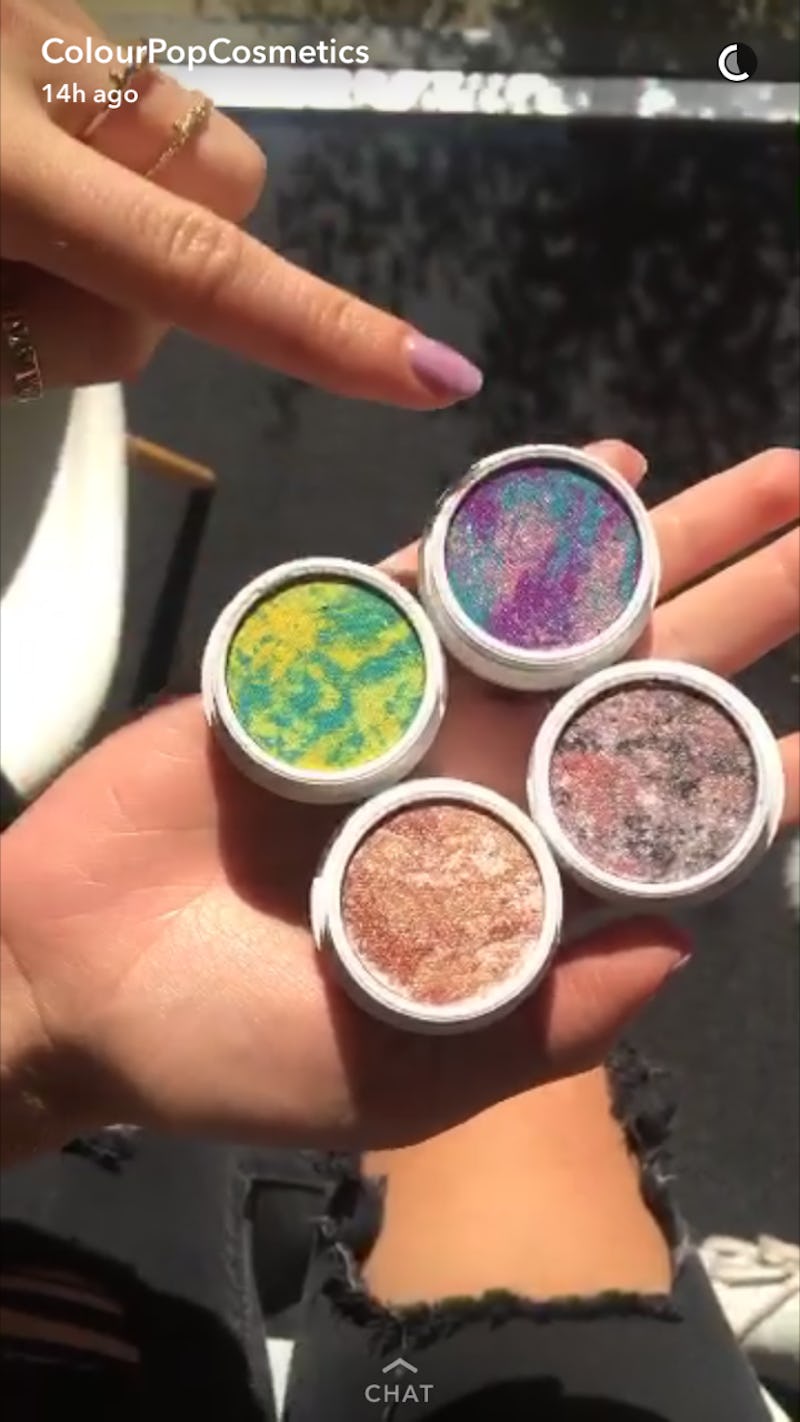 Stop what you're doing, because these are four swatches that you have to see to believe. In case you missed it, ColourPop is bringing back four tie-dye shadows for a limited time. What does a tie-dye eyeshadow look like, you ask? Well, be prepared to see the gorgeous swatches for yourself. I will warn you though, you'll want to buy every single one after seeing their color payoff.
When ColourPop first announced that they were bringing back their tie-dye shadows, I was pretty confused. Each one has at least three colors in it, so I had no idea what they would actually look like when they were applied to the skin. Finally the answer is clear thanks to ColourPop's social media swatches. Some of the colors might even surprise you when you see them IRL.
You might already remember the four shades from the makeup companies first summer launch ever. Mermaid Kiss, Pop Rocks, Meow, and Summer Lovin' are now coming back in limited quantities. Actually they're pretty similar in formula and in look to the recent tie-dye highlight that ColourPop created. You know, the one that sold out in minutes.
Whether you remember them or not, it doesn't really matter. They're making a comeback on July 28 at 1pm EST, so they'll be very fresh in your memory soon. Take a look at the four stunning shades, so you can shop accordingly.
The four shades in order are Summer Lovin', Meow, Pop Rocks, and Mermaid Kiss. All of them are the perfect amount are sparkly and colorful. Here they are in their packaging, so you can see how they match up with their swatch.
The one she's pointing at is Pop Rocks, then Meow, Summer Lovin', and Mermaid Kisses. I'm so glad that they finally swatched these awesome shades. I never would have guessed that they came off looking like they do.
The indie makeup team also swatched some of their more colorful shades that they offer as well. You might have seen photos of the cute rainbow PR package that they sent off. If so, these are the colors from there. Each of them are perfect for the summer's rainbow trend.
ColourPop might as well just take my money now!
Images: ColourPopCo/Snapchat (4)