Careless Morgan Taught Us How Rock Glam Makeup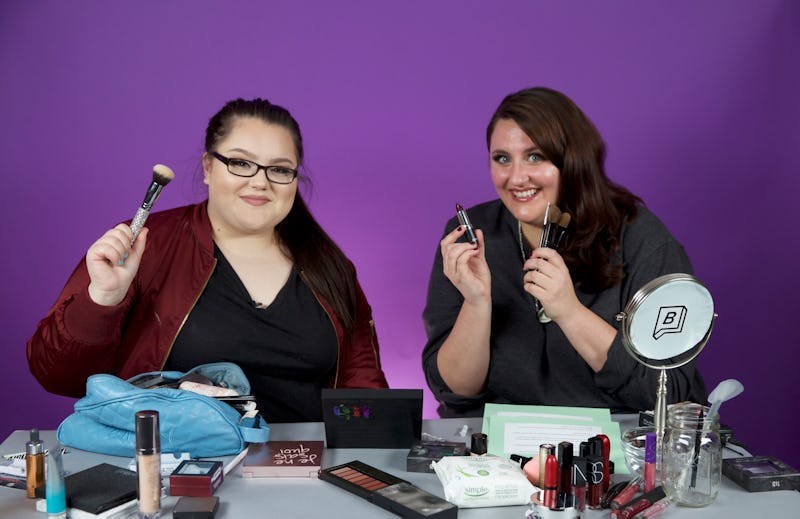 If there's one way to describe Morgan Hanberry, aka viral beauty star Careless Morgan, it's that she's absolutely no bullshit. It might sound crass, but it's an apt description for the young internet star as she's made her name by sharing a makeup tutorial videos that are also no bullshit. Simply put, Hanberry makes videos for the beauty-curious who don't have time for any of the fancy stuff.
For those of you unfamiliar with her unique approach to recorded beauty tutorials, here's the background: In August 2016, Hanberry posted a spoofy makeup tutorial to social media pages. Structured like most beauty tutorials (but with a much funnier edge), Hanberry did her makeup on camera while saying things like "'Shake your foundation. I'm using Nars Luminous…I don't f*cking know, the guy at Sephora talked me into buying it," and the brutally honest "'I just see [techniques] in the tutorials and I think I know how to do s***, but I don't."
Her honesty and humor resonated with a lot of people — hundreds of thousands, actually. Hanberry's video was an overnight sensation, and it was great timing, too: The video went viral just a few days before 18-year-old Hanberry entered into her senior year of high school.
Bustle had the opportunity to sit down with Hanberry for one of her makeup tutorials. Below, Hanberry teaches Bustle Fashion & Beauty Editor Amanda Richards how to do a full holiday glam look.
As always, Hanberry's results were on point. During her tutorial with Bustle, Hanberry said what most of her fans already knew to be true: Wear the makeup that makes you happy, and don't let anyone tell you otherwise. She also shouted out some of her favorite products: Morphe's palettes and brushes, which are great quality and super affordable, and well as the Jaclyn Hill x Becca Champagne Pop highlighter — Hanberry says it's the only highlighter she uses.
There's no telling what's in store for Hanberry and her newfound fame, but one thing is for sure: Whatever happens, Hanberry will keep it real.
Images: Alyssa Briddes/Bustle