How To Be More Mindful Every Day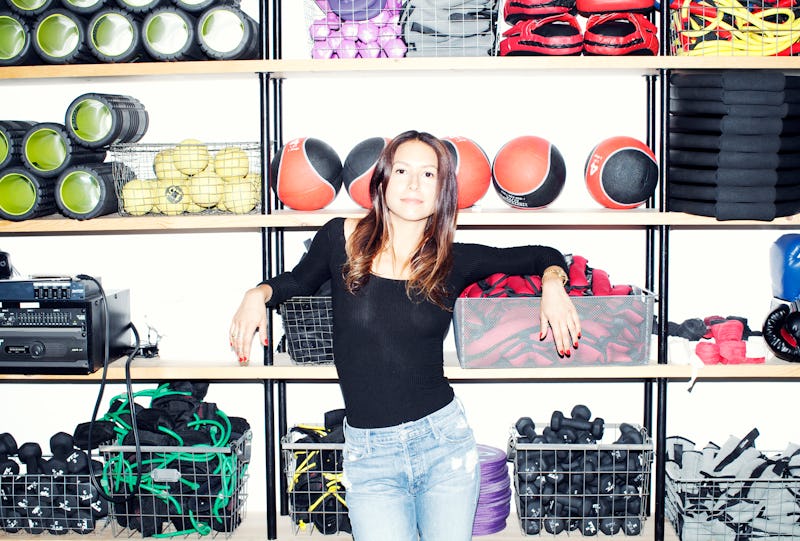 Although it's hard to focus on personal well-being during the craziness of the holidays, at this stressful time of year, it's super important to focus on how to be more mindful. Mindful living is all about mental and physical health, so I turned to modelFIT founder Vanessa Packer, who founded the cult-favorite New York fitness sensation modelFIT, which recently opened its first location in West Hollywood this month.
In case you haven't heard of it, modelFIT is based on its Pilates and barre-inspired workout classes and a holistic nutrition plan to go along with it. Packer, who's a certified holistic nutritionist, is all about using workouts and healthy eating as part of your overall well-being plan — but she also emphasizes the importance of mental well-being.
During this crazed time of year, it can be hard to prioritize mindful living with holiday celebrations and late nights happening all the time. So when I heard Packer's tips about how to make mindfulness a part of your everyday routine, it seriously spoke to me. She's not about making big, drastic changes to quickly drop five pounds or tone up for a weekend beach trip — she's all about incorporating mindfulness into your everyday life, along with a diet and exercise routine that works for you as a way to live your best life.
So, what's Packer's daily routine all about? It breaks down into three areas.
1. Mindful Fitness
You can't be too surprised by this one, right? modelFIT's philosophy is pretty awesome. It stands for "the model of fitness," and its five core principles — mindfulness, working small muscle groups, slow and controlled exercises, working in three planes of motion, and improving stability and balance — all work together in unison to create a unique bespoke approach to healthy living, according to Packer.
"One thing to always remember is don't try to change your entire body overnight," Packer says. "Take small steps towards a healthier life each day, and focus instead on making the little changes that lead to sustained, meaningful change. When you're in touch with your body, you intuitively know what works for you."
2. Mindful Eating
"In addition to founding modelFIT, I'm also a certified holistic nutritionist, and I can attest that fitness and nutrition absolutely go hand in hand," Packer says. For her, that means focusing on staying hydrated (she loves warm water with lemon and raw coconut water) and eating a diet that's rich in vegetables and lean protein like fish, but it's all about finding what's right for you.
3. Mindful Living
It's hard to live mindfully all the time, but Packer's tips in this space are so good: "I'm committed to doing something active every single day — the daily sweat is just as much for my mental well-being as it is for keeping my body strong and fit," she says. "I'm also a huge champion of daily meditation; for me I find walking to be very therapeutic. I relish my morning walk in Soho to the NY modelFIT studio on Bowery, or in LA strolling West 3rd Street, headed towards our new Los Angeles location."
"I also recommend having a beautiful space that puts your mind (and subsequently your body) at ease," Packer continues. "Our studios' aesthetics and ambiance are minimalist, clean, modern and zen — they're safe havens to escape the chaos of daily life. You can replicate the same tranquility at home by having fresh flowers, plush towels, and fragrant, yet calming candles (I love Diptyque Baies) to round out the soothing experience."
Packer also emphasizes the importance of having a strong community: "The power of community is something I also deeply believe in," Packer says. "Asking for help is something I've learned, but it's now a daily practice. Having support from those around you, and surrounding yourself with likeminded people has made all the difference in my career."
To learn more about modelFIT, head over to their website and follow them on Instagram.
Image: @modelfit/Instagram