The 17 Best 'Rogue One' Quotes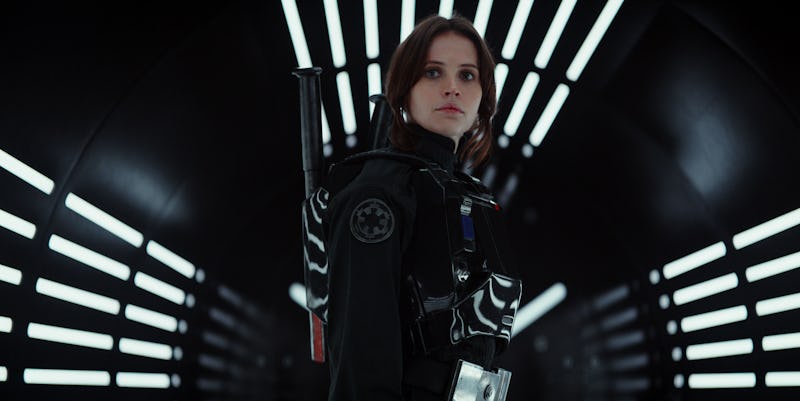 Happy Rogue One week, everyone! After so many months of anticipation, the release of the first Star Wars standalone film has finally arrived. Featuring a brand-new cast of characters (well, except for a few familiar faces) and a plotline that leads right into the events of A New Hope, the film, in theaters now, is a must-see for Star Wars superfans and casual viewers alike. Long after you leave your screening, you'll still be thinking about the events and characters of Garth Edwards' new film — and, of course, you'll be memorizing and repeating all the best Rogue One quotes, especially the lines that came from the mouth of breakout character K-2SO.
Seriously, that hilarious, sarcastic droid is the true star of Rogue One, and as shown by the number of times he appears in the below list of Rogue One's greatest quotes, he's responsible for some of the movie's very best moments. But of course, he's not the only character from the new film who has some pretty memorable lines throughout the film. Read on for the 17 best quotes from Rogue One , be beware, there are plenty of big spoilers contained within these lines.
1. "Trust The Force."
At the start of the film, Jyn's mom tells her this, right before sending Jyn off to hide while she and her husband defend their family from Krennic and his forces.
2. "Congratulations On Being Rescued."
K-2SO makes a memorable entrance when he congratulates Jyn on being "rescued," aka thrown about and not allowed to leave. She's not pleased.
3. "I Find That Answer Vague And Unconvincing."
K-2SO's later comments to Jyn, like the one above in resposne to an answer he deems innappropriate, are some of the funniest in the movie.
4. "Rebellions Are Built On Hope."
Cassian, and later Jyn, say this inspiring line to rally the troops and motivate everyone to fight.
5. "What Will You Do When They Catch You? What Will You Do If They Break You? If You Continue To Fight, What Will You Become?"
Saw Gerrera says this to Jyn to try to convince her not to continue with her plans.
6. "Did You Know That Wasn't Me?"
When Jyn shoot a droid that looks an awful lot like K-2SO, he's not pleased, to say the least.
7. "Are You Kidding Me? I'm Blind."
Chirrut Imwe, a blind warrior, says this when a bag gets placed over his head so he "can't see."
8. "It's Not A Problem If You Don't Look Up."
When asked if she's OK with the Imperial flag waving overhead, Jyn gives this sad response.
9. "I'm One With The Force. The Force Is With Me."
Chirrut repeats this mantra to himself throughout the film, drawing power from its words.
10. "Be Careful Not To Choke On Your Convictions."
Darth Vader says this line while making Krennic literally choke. Who knew he had a sense of humor?
11. "Save The Rebellion! Save The Dream!"
Saw says this to Jyn right before he dies.
12. "What Chance Do We Have? The Question Is What Choice."
This line is said during the discussion over whether or not the rebels should listen to Jyn's pleas and try to steal the Death Star plans, despite the fact that they could easily be crushed by Imperial forces.
13. "Jyn, I'll Be There For You. Cassian Said I Had To."
Oh, K-2SO.
14. "May The Force Be With Us."
Amen, Jyn.
15. "It's Rogue. Rogue One."
Bodhi Rook, a pilot working with the rebels, makes up a name for their mission when being questioned. Catchy!
16. "Your Father Would've Been Proud Of You, Jyn."
Cassian says this sweet line as he and Jyn await their deaths.
17. "What Is It They've Sent Us? Hope."
At the movie's end, Princess Leia receives the Death Star plans, and utters this perfect line.
Like the many Star Wars movies before it, Rogue One is filled with great lines that fans will be repeating for years to come.
Images: Walt Disney Studios; Giphy