7 Style Lessons to Learn from Doris Day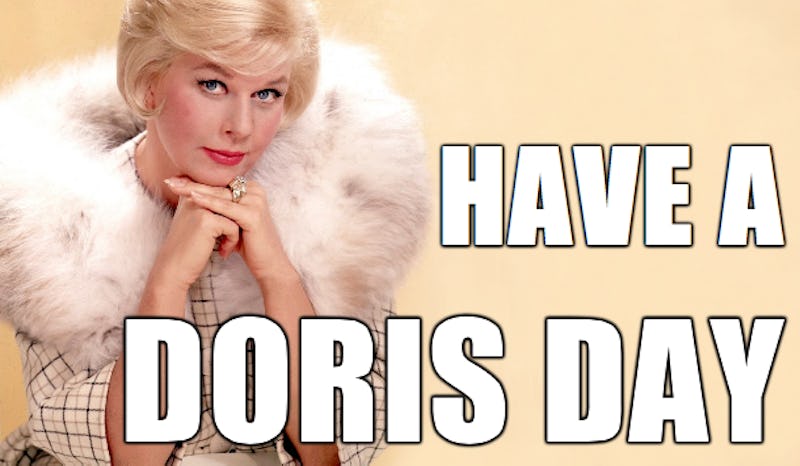 Happy Birthday, Doris Day! The timeless Hollywood icon turns 90 today — and according to People, she's still going strong. Perhaps its her chipper outlook on life or her supreme love of animals that has kept her young at heart. When asked what she's learned over the years, Day answered: "Live life to the fullest … It's not coming back again." Whatever her secret may be, one thing's for sure: we've got a lot to learn from the celebrated superstar. Here are 7 lessons to learn from Ms. Day herself.
Go Bright and Bold
No matter the era, Day was never afraid to wear something bright and bold, like this super mod polka dot dress and matching head scarf. The next time you reach for your all black ensemble, consider adding a pop of color to brighten your (Doris) day.
Channel Your Inner Parisian Girl
If ever in a style conundrum, it's always a good idea to ask yourself: what would a French girl do? Even Doris Day knows the importance of capturing that enviable je ne sais quoi those French girls just ooze from their Riviera-sun-soaked bodies.
Wrap Dresses Never Go Out of Style
Especially in sweater dress form. With a killer cowlneck.
Accentuate Your Eyes with a Matching Ensemble
Even if your eyes aren't brilliantly blue, learn how to dress to highlight your pretty peepers. Blue, green and hazel-eyed-gals, consider wearing green, blue and teal tones. Brown-eyed-girls — you don't have to stick to brown sweaters and shirts. Opt for gold tones or accessories to help accentuate your eyes.
Menswear is Always a Good Idea
Borrowing from the boys will always be in fashion, but that doesn't mean you can't add your feminine touch to it, like this pink bow tie.
Don't Be Afraid of Sequins and Sparkle
Sequins and sparkle embellishments aren't just for grandmas. They're perfectly stylish as long as you keep it tasteful.
Diamonds Will Always Be a Girl's Best Friend
No matter what they say about diamonds, do not be ashamed to admit that they're your favorite accessory of choice.
Image: Imgur