'Rogue One' Could Be On Netflix Soon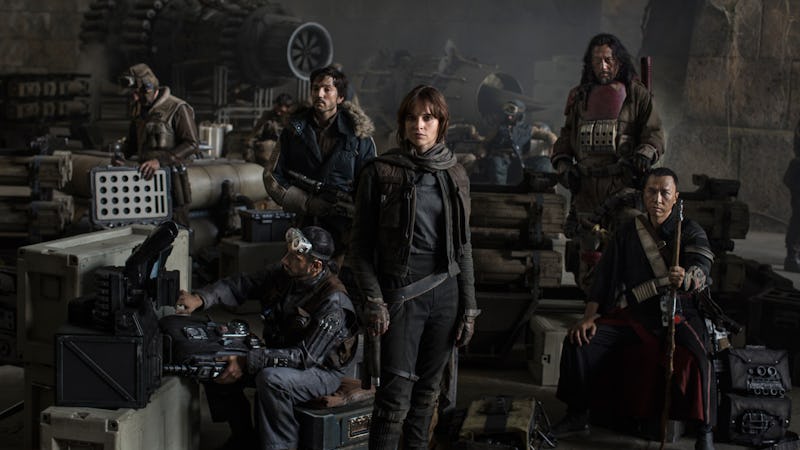 Many Star Wars lovers out there can barely think past Friday, when Rogue One: A Star Wars Story, is being released in theaters. If you haven't gotten your tickets, you might be out of luck, because showings are selling out across the country. But not everyone loves the bustling movie theater crowds. Some folks living that homebody lifestyle much prefer to wait until the chaos has died down and catch the big blockbusters of the year once they hit Netflix. After all, the living room (or, hey, maybe the twin bed with a laptop propped up on a textbook) is the cinema of the home. And for those blanket dwelling Jedi among us, the question is: will Rogue One be on Netflix?
For many years, it has been well-understood, and much lamented, that all the movies in the Star Wars franchise are not available to stream. Go check your Netflix (jk, you probably already have if you're reading this article). However, the ever-handy website What's On Netflix has some good news for you. It seems that way back as early as 2012, Disney and Netflix began brokering an agreement that gives Netflix exclusive U.S. rights to all Disney films — as well as the Disney-owned Marvel, Lucasfilm, and Pixar subsidiaries — released from Jan. 1, 2016 on.
Yes, friends, that means that Rogue One, which will be released on Dec. 16, 2016, falls after the starting date of the contract and will most likely be on Netflix in the coming year. Whats On Netflix has even done some logistical work for you to guesstimate the exact month that the film will show up on the site. According to them, they've heard that Rogue One will be added to Netflix around the time of the film's DVD launch, which, they say, "if it's replicating the timeline of Episode 7, would mean ... anywhere between March and May 2017."
Now keep in mind, this deal between Disney and Netflix only applies to those new movies released in January of this year and onward, which means that, unfortunately, all previous Star Wars films are unlikely to be popping up in your New Arrivals category anytime soon. But in many ways, it's kind of exciting to start fresh with the first standalone Star Wars film. And I'd wager a bet that Star Wars: Episode VIII will make its way onto the streaming platform when the time comes as well.
So there you have it. Star Wars and Netflix shall no longer be two ships passing in the night. They'll be more like two ships that meet at a harbor where one ship gives the other ship some really cool, valuable cargo. I guess. And hey, Rogue One streaming on Netflix in the spring is definitely something to keep your spirits up during the long winter season.
Images: Walt Disney Studios Motion Pictures