25 Enamel Pins That Make Great Holiday Gifts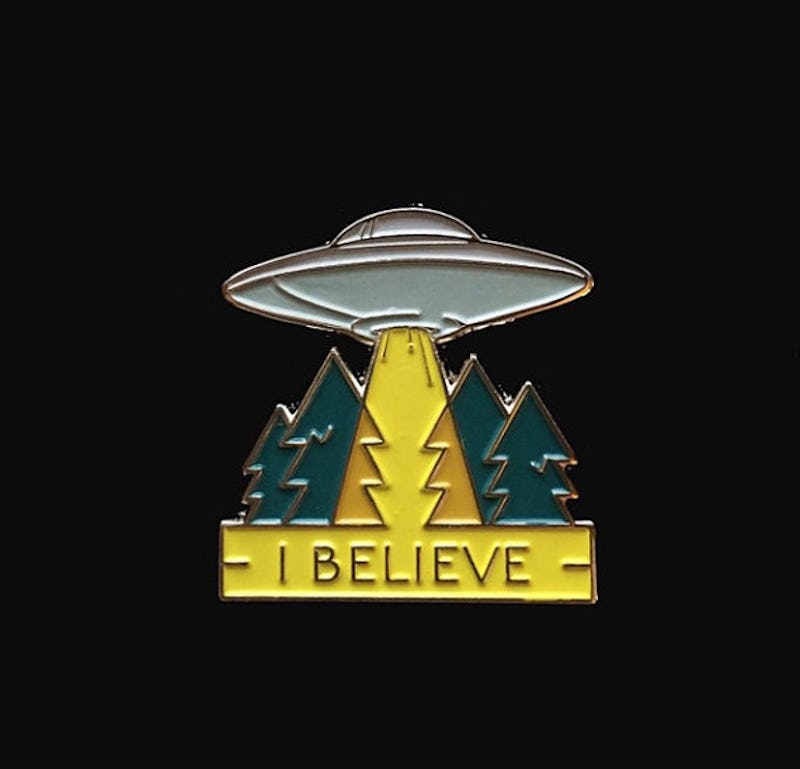 While you might think that larger presents would get the most attention, the tinier, clever ones are also pretty great. Looking for some extras to throw into gift bags? Try getting some enamel pins to use as stocking stuffers.
Pins can be attached to the lapels of a shirt, a backpack, hat, or simply displayed on a cork board for guests to enjoy. There are customizable options, as well as pithy little pins you'll want to buy as is. Like puns and pop culture references? Get an enamel pin with a character from your favorite show. Maybe you're just a big fan of a certain type of food —there's a pin for that, too.
These 25 pins can make amazing gifts — plus, who says you have to give one away? There's always the option of keeping them for yourself. These creative little accessories allow for a unique way of showcasing your favorite games and music while supporting independent artists. Simply put, there's a pin for everything, and you'll find a bunch of rad ones below.
1. Pizza the Hutt
Mirandadressler, $10, Etsy
Pizza. Jabba. Both with the surname "Hut(t)". Isn't he just a melty cutie? Hard to imagine he eats people.
2. Beetle Couch Lady
Hopesick, $8, Etsy
If you remembered this reference we can be friends. Beetlejuice is a Tim Burton classic.
3. Shirley Chisholm
RadicalDreamsPins, $10, Etsy
Make a statement with this feminist Shirley Chisholm pin. Consider it a daily affirmation.
4. Top Gunn
Grackledistro, $10, Etsy
Tim Gunn reminds you that not only can you make it work, but also that you will.
5. Cotton Candy Oni
Sabrina Elliott, $11, Store Envy
Sabrin Elliott has more enamel pins on her site, but this one is probably my favorite. You can catch some of her prints of a similar style on her storeenvy as well!
6. Fart Breaker
Heather Bucanan, $9, Etsy
Hearts break, but farts last forever... or something like that.
7. Maneater
Sad Truth Supply, $10, Sad Truth Supply
Did I mention my love for puns? Yes, it's called "maneater"!
8. Zissou Sane
Sad Truth Supply, $10, Sad Truth Supply
A Billy Murray and David Bowie mash-up never looked so good.
9. I Believe...
Last Craft, $11, Etsy
The X-Files will never go out of style. Not to mention you're letting the aliens know to spare you when they take over.
10. Pick Your Poison
kwtallantdesigns, $18, Etsy
These pins are available for preorder. Choose your weapon or just get both.
11. Overthinking
Prettybadco, $10, Etsy
Is it still RBF if you're just rethinking everything you've ever done in your life?
12. Eat It
Prettybadco, $10, Etsy
We're all relieved to see the peach emoji has been restored to its butt-like glory. Celebrate it with this cheeky pin!
13. Tubbs
TheSilentBell, $4, Etsy
Tubbs was one of the breakout stars of Neko Atsume. Speaking of, have you fed your kitties lately?
14. Booty Workship
Prettybadco, $10, Etsy
Because who doesn't worship the booty?
15. Wednesday Addams
Punkypins, $7, Etsy
Just in case anyone was wondering if you were feeling a bit goth.
16. Bill Cipher
WIZARDOFBARGE, $10, Etsy
If you watched Gravity Falls then you get it.
17. Fleshlight
WIZARDOFBARGE, $8, Etsy
This fleshlight is probably the cutest, little sex toy I've ever seen!
18. Born Annoyed
Towne9, $10, Etsy
Sometimes you need to warn others of your constant disposition without saying a word.
19. Go Pho Yourself
Moguless, $10, Etsy
Who doesn't love a good food pun?
20. Avocado Egg on Toast
OctarineDreams, $8, Etsy
Hungry? Let people know what you want.
21. Hello
Cobalthill, $9, Etsy
What you didn't know was that Adele and Lionel Ritche were calling each other.
22. Nasty Woman
MadeAuGold, $11, Etsy
Stand in solidarity with Hillary Clinton and proclaim yourself a "Nasty Woman".
23. Donald Poop
NickLackeArt, $10, Etsy
Feeling like making light of a tough, political situation? This can help get your frustration out. Plus, this might be the only time you find Trump kind of cute.
24. Lashes
GuyGuyGuyShop, $12, Etsy
These come as a set and can be worn on the lapels of a shirt (as shown on the website), separate, or together! Who doesn't love versatility?
25. Archer Bob
PeopleSuk, $10, Etsy
Are you a fan of Bob's Burgers? How about Archer? Then you know both title characters are voiced by the same actor! This pin is a reference to an Archer episode combining the two series.
Did you see one you have to have? This is just a sampling of your options — take a deep dive into the internet and explore all the pins you can handle.
Images: Courtesy Brands