9 Times Trans People Killed It In Fashion In 2016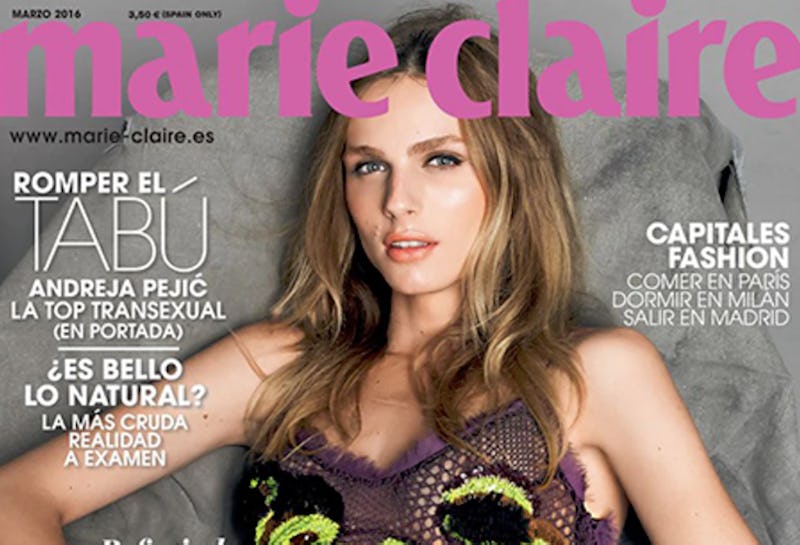 In 2016 more than ever, trans people are visible in the fashion world, gracing magazine covers, runways, and podiums as leaders in fashion and activism. It feels especially important, because outside of that realm, things have been difficult, to say the least.
As a trans person, I've found 2016 to be a year of drastic highs and lows for myself and for the trans community. It's been a little like standing inside a snow globe; inside here, I'm basking quietly in the feeling of having made decisions about my future — namely, the decisions to change my legal name, begin hormone replacement therapy (HRT), and eventually undergo top surgery. Unfortunately, the positivity of finding out a little more of what being trans means to me has been dimmed by what's happening outside of my own life: the onslaught of conservative pushback against so-called "bathroom bills," increasingly staunch opposition from within the LGBTQ community, and Trump's unfortunate election.
While I've been heartened by, however, is watching trans friends and allies pull together and be celebrated this year in a way I've never seen before — including in within the fashion industry — and it's impossible to ignore that this strengthening of the ranks is in preparation for the inevitable damage we will take from the Trump administration.
No matter what we'll face in the future, we have progress to celebrate now — and these trans people rocking the fashion world are definitely worth celebrating.
1. Diesel Casts Trans Models
Denim brand Diesel put three trans models at the forefront of its campaigns and collection launches this year. Stav Strashko, a 24-year-old Israeli model, worked with Diesel in 2014, and this year was chosen to headline the brand's summer campaign alongside Joe Jonas.
In an interview with Hebrew newspaper Yediot Aharonot, Strashko said, "It's always a great pleasure to work with Diesel, which has broken stigmas about gender and beauty in its campaign in recent years. I'm proud that I have the opportunity to be part of this movement that is bringing change to the world and is opening people's eyes to a truth one cannot ignore – there is no single type of beauty or conventional gender and we need to abandon this fixation."
Diesel continued to push for transgender representation in the collection launch for its collab with online German brand About You, casting trans models Benjamin Melzer and Loiza Lamers to model the collection and star in its gritty urban launch video.
Melzer and Lamers, both activists, also had high praise for Diesel. In an interview with Mic, Melzer said, "Diesel contacted me for a campaign around the same time Loiza and I were planning on doing a concept shoot to raise awareness to create more opportunities for transgender models in campaigns for major brands...Diesel heard the idea and loved it."
2. Andreja Pejic On The Cover Of Marie Claire Spain
Andreja Pejic has done an incredible amount of work for trans visibility in fashion. She was the first trans model to be profiled by Vogue , fronted Make Up For Ever's "Be You" social media campaign, and in March 2016, she covered Marie Claire Spain when the magazine named her Model of the Year. The cover was her first photo shoot post-gender affirmation surgery.
In a world where cisgender people often discuss trans people's medical transitions to a gross extent, seeing Pejic ruling how she presents herself pre- and post-op is a heartening step forward.
In an interview with Vogue, Pejic said of her medical transition, "I would like [cisgender people] to understand that we are people. We're human beings, and this is a human life. This is reality for us, and all we ask for is acceptance and validation for what we say that we are. It's a basic human right."
Pejic is the first trans person to be on the cover of Marie Claire and we hope to see her racking up many more firsts for trans folks in years to come.
3. Bejamin Melzer Covers Men's Health Germany
Model Benjamin Melzer's had a busy year. Before Diesel cast him in their About You collab launch, the 29-year-old became the first trans model to cover Men's Health Germany.
According to The Telegraph, Melzer, who's originally from a village close to Dusseldorf, was one of five men chosen by online voters to cover the European mag. He decided to enter the cover contest after he saw trans model Aydian Dowling become a finalist in the U.S. Men's Health 2015 contest.
In an interview with BuzzFeed, Melzer said, "Since I was little, I looked up to cover models, like being on Men's Health or GQ , like really masculine men with good bodies, good physiques."
Melzer, who began medically transitioning at 24, told BuzzFeed he liked the fact that he was one of a group of men on the cover. "That's what I want [being trans] to be, just normal," he said. "We don't have a choice, and it just is the way it is, and we can make the best of it."
4. Strut Debuts On Oxygen, Highlighting Trans POC Models
I know we're talking about this year's positives, but I'd be remiss not to comment that the majority of trans folks who end up in the spotlight were, admittedly, white. That's why reality show Strut, which began airing in Sept. on Oxygen, is so excellent and necessary: It follows a group of trans men and women of color.
All of the models — Laith De La Cruz, Isis King, Dominique Jackson, Ren Spriggs, and Arisce Wanzer — are signed with Slay Model Management, a company that caters specifically to trans models.
Strut is a Whoopi Goldberg production, and the first reality modeling show to focus exclusively on trans models. One of the stars, King, was previously a contestant on America's Next Top Model, but according to Vogue, Strut is nothing like ANTM — it's a docuseries rather than a contest.
Mic lauded the show for "[presenting] the transgender experience as a human one, mixing trans-specific experiences while layering in more universal, often mundane ones, like waking up late for work or having a job interview not go your way. The result is an unexpectedly refreshing take on the 'peek behind the curtain' reality show trope."
5. Spring 2017 Fashion Week And Everything Therein
The Fashion Spot's biannual review can often seem dismal — despite advances in plus-size activism on the runway, more people of color, and more trans folks, fashion weeks are still overwhelmingly skinny, white, and cis. But this year, TFS reported the 2017 spring fashion week runways were among the most diverse in history.
Not only did TFS report that people of color made up one-fourth of models (!!!), but the report indicates trans models made up 0.11 percent of runway castings. That works out to 10 appearances out of 8,832 model appearances and 299 shows. A small number, but according to TFS, it's "a slight increase from the Fall 2016 season, which saw eight transgender model castings in total and double the prior season, which saw five."
Four of those models walked for architectural athleticwear brand Chromat: Carmen Carrera, Leyna Bloom, Maya Monès and Aurel Haize Odogbo.
In an interview with Refinery 29, Chromat designer Becca McCharen said, "I've been a big fan of Carmen Carrera, our show-opener, ever since seeing her on RuPaul's Drag Race, which is my wife Christine and my favorite show. It was also her first NYFW runway show. And of course, our show closer, Leyna [Bloom] always brings the drama to the catwalk! She has amazing energy and really knows how to work the runway. They both happen to be transgender women and we cast them for their confident walks and of course their charisma, uniqueness, nerve, and talent."
6. Valentina Sampaio Rocks A Swimsuit On ELLE Brazil Cover
19-year-old Valentina Sampaio stepped into the spotlight on International Women's Day 2016, when she came out as trans in a heartwarming L'Oreal Paris video. Sampaio, who is a spokeswoman for L'Oreal, then went on to land ELLE Brazil's November Cover, and as you can see, she totally, utterly slays in her sapphire number.
In her coming-out video, she goes through her beauty routine to prep for her new ID photo. In a voiceover, she says, "I love being a woman. It's great when you accept yourself, love yourself...when you know that you're worth it."
Sampaio is the second trans model to cover ELLE Brazil , after Lea T. covered in 2011. Her career is just taking off, so we expect to see her pretty much everywhere soon.
7. The 2016 Queen USA Trans Beauty Pageant
October's Queen USA Trans Beauty Pageant came on the heels of trans woman Jenna Talackova's forced removal from Miss Universe Canada in September. Talackova's situation makes it clear that the pageant world needs to get its head in the game and recognize that trans women are women — no exceptions.
While cisgender folks continue to rule the pageant world, transgender people have carved out a place to celebrate trans beauty: At Queen USA, trans contestants are celebrated. The pageant is part of TransNation Festival, which "endeavors to uplift, educate, and galvanize the transgender community and general public and raise funds for this underserved population," according to the festival's website.
While Queen USA has been running annually since 2001, this was the pageant's first year with a mainstream venue, which signals good things for its future.
In an interview with VICE, contestant Miss California explained her reasoning for entering the pageant: "I was alone, and I felt so lost, and there was no one really out there as a source of inspiration. I'm doing this because I know there are people in harder situations and harder circumstances than I ever did in my entire life, and I want to be there as a source of inspiration to them."
8. FLAVNT Streetwear Launches Its Bareskin Swim Binder
Transgender activists have long been trying to move away from the singular medical transition narrative — the one that says people are either male-to-female or female-to-male, and that transition inevitably involves surgery. When FLAVNT Streetwear launched its Bareskin Binder in October, the brand provided a comfortable "topless" swim option for trans folks who don't want top surgery.
Using a Kickstarter campaign, FLAVNT raised $26,476 for the Bareskin Binder's production, and the product officially launched on Oct. 31.
In the crowdfunding campaign's description, FLAVNT said of the binder, "We've combined the silhouette of a traditional half binder and compression sports bra to create a comfortable top that binds but still lets you get a tan and feel closer to being shirtless than anything else out there. We plan to offer this top in a range of skin tones so that the wearer can have a passably topless masculine aesthetic, this is less visually triggering than wearing a bikini top, sports bra, binder, or shirt and allows for more confidence and comfort."
The Bareskin Binder retails for $50, and is currently available in four skin tones: Rose, sand, copper, and umber.
9. Trans Model & Activist Kami Sid Landed Her First Shoot
Kami Sid, a Pakistani trans woman and outspoken activist who was featured in the documentary How Gay Is Pakistan? , landed a headline position in stylist Waqar J Khan's newest photo shoot as Pakistan's first transgender model.
Khan collaborated with make-up artist Nighat Misbah and photographer Haseeb M Siddiqi to capture stunning images of Sid.
In How Gay Is Pakistan?, BBC filmmakers chronicled the struggles of LGBTQ folks living in Pakistan, where homosexuality is outlawed, with a punishment of imprisonment. Unlike in the U.S., where gender affirmation surgeries are totally optional, in Pakistan, changing your legal gender requires surgery.
In an interview with Behtareen, Sid said, "You gain strength, courage and confidence by every experience in which you really stop to look fear in the face. You are able to say to yourself, if I lived through this, I can take the next thing that comes along."
As an out trans woman, Sid is likely to face stark discrimination — but her bravery and determination to be visible, not silent, is something we can all learn from as we head into a politically uncertain year which may have a marked effect on transgender folks around the world.
While social progress can often feel like taking one infinitesimally small step at a time, looking at what trans folks accomplished this year gives me hope. As opposition to non-gender normative people ramps up, we all should remember to celebrate the strides trans folks made this year, and to look forward to what will be accomplished in the future.
Images: Courtesy Brands; Marie Claire; Oxygen; ELLE; FLAVNT