Brittany O'Grady Will Blow You Away On 'Star'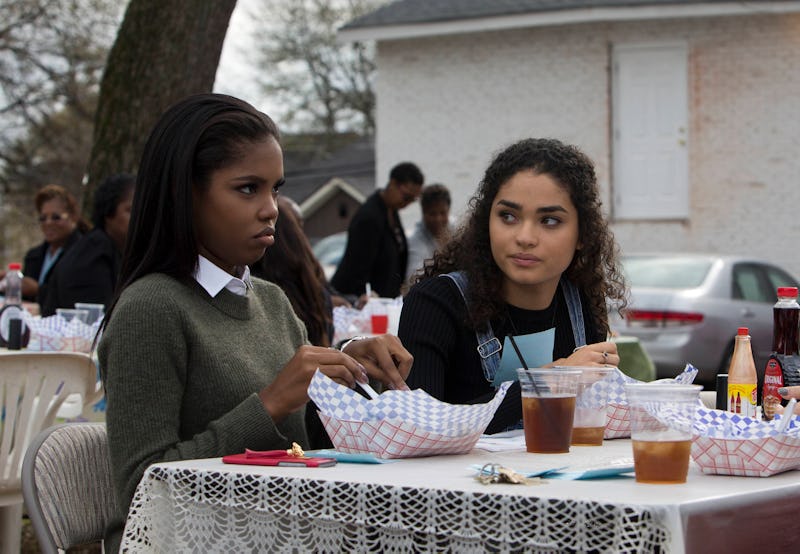 Lee Daniels (the man behind Empire, in case you don't know) is a mad TV genius. So that he's premiering his new series, musical drama Star, it's time to meet the cast of the series. And just like the three brothers on Empire, Star is filling out it's cast with a talented trio of unknown actresses who form the series' central three-woman singing group. And who plays Simone on Star, one of the members of that group? Actress Brittany O'Grady may not be a household name just yet, but she will be after the show's premiere (there was be a special airing of the pilot on Dec. 14, but the series will start in earnest in January 2017). While her character's name may not be the title of the show — that's right, "Star" is both the lead's name and her goal — O'Grady will be a big part of the ensemble.
Like many young people in Hollywood, while Brittany O'Grady may be young, she already has a pretty exciting career. Star may be elevating And this early premiere is a great chance to get to know Brittany onscreen — here's a few key details about what she's like as an actress and a person.
Her Character Will Take On Some Real Issues
Playing Simone does not seem like a simple task. The character is dealing with abuse, the death of a parent, and some real serious issues on top of her desire to sing. This character is dealing with some heavy, heavy topics, and it's going to be a real challenge for O'Grady to pull off.
She Is Close With Her Costars Offscreen
You can frequently spot O'Grady and her costars hanging out together on Instagram. It must be easy to form friendships while playing characters as close as this girl group, and it looks like they'll be drawing on their real relationships to inform their closeness onscreen.
You Can Watch Her In Another Big Role
Before Star, you could see O'Grady in the CW's science fiction series, where you could see her in many a YouTube video pining over her character's relationship. The Messengers may have seemed like yet another CW show about sexy teenagers, but it's premise was actually kind of dark — these sexy teens have to stop the apocalypse! — so O'Grady is used to getting serious onscreen.
Obviously, She Can Sing
Look, the premise of Star is about a Destiny's Child-esque singing group, so of course O'Grady has singing ability. And her voice blends perfectly with Ryan Destiny and Jude Demorest, who play the other two members of the group.
She's Been Cute Forever
Seriously, follow her on Instagram for more adorable #TBTs like this one.
She's Already Working On Her Next Project
Post-Star, O'Grady's profile will continue to rise. She's already nabbed her next role. According to her website, O'Grady will be in Above Suspicion , an Emilia Clarke-starring film about an FBI agent having an affair with his informant.
You'll be seeing a lot more of Brittany O'Grady soon, and until then, you can watch her in what should be a breakout role in Star.
Image: Annette Brown, Wilford Harewood/FOX (3); Giphy