'black-ish' Season 3's Best Moments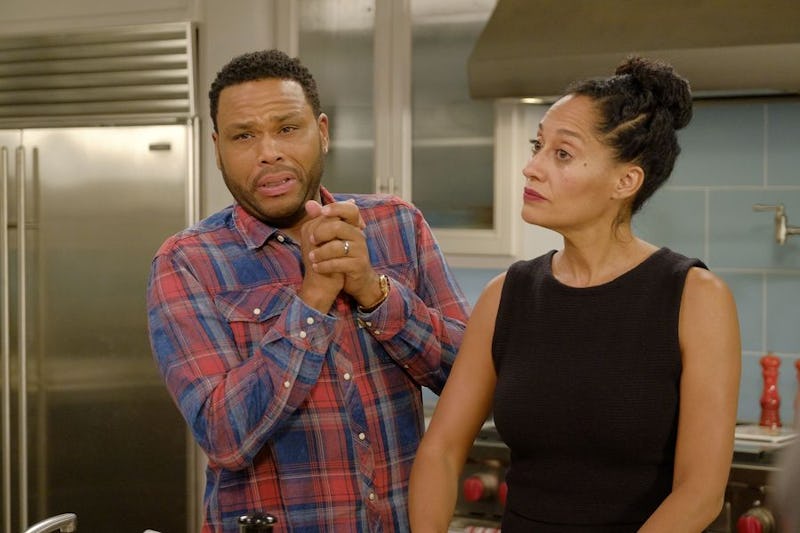 There's lots of TV out there, to the point that even typically dry periods like summer or the holidays are filled with new premieres. However, the rise of Peak TV means that there's a new tradition: The mid-season hiatus, which has now spread from big dramas to even smaller comedies like ABC's black-ish. And since the idea of going without the show for long is a huge bummer, I'm already wondering when black-ish will return from hiatus. Thankfully, it's already mid-December, so the show's holiday hiatus won't be too long or interrupt your love of comedy for too long. Usually, the show goes on a period of about three or four weeks off, then returns for a few episodes, with a few off weeks peppered in throughout the remainder of the winter.
Unfortunately, ABC hasn't announced exactly when black-ish will be back, and since it's only aired 10 pre-hiatus episodes, there's still lots left in Season 3. One thing is for sure: You won't see any more black-ish in 2016. Because of this, I will say, if you haven't gotten the chance to watch all of the episodes this season, or haven't gotten the chance to rewatch some of the season's best and funniest episodes, now is the time. Because, even during the confirmed trash fire that is 2016, there were some serious bright spots — like black-ish's most relatable and hilarious moments.
When Bow & Dre Had Hotel Room Anxiety
Doesn't it always seem like the moments you try to reserve for rest and relaxation — like when Bow and Dre go to a hotel to reconnect before their new baby arrives — don't actually seem to be the most relaxing? Bow cries over experiencing pregnancy for the last time, while Dre gets a bad massage and doesn't want to be touched. But they wind up actually "connecting" on their way home, the same way you wind up randomly having your best night of sleep after you get home from vacation.
Ruby's Pettiness Prank War
For the crime of attempting to touch her hair (in a palpably painful moment), Ruby determines that she should take "Mischief Night" from a harmless night of mischief to an all out neighborhood Purge. Who among us hasn't gotten petty before?
The Show's Hamilton Love
It's hard to imagine that Bow's brother Johan joining the show as more than just a one-episode character if not for the love of Daveed Diggs in the role. And Daveed Diggs love is the same as Hamilton love — after all, he did pick up a Tony Award this year for his dual role as Lafayette and Jefferson in the show.
Bow's "Hard Work" Monologue
If, as the accepted wisdom goes, all black Americans have to work twice as hard as their white counterparts to succeed, then black women have to work twice as hard than that to succeed. So while Bow may have a white father, she still had a tough road to become a successful surgeon.
Junior's Pantsuit Confidence
Nothing builds your sense of self like the perfect outfit. And it looks like Junior is the youngest member of the Pantsuit Nation.
Dre Staying Out Of The Elevator
A mysterious white child in the elevator? Stay away, says Dre, and there is something relatable in how sometimes situations can seem set up to scapegoat black people. Overcoming the instinct to walk away is tough, especially when the specter of police violence still looms. Yes, Season 3 black-ish has continued its tradition of being painfully relatable politically as well as capturing less fraught #awkwardmoments.
When No One Could Guess How Old Charlie Is
This also makes the list of most hilarious black-ish Season 3 moments — the little mini montage of Charlie through the ages is an amazing gag. This is maybe the best and funniest moment from the series, and, of course, is also relatable because Charlie might be the weirdest character on the show.
Thankfully the show will soon return in 2017 to fill our lives with even more great moments.
Image: Tony Rivetti, John Fleenor/ABC (3)