Jess Brings A Great 'New Girl' Christmas Surprise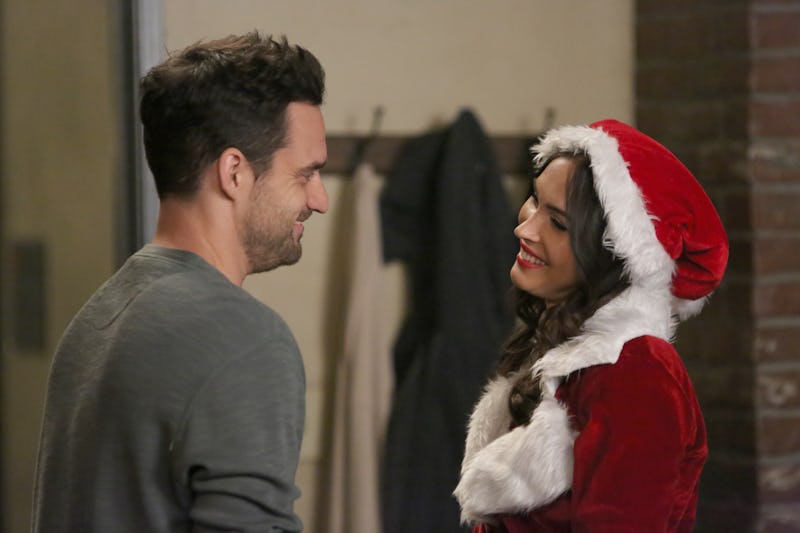 There are certain things I look forward to every holiday season: Candy canes, the Christmas department at Target, giving and getting presents... and a brand new holiday-themed episode of New Girl. And this year's edition definitely doesn't disappoint, especially since it brings back a former guest star in a really adorable way. On the Dec. 13 episode, "Christmas Eve Eve," Reagan is back on New Girl after Jess convinces everyone to do Secret Santa for the first time, and even though it almost ends in disaster, it's just proof that Jess might actually be OK with the fact that Nick is dating someone else.
It all starts when everyone in the apartment unanimously agrees that they should skip Christmas, except for Jess, because as we already know, she's super Christmas obsessed. So as a compromise, they all agree to do Secret Santa, and Jess ends up drawing Nick's name. The only problem: He buys himself the sunglasses she gets him, so at the last minute, she has to scramble to find him the perfect present. The solution? She pays for Reagan to surprise him the night before Christmas Eve when they all exchange gifts. Totally flawless, right? Except after Jess finds out Nick is thinking about flying Reagan out himself, she has to tell him about his gift and they end up getting into a huge fight.
And then, it gets worse. During the gift exchange, they realize that Jess forgot to add her own name in, which means nobody bought her a gift. She ends up with the hamster Schmidt bought Winston, but it's not really her thing (even though it is really cute). She goes to bed pretty bummed out, but it's all better when Nick comes in with hot chocolate and brings her outside to see that all the roommates have created a winter wonderland, complete with a chorus singing christmas carols and fake snow thrown by Reagan off the roof.
I have no idea how they managed to get Darlene Love to perform, but still. It was pretty cool.
Since Jess does so much for everyone else, it's awesome to see her get the same in return, since I feel like she's usually stuck with the short end of the stick. And I also love the fact that now that she and Robby are together, Jess and Nick are in a good place in their friendship. I mean, it's totally possible that she's still harboring those feelings (and I have a feeling that she is), but for now, there seems to be happiness and peace. There will be totally be conflict later, but for now, it's nice.
I'm looking forward seeing more of Reagan when New Girl returns after the holidays. I miss it already!
Images: Ray Mickshaw/Fox, Giphy