'Adventure Time' Will Get Into Finn's Backstory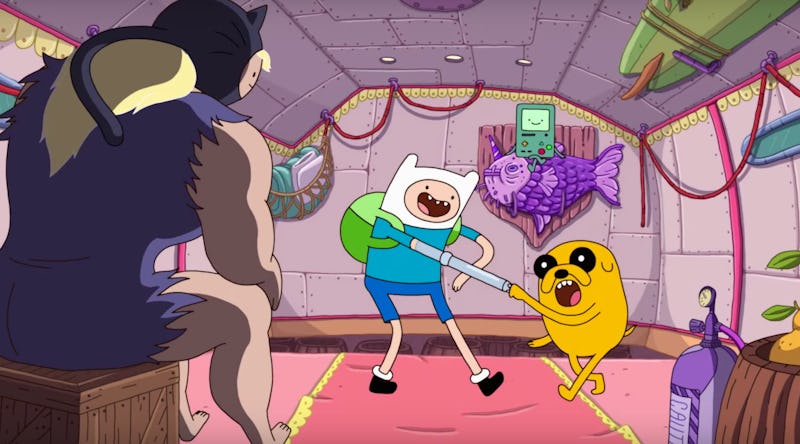 Here is a piece of news that is so terrific, it'd make even the Earl of Lemongrab scream "acceptable" at the top of his sour lungs: On Monday, Cartoon Network announced that an eight-part Adventure Time miniseries will premiere in January. According to the press release via Uproxx, Adventure Time: Islands sends Finn the Human, Jake the Dog, BMO, and Susan Strong on "a quest of epic proportions across the ocean and into new lands — encountering new creatures, discovering new islands, and using teamwork along the way." Their excursion will delve into one of the animated series' biggest mysteries: what happened to the rest of the humans?
About a thousand years before the show's events begin, The Great Mushroom War ravaged the Land of Ooo, wiping out almost all of humankind. Finn, one of the only humans left on his home island, knows very little about his own species. Though he's found some answers over the years, there are still a lot of questions about what became of humans, where the other humans went, and if there are any humans left. This forthcoming miniseries may fill in the blanks once and for all.
Judging from the new opening credits and the premise, Adventure Time: Islands sure looks awesome. Oh, and it also looks like it could be another one of those Adventure Time stories that will make me weep like Lumpy Space Princess did after she ate all of the crops. I mean, will it be a full-on "I Remember You" sob fest? Hard to say. I don't know what the future holds; I'm not Cuber. However, anytime this show explores a character's backstory, it inevitably pulls at the Ricardio strings.
Adventure Time: Islands will be on Cartoon Network from Jan. 30 to Feb. 2. Can't wait that long? The miniseries will be available on DVD, iTunes, Google Play, and Amazon Video on Jan. 24. The penultimate season of Adventure Time will premiere sometime in 2017.
Image: Cartoon Network/YouTube