Margot Robbie Will Appear In 'Gotham City Sirens'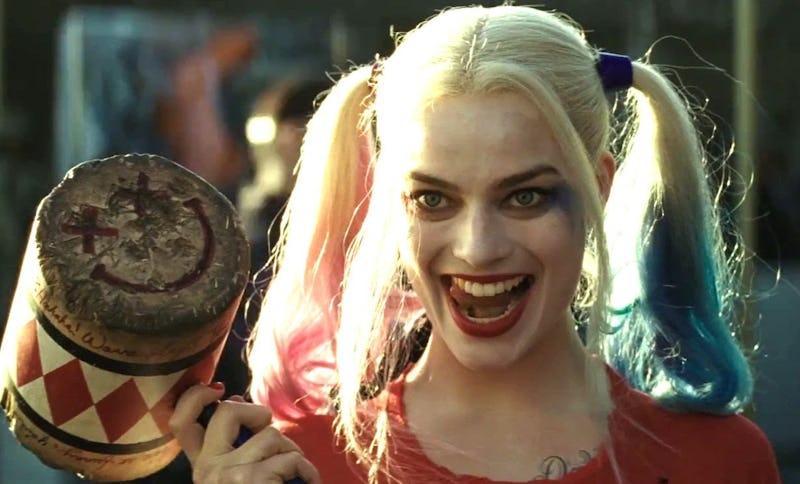 OK, so the villain-based Suicide Squad wasn't great, but it did introduce the world to a wonderful thing — Margot Robbie's interpretation of Harley Quinn, the Joker's on-again off-again girlfriend and co-Big Bad. And now, according to The Hollywood Reporter, Robbie is teaming up with Suicide Squad director David Ayer for G otham City Sirens , a film which will focus on the villainesses of DC. She is executive producing the project as well as reprising her performance as Harley Quinn. I think we can all agree that a little more Harley Quinn in the world ain't bad — at least for entertainment purposes, evil plans not included.
Sirens was a DC comic series that ran from 2009 through 2011 and featured Quinn, the leather-suited Catwoman, and Poison Ivy, a villain who uses a love of botany to cause a ruckus. It's probable that all three women will appear in the new film, but not certain whether or not more of DC's most diabolical ladies will be involved — or who will portray them. It's also not clear now if the movie will take the frenemy-vibed story from the comics or present something else entirely.
The good news that we do know for certain is that Geneva Robertson-Dworet, a female action writer who also penned the script of the Tomb Raider remake will be writing this action flick. It's a step in the right direction that a female writer is telling the story of a group made up entirely or mostly of women.
This all-female movie isn't the only project stemming from Suicide Squad. Warner Brothers is developing a sequel and tiptoeing around the idea of a Deadshot spinoff (please, oh please, more Will Smith always, thanks!). But since Harley was hands down the best part of the ensemble, it only makes sense that her movie would get the green light faster. I hope her bat gets a cameo in the upcoming film.
This new film doesn't have a release date yet, but THR reports that it has been put on the fast track. Let's hope this ensemble movie comes swiftly and lives up to the inevitable hype!
Images: Warner Brothers, Giphy