Will Your New Relationship Survive The Holidays?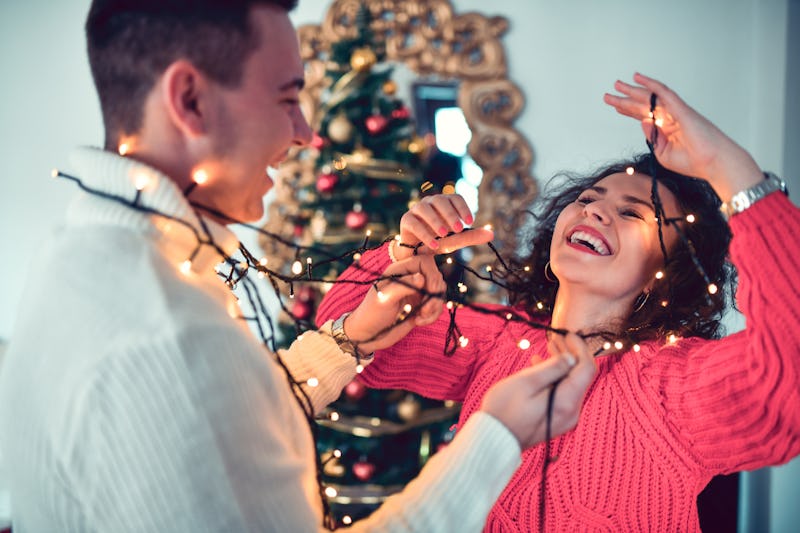 AleksandarGeorgiev/E+/Getty Images
Pretty much every Christmas movie wants you to believe that the holiday season is the best time of year to fall in love. Sure, there's definitely something romantic about finding new love during this time of year (it is "cuffing season", after all). But the holidays can also bring it's fair share of anxiety-inducing moments for people in relationships, especially for those in a new relationship during the the holidays.
For instance, what do you get your new partner? Is it a little too soon to celebrate the holidays with their family? Is it weird if you want to invite them to meet yours? What about holiday parties or New Year's Eve? Is it expected that you're going to be attending those things together? There's a whole lot more of that to think about. In short, the holidays can be the ultimate test for relationships. So, how do you prevent the holidays from ruining your brand new relationship? Well, if you know what the biggest mistakes people make are, then you'll know what not to do.
"I have seen way too many relationships head into the holidays strong, and come out of them as if they had never met," Nora Dekeyser, a matchmaker at personalized dating and matchmaking service, Three Day Rule, tells Bustle.
Below, Dekeyser shares the biggest relationship killers were for people in new relationships and ways to overcome them. If you're a new relationship, here are some things to keep in mind:
1. Jumping Into The Relationship Way Too Quickly
It's tempting to bring a plus-one to your holiday party or to meet your extended family to avoid the dreaded, "Why are you single?" questions at holiday dinners. "But always remember that when you fall in love quickly, you are more likely to fall out of love quickly as well," Dekeyser tells Bustle. "Love is not a race, it's a marathon. So, take the time to get to know the person in your new relationship naturally and at a normal speed."
2. Assuming Your Relationship Is A Lot More Serious Than It Really Is Just Because The Holidays Are A Romantic Time
"During the holidays, everyone begins to feel like they're in a romantic movie — the smells, the lights, family gatherings, and the wine," Dekeyser says. "But don't let the heightened feeling of romance make you assume your new relationship is more serious than it really is."
In order to avoid any confusion or disappointments, talk to your new partner about where they stand. Dekeyser suggests to do this in an open and honest way. The last thing you want to do is scare off your partner by inviting them to all 12 of your holiday parties if they aren't ready. So ask them before officially inviting them. Also, be careful about the office holiday party. Every company has different rules and standards when it comes to bringing dates so be upfront if you can't bring them in order to avoid hurting anyone's feelings.
3. Writing Off A Relationship Because You're Spending Time Apart During The Holidays
This time of year is super busy. Because of that, you and your new partner might possibly spend a lot of time away from each other due to conflicting schedules. After all, your relationship is still new so the holiday expectations of being in a longterm relationship aren't there. "If you see a future with your new relationship, don't call it off just because you're spending a lot of time apart. I have seen this time and time again, and it never ends as planned," Dekeyser says.
4. Closing Your Partner Off During Time Apart
It's super easy to put away your phone while you are home with family and friends. But remember, as much as you're curious about your new partner's life, they are just curious about yours. "Make them feel special during the holidays by staying in touch and asking questions about their personal life," Dekeyser says. "If you take a genuine interest, it will go a long way and you'll start to get to know them that much better."
As a bonus, exchanging funny family stories can be a great way to learn more about your new partner. without moving too fast. It's also a great way to build trust and intimacy while you're apart.
5. Not Openly Discussing Gifts
Although a surprise is always nice, in terms of a new relationship, Dekeyser says you're better off playing it safe and planning a surprise next year.
A huge surprise or a pricey present can seem overwhelming to someone in a new relationship. As long as you bring up the idea of presents in an open, light-hearted manner, your partner will be happy that you cared enough to think about them, but were respectful enough to want to discuss it. If you do decide to get small gifts for each other, texting one of your partner's friends that you mutually know is always a good place to start for ideas.
6. Assuming That You're Invited To Every Party
Part of the excitement of being in a new relationship is the excitement of finding someone you love spending time with. It shouldn't be too surprising that both of you will be invited to parties including work functions where the other person won't know anyone. But don't be offended if you're not invited to be the plus one at the office holiday party or tree trimming with old friends. "One of the fun part about the holidays is all the traditions," Dekeyser says. "Enjoy the parties you've been going to for years, let the other person do the same, and next year you can start creating new traditions."
7. Not Discussing New Year's Eve
Just like figuring out the gifts issue, don't be afraid to bring up New Year's Eve. "Remember, this is a new relationship and your new special someone might have made travel plans before you even met," Dekeyser says. "It's better to find out now so you're not scrambling or disappointed at the last minute."
Whether you've been with your partner for five years or five weeks, the holidays can be a stressful time for any relationship. But if you openly communicate with your new partner about your expectations and theirs, you can overcome any issues this time of year can bring so your new relationship can and will survive the holidays.
Images: AleksandarGeorgiev/E+/Getty Images; Giphy(7)