'Shameless' Fans Need To Check These Projects Out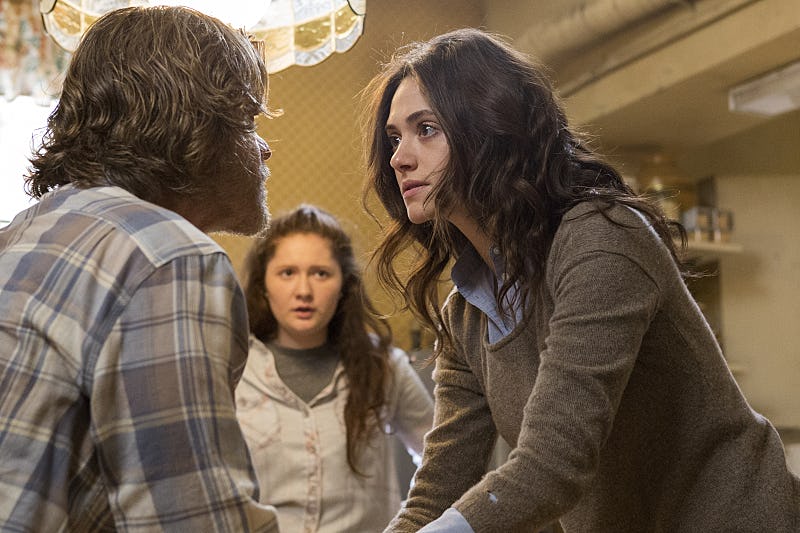 The seventh season finale of Shameless means that the show will be off the air for the show's normal hiatus, and while it's disappointing, it's just a part of the normal life cycle of a cable series. So, how soon will the Gallagher family be back? When will Shameless Season 8 premiere? Well, up until Dec. 14, it wasn't even totally clear if the series was going to return at all due to contract disputes, according to The Hollywood Reporter. Emmy Rossum reportedly wanted to negotiate a higher pay to match that of co-star William H. Macy. When the show began, Macy was the big star in the cast — he's an Oscar-nominated character actor — but now, after seven seasons and six years of playing a lead protagonist, Rossum reportedly fought to be compensated equally for her work as Fiona. (Bustle reached out to reps for Rossum and to Showtime for comment on the alleged issue but has not yet received a reply.)
On Dec. 14, according to a post she made on Twitter, Rossum's reported contract issues have seemingly been resolved. Rossum tweeted that she will be back to work on the show in May. As reported by THR, though, Shameless Season 8 has not been officially confirmed by the network, and Showtime has not yet responded to Bustle's request for comment on its renewal fate.
I don't believe Showtime plans to have another back-to-back pair of Shameless seasons, because, as THR stated, the show only aired two seasons in 2016 to make room for Homeland's delayed 2017 premiere. But since one of the major draws of Shameless is its impeccable cast, here's where you can watch some of the show's best actors while waiting for news of the Showtime series' return.
Emmy Rossum
Rossum just booked her first new role in a while: She's playing Kathryn Walker, the wife of influential comedy writer Doug Kenney, in David Wain's biopic of the famous comedian, A Futile & Stupid Gesture. And she recently mentioned a play rehearsal coming up, though she hasn't named the project.
William H. Macy
Macy just directed his second and third films, Krystal and The Layover, which should be coming out in 2017. While waiting for that release date, you could catch up on his performances in films like Room.
Cameron Monaghan
Against all odds, Monaghan will be returning as his once-deceased character Jerome on Gotham when the show comes back from hiatus. He also co-starred on PBS' Mercy Street, a drama about a Civil War hospital on the Mason-Dixon line.
Isidora Goreshter
Goreshter just graduated to the opening credits of the series, and she just starred in indie murder film Petal Pushers.
Jeremy Allen White
Lip really became the center of attention on Shameless Season 7, and White proved he can carry an entire TV season. And he starred in a period drama about a young hobo called You Can't Win years ago that should get released this year. This will mark White's first starring role, but not his first big film role — he was one of the many actors who took part in Movie 43.
Noel Fisher
Hidden underneath a ton of CGI, Fisher reprised his role as Michelangelo in the Teenage Mutant Ninja Turtles sequel released this year, which might have slipped past his Shameless fans.
With all of these projects to watch, waiting for a Season 8 renewal will feel like a snap.
Image: Paul Sarkis/SHOWTIME (2)