9 Online Book Clubs To Join In The New Year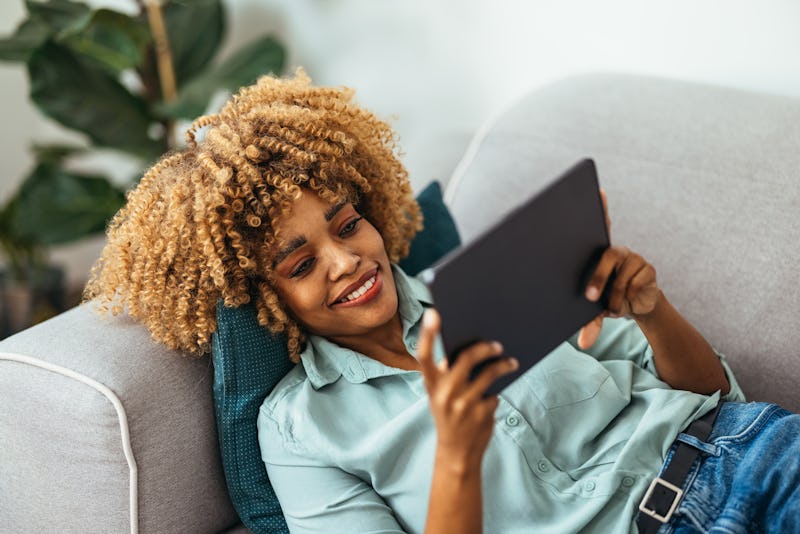 miniseries/E+/Getty Images
If you're looking for a great excuse to read even more books in 2017, there's no better way to make sure you stay committed to your literary resolution than by gathering a group of like-minded readers around you — and checking out this list of online book clubs to join in the new year is a great way to get started. Now, if you're already an avid book club-goer, you might be thinking: an online book club? Where's the fun in that? (AKA: where are the wine, snacks, and salacious girl talk in that?) And you're right — online book clubs are not notorious for their cheese trays and wine spills on your couch (unless you spill it yourself, which you should still totally feel free to do.)
But here's the flip side: when you join a digital book club, you're really there to talk to your fellow readers about the book. A couple of these online book clubs even give you an opportunity to talk to the author of the book — something you're definitely not going to get anywhere else. (You can always indulge in your wine and gossip on gal's night, am I right?)
Here are 9 awesome online book clubs to check out in the new year. Happy reading!
1. Our Shared Shelf
This feminist book club was founded by actor Emma Watson, and is hosted on Goodreads. As a part of her work with UN Women, Watson decided she could use more feminist literature on her shelves — and through the online book club Our Shared Shelf, she's bringing you along with her. Our Shared Shelf features a new book every month, and members (over 160,500 — and counting!) discuss the book during the last week of the month. Recent Our Shared Shelf reads include: Mom & Me & Mom by Maya Angelou, The Argonauts by Maggie Nelson, How To Be a Woman by Caitlin Moran, and Half the Sky: Turning Oppression into Opportunity for Women Worldwide by Nicholas D. Kristof and Sheryl WuDunn.
2. The Reese Witherspoon Book Club
One of the newer additions to the world of online book clubs is Reese Witherspoon's social media-fueled book club (hashtag #RWBookClub on Instagram and Twitter to find it.) Organizing her book club like a list of top reading recommendations from your BFF, rather than a traditional book club, the actor and founder of film production company Pacific Standard definitely has her finger on the pulse of what is new and exciting in literature — especially books written by women, featuring female protagonists and feminist themes. #RWBookClub is the perfect way to keep your TBR pile up-to-date (and to pick up any hints about what book adaptations Pacific Standard might be filming next.)
3. Oprah's Book Club 2.0
Many an author's life was changed by Oprah's Book Club — easily one of the most popular book clubs of all time, known for diverse authors and epic, soul-wrenching reads. Although the original book club concluded when Oprah's show went off the air in 2011, she's relaunched the club in 2012, via a collaboration between OWN: The Oprah Winfrey Network and O: The Oprah Magazine, and hosted through her website and social media. Some of the latest titles from Oprah's Book Club 2.0 include: Colson Whitehead's 2016 National Book Award winning title The Underground Railroad, Love Warrior by Glennon Doyle Melton, and Ruby by Cynthia Bond.
4. Bustle's American Woman Book Club
Did you know that here at Bustle we have our very own online book club? 2017 is a year for action. It's more important than ever that American women try to understand each other in the face of such partisan division, and that we come together in the quest for social justice and equality. And since reading has been proven to promote empathy and understanding, and we believe that reading broadly is one small step in mending the divides of our nation, the books we will read will encompass a broad range of American experiences; we'll read about Muslim-Americans, Latinos, African-Americans, LGBTQ+ individuals, undocumented immigrants, white working class women, and more. Because all of these people are American, and all of their stories are American stories. Bustle's book club will discuss the books during the last week of each month, via our Goodreads forum (or if you're a New York local, at NYC's Strand Bookstore!) Our first book of the year is Gabby Rivera's Juliet Takes A Breath.
5. The Rumpus Book Club
The Rumpus Book Club, hosted through TheRumpus.net and Google Groups, charges a small membership fee, but your $27-per month (plus shipping) goes a long way. With a Rumpus Book Club membership, you'll receive a new copy of a brand-new, not-yet-released novel or memoir each month, which you'll be invited to discuss all month long in a members-only forum. At the end of the month, readers are invited to a moderated web chat with the book's author. Pretty cool, right? Recent titles include: Jon Raymond's Freebird, The Wangs vs. the World by Jade Chang, and Knives & Ink: Chefs and the Stories Behind Their Tattoos (with Recipes) by Isaac Fitzgerald and Wendy MacNaughton.
6. The Rumpus Poetry Book Club
The Rumpus Poetry Book Club is everything you love about the Rumpus Book Club, only with poetry! For $25-per-month (plus shipping) members will receive a forthcoming collection of poetry, access to the online book club forum, and an invitation to the moderated web chat with the featured poet. Recent poetry collections include: Chris Santiago's Tula, Primitive: The Art and Life of Horace H. Pippin by Janice Harrington, and Max Ritvo's Four Reincarnations.
7. Women's Lives Club
Starting as a hashtag on Twitter (see: #wlclub) before growing to Instagram, a Google Group, and a Slack community, the Women's Lives Club is dedicated to reading more books about women, by women, and especially women's biographies written by women. The group's first selection was Janet Malcolm's The Silent Woman: Sylvia Plath and Ted Hughes, followed closely by Wrapped in Rainbows: The Life of Zora Neale Hurston by Valerie Boyd. Titles get chosen via member-suggestion, and then #wlclub founder Rachel Syme narrows the suggestions down to one book per-month.
8. Book Talk
Book Talk is an online book club that has been going strong since 2002 (so it may quite possible be the original online book club — though I don't have any actual real evidence for that.) Book Talk staggers it's fiction and nonfiction selections, and each book is read and discussed for approximately 3 months via the online forum at booktalk.org. The club also hosts life webchats and interviews with authors, when available. Recent reads include the nonfiction titles: A Short History of Nearly Everything by Bill Bryson and God: The Most Unpleasant Character in All Fiction by Dan Barker; and fiction titles: Uncle Tom's Cabin by Harriet Beecher Stowe and The Complete Short Stories of Ernest Hemingway by Ernest Hemingway.
9. Vaginal Fantasy Romance Book Club
You really can't beat this one, as far as book titles go. Founded by former Buffy the Vampire Slayer actress Felicia Day, the Vaginal Fantasy Romance Book Club features romance novels with paranormal twists. Sponsored by Goodreads and organized via YouTube videos, the 16,000-plus member book club reads a new paranormal romance each month, and club facilitators Day, Veronica Belmont, Bonnie Burton, and Kiala Kazebee chat about each book, and the genre as a whole, on the Vaginal Fantasy Romance Book Club Show. Definitely pour yourself a glass of wine for this one.
Image: miniseries/E+/Getty Images; giphy(9)