Digital Book Clubs You Should Definitely Join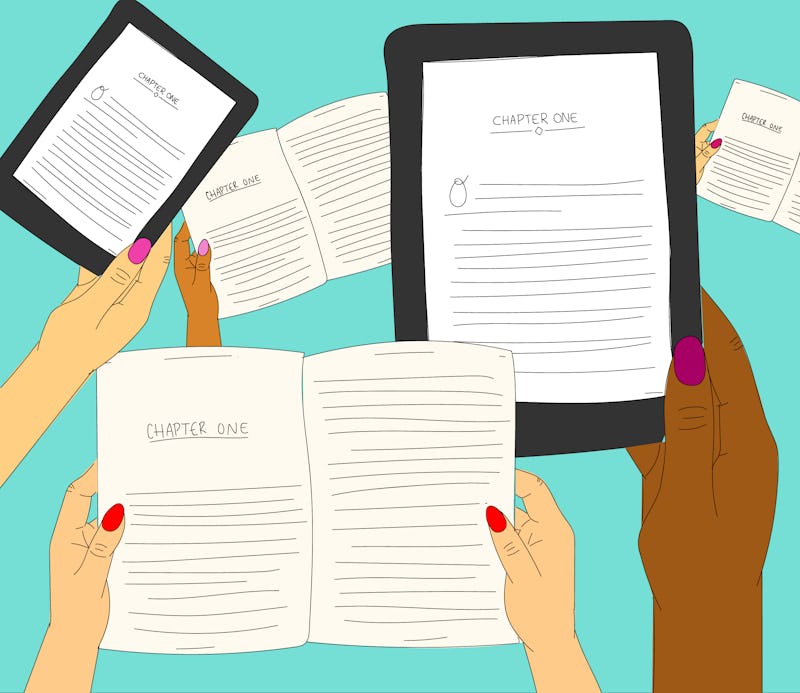 The reports are in, and now that you know that you can live longer by joining a book club, what are you waiting for? If you think you're too busy to commit to monthly meetings or you're nervous to join a public book club or you just don't like leaving your house, the plenty of digital book clubs you can join instead.
There are so many reasons to join a book club, starting with the fact that it's a great way to be introduced to new books, some of which you might not have read otherwise. Book clubs push you to read more by holding you to deadlines, they give you an opportunity to meet new people, and they force you out of your comfort zone and compel you to form your own opinions and express them with the other members of the group. Didn't I tell you book clubs are the best?
Online book clubs are a great way to enjoy the benefits of a reading group without a lot of the negatives. If you're worried about time, online book clubs can take up as much or as little of it as possible. If you don't want to deal with the politics and drama of trying to get everyone to read the same book (and trust me, there can be drama), then online book clubs are perfect for you, because they cut all of that out. Even if you are a nervous public speaker, online book clubs can give you a voice without giving you anxiety. Do I have you convinced they're a good idea yet?
If you've always wanted to join a book club, but didn't think it was right for you, here are five digital book clubs that just might be perfect. You never know when you'll find you next favorite read, but joining a book club can make it that much easier to do.
1. Bustle Book Club
In partnership with Alloy Entertainment Group, we at Bustle present our very own online book club! Go to the Goodreads page to find out what nostalgic book we're reading, and follow the conversation online. This month, the selection is Are You There God? It's Me, Margaret by Judy Blume,and Pretty Little Liars author Sara Shepard even joined in the conversation. Join the Goodreads group, and get ready to feel like a kid again, because these aren't just any old books.
2. Women's Lives Club
There are so many book-related hashtags online that it can be hard to keep track, but one you should definitely be paying attention to if you're interested in joining a book club is #WLClub. #WLClub,or more formally Women's Live Club, is a virtual book club started by writer and reporter Rachel Syme that has participants from all over the world. This month, the club is reading Janet Malcolm's The Silent Woman, an incredible and illuminating biography of Sylvia Plath. The club meets via a Google group for now, but in addition to the ongoing conversation within the group and on social media, members have even taken it upon themselves to meet up in person. An inspiring group of women from all over the globe, #WLClub is a book club you're going to want to get involved in.
3. Our Shared Shelf
As if you needed another reason to love Emma Watson, she started Our Shared Shelf, a feminist book club the actress founded after being inspired to read and engage with more feminist literature as a part of her work with UN Women. Our Shared Shelf already has over 100,000 members, including celebrities like Sophia Bush and Lena Dunham. The current reading selection, The Color Purple by Alice Walker, is the second book Emma's chosen, but with titles like that and Gloria Steinem's My Life on the Road, you can already tell that this club is curating one hell of a list.
4. #RWBookClub
Speaking of celebrity book clubs, Reese Witherspoon has one of her own, and if you like literary fiction and want to keep up with popular book trends, this is the perfect way for you to do it. More of a suggested reading list than a formal book club, Reese Witherspoon's online book club is driven by her social media accounts and the hashtag #RWBookClub. The actress frequently posts reading suggestions in perfectly stlyed bookstagrams and on her Twitter account, and fans aren't shy about sharing their opinions and starting a conversation about the book selections. A fun and easy way to find more books to read while feeling like you're hanging out with a Hollywood A-lister, #RWBookClub
5. Oprah's Book Club 2.0
One of the most popular celebrity book clubs of all times, Oprah's Book Club officially ended in 2011 when the show ended its run. After nearly two decades of book suggestions, on-air author interviews, and the launch of several best-sellers thanks to the clubs wild popularity, the club seemed to be gone for good. That is, until Oprah, in partnership with the Oprah Winfrey Network and O: The Oprah Magazine, Oprah's Book Club 2.0 was launched. Without the show to support it, the book club sustains itself off of Oprah's website, Facebook, Twitter, and even special e-read features. Though there hasn't been a new book selection since Cynthia Bond's Ruby, here's to hoping Oprah isn't done suggesting books yet. Besides, there's plenty of reading to be done thanks to her complete list of selected titles, featuring over 70 books.
Didn't see anything that struck your fancy? Check out the thousands of online book clubs on Goodreads, or even consider creating your own! The important thing is that you keep reading. After all, it helps keep you alive longer, and the longer you live, the more books you can read.
Images: Caroline Wurtzel for Bustle; Wikimedia Commons