Huda Beauty's Mini Liquid Lippies Are Selling Fast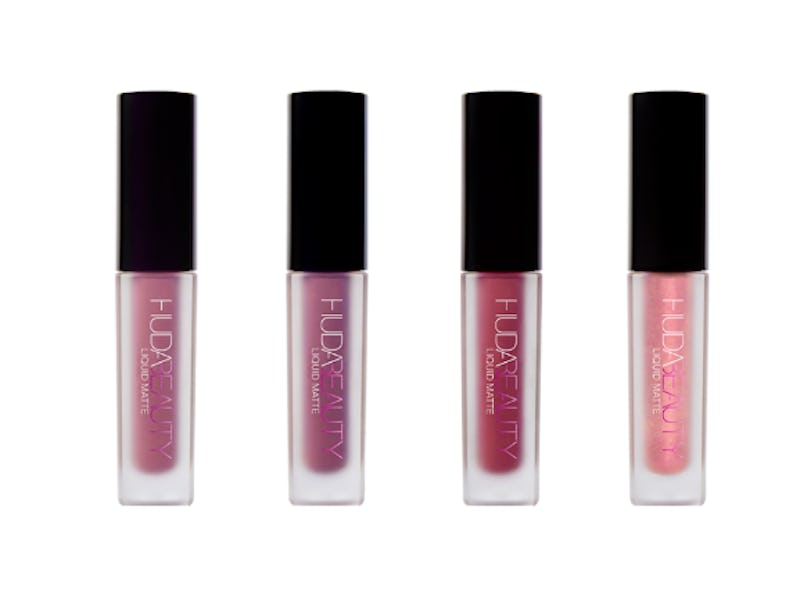 Huda Beauty is at is again with yet another launch. This time the brand put their liquid lipsticks in mini tubes and launched two brand new metallic shades as well. It seems like no matter what form these products are in, people love them. Are the Huda Beauty Liquid Matte Minis sold out, you ask? These kits are going fast, so you'll want to stock up while you can.
Stop what you're doing and get those credit cards ready. Huda Beauty's Huda Beauty Liquid Matte Mini Kits are flying off the virtual shelves, and you'll want to act fast if you want in on the launch. The company created four different mini-tubed options of their existing Liquid Matte Lipstick colors, and people are loving them. What's the big deal about the launch? well, two of the kits feature one of the two new metallic shades that the brand thought up as well. Pretty exciting stuff, my friends.
As of Dec. 17 at 11:30am EST, the Nude and Red Editions are already sold out. While the Nude Edition featured all existing shades, the Red Edition included Showgirl — the bright pink metallic lippie. You still have a shot to snag the light pink metallic Socialite in the Pink Edition though.
Each kit is available for $33 each. Although the sold out foursomes will be launching in-stores in the UK, according to Huda Kattan's website, there's no word on when or if they will arrive at Sephora. Don't lose hope though! Huda Beauty normally restocks at least once, so I'm willing to bet they'll d the same for this launch as well.
Liquid Matte Minis Pink Edition, $33, shophudabeauty.com
There is good news if you want to get your hands on the metallic lippies though. According to Huda Beauty's social media posts, this was just a sneak peek of the new products. Allure reports that the full-sized metallics will be coming out sometime in 2017.
What are you waiting for? I'd head over there soon before the other two kits sell out as well!
Images: Huda Beauty (2)